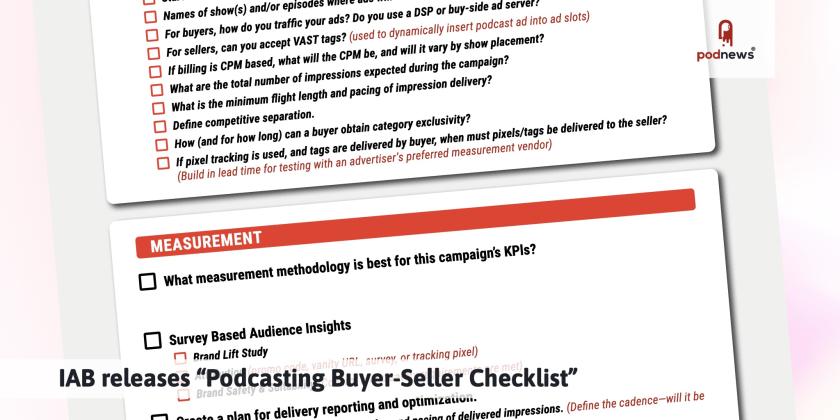 IAB releases "Podcasting Buyer-Seller Checklist"
LISTEN
· · 4.5 minutes to read
The IAB released its Podcasting Buyer-Seller Checklist. "The comprehensive checklist delves into the world of podcasting exploring every stage of the podcast ad campaign cycle and provides a framework for buyers and sellers to align on objectives, targeting, creative, measurement, and more." It was produced by the IAB and twenty members of a working group.

IAB

Pix is an AI-powered personal podcast recommendation engine. Its data doesn't stop in 2021, either - the company behind it says it is right up to date. You can text Pix, email Pix, call Pix or chat on the web. We tried it: it's very impressive, but um, oh.

Swell AI has added a new AI-powered clip maker, allowing podcasters to find viral moments and make clips right from the transcript.
Transistor has reported the top podcast listening apps on the platform. Apple Podcasts has 51.6% of all downloads; Spotify 27.7%; and Google Podcasts is at #3 with 2.1%.

Apple Spotify Google Google Podcasts Apple Podcasts

Audio Audit, an audio checking tool, has launched new features - checking new shows posted to your RSS feed automatically, with a historical dashboard and a team plan. The tool gives the Podnews Daily podcast an 80% score. (We've added ID3 tags today, so it'll be higher tomorrow).

Podnews

Spotify has signed an ad representation deal with the Unwell Network, Alex Cooper's Gen-Z focused podcast company.

Spotify

Want to know how to win an award? Some of the winners of the British Podcast Awards are at a free event in City, University of London on Wed Oct 25.

British Podcast Awards

The Philippines is to get its first ever podcast festival. Hear For It is in a week - on October 20.

In Australia, Media Week published the "Power List" for 2023, the publication's top 100 list of media executives. From podcasting, congratulations to LiSTNR's Grant Tothill at #88, and iHeartRadio Australia's Corey Layton at #87.

iHeartRadio

Bloomberg has published a 25 minute conference session with Founder & CEO of The Ringer, Bill Simmons.

The Ringer

Headliner's Eddy, the text-based editor, now remembers the name of speakers in previous transcripts.

Podcast host Transistor now has direct submission for Pocket Casts.
In Australia? The referendum is held tomorrow (Saturday): polls open at 8am. Don't forget to vote - here are details of where and how. Podnews's Editor would like you to vote YES; but, you do what you feel is best, and don't be told what to do by anyone in the media, least of all by a podcast newsletter.
Tips and tricks - with Spotify for Podcasters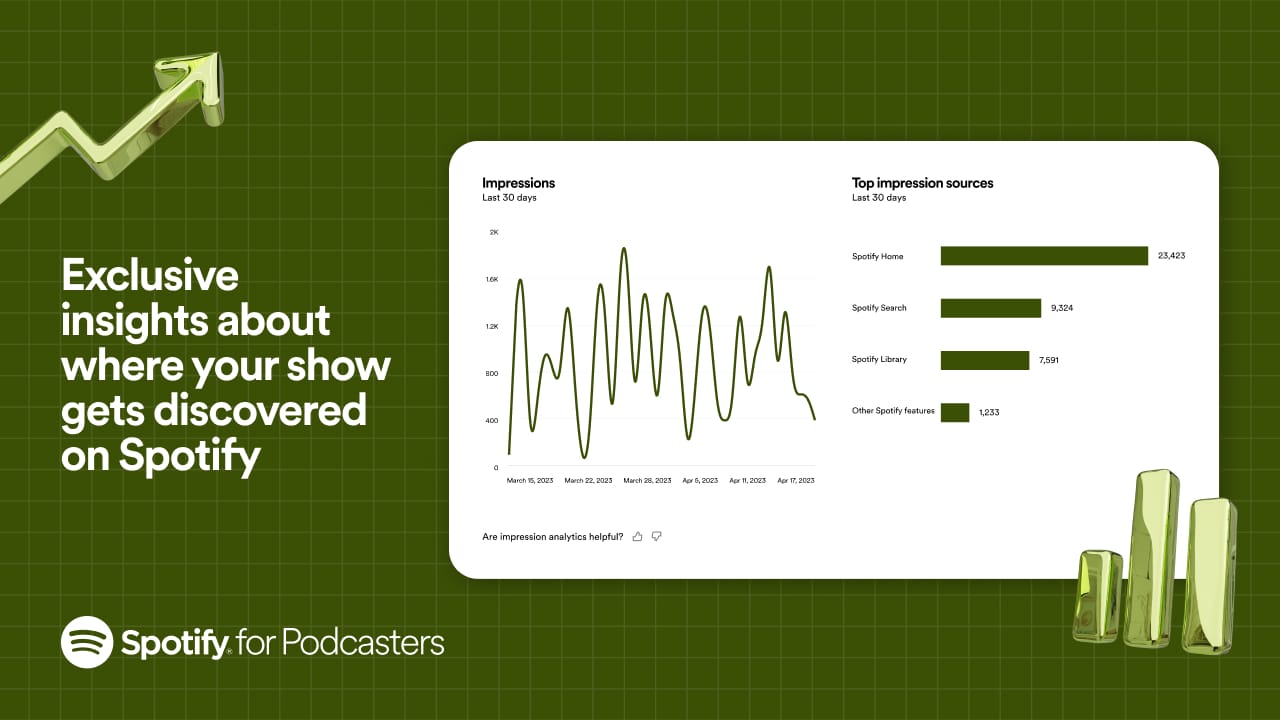 Spotify
By publishing your podcast on Spotify, you're tapping into a global audience of over 500 million listeners. With new impression analytics in Spotify for Podcasters, you can now see exclusive insights about how and where your show gets discovered. Find the total number of impressions for both your show and the individual episodes over a 30-day period, with trending data and a breakdown of where on Spotify the impressions came from. Find out how to engage new listeners, and get more in-depth data to understand your active listeners and grow your show — no matter where it's hosted.
Spotify
People News
Podcast News
Podcast data for Oct 13
#1 in Apple Podcasts

New Heights with Jason and Travis Kelce (Wave Sports + Entertainment)

Conviction (RNZ)
#1 in Spotify

The Joe Rogan Experience (Joe Rogan)

THE MORNING SHIFT (YOUKNOW MEDIA)
Over the last week, 208,350 podcasts published at least one new episode (down 1.8%). source
Events
Getting
the
five
latest
events
This section is continually updated. See more and add yours, free
Latest Jobs
This section is continually updated. See more and add your vacancies, free