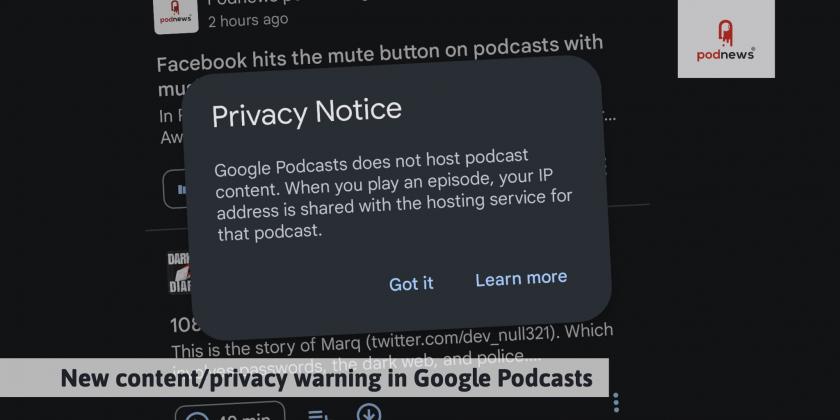 Google Podcasts adds a privacy warning
LISTEN
· · 3.5 minutes to read
Sounds Profitable with Gumball this week looks at merch - merch we've even mentioned admiringly in the past in this very newsletter. Bryan interviews the creator of Were You Raised By Wolves, Nick Leighton.
A content warning and privacy notice has been added to the Google Podcasts app, in multiple languages and territories. The app is a top 5 podcast player according to most podcast hosts - the notice links to this page.

The message makes it clear that Google doesn't host content (stories from Sky News UK, the Brookings Institution and others have highlighted content issues in podcasting recently). The company already blocks some podcasts from under 18s and people not signed in.
The message also, curiously, highlights that IP addresses are passed through to podcast hosting companies if you play an episode. This is also the case when you click on a website in Google Search, so we've asked Google why it's there, and what's so special about podcasts to merit this un-nerving warning.

Spotify has shut down its original podcasting studio, known internally as Studio 4. 15 people will be either moved to other roles or made redundant. Described as a "junk drawer" by one staffer, the division produced the shows that weren't produced by Gimlet, Parcast or The Ringer (which Spotify purchased later). Shows don't appear to be cancelled.

Amazon Music Podcasts has more than 200,000 podcasts, and "55 million customers", according to a podcast creator outreach document being shared by the company. It says that you'll be able to track your download numbers in their dashboard "soon".
Tips and tricks - with Podpage
Podcast News - with Quill

Produced by Quill:
C Suite
Join Claudette McGowan, TD Bank's Global Executive Officer for Cyber Security, as she explores how cyber-attacks happen and what we can do to avoid them. From phishing schemes to robocalls, Claudette meets with C Suite leaders to discuss cyber challenges and ways to help people become more protected.

Hello Sunshine and iHeartMedia launch
Time Out: A Fair Play Podcast
today. Hosted by New York Times bestselling author of Fair Play Eve Rodsky and physician Dr. Aditi, the show invites listeners to learn how to take back their time, with science-backed solutions, humor, personal insights and practical tips. Their first guest is Matthew Fray, a relationship coach who went viral from writing a New York Times article about getting divorced over dishes.

Gold Medal Loser with Lolo Jones
is the latest podcast from Blue Wire. Sponsored by Discover, it looks at the career ups and downs of major celebrities across sports, entertainment, fashion, and music. Lolo Jones is competing in the Winter Olympics US Women's bobsled team. -
read more
Share your work with the internet's best
Paid content
When you enter The Webbys, your work is seen by their judging body, the International Academy of Digital Arts and Sciences (IADAS) a by a community of artists, innovators, and creators spanning all facets of digital culture.
New judges for Podcasts this year include: Nikole Hannah-Jones, Creator, The 1619 Project, Alex Blumberg, Co-Founder, Gimlet Media, Ira Madison III, Co-host, Keep It, Jen Sargent, CEO, Wondery, Shereen Marisol Meraji, Host, Code Switch and Bill Simmons, Host, The Bill Simmons Podcast.
To participate in the 26th Annual Webby Awards, enter by the Extended Entry Deadline on February 11th, 2022.
Pod Events
Getting
the
five
latest
events
This section is continually updated. Data: Podevents. See more and add yours, free
Latest Pod Jobs
This section is continually updated. Data: Podjobs. See more and add yours, free