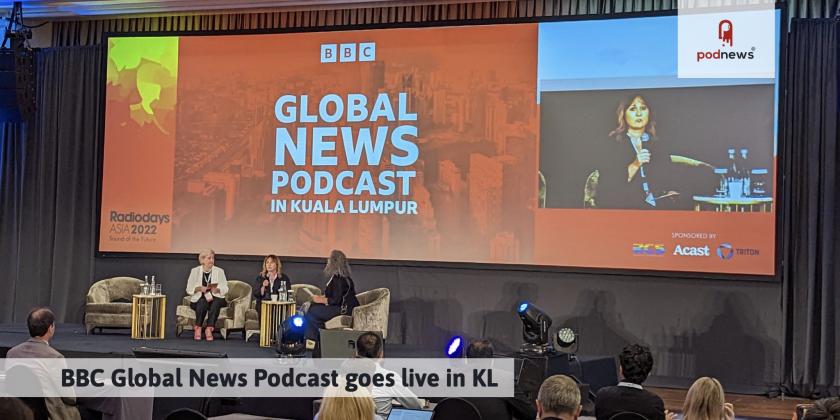 BBC Global News Podcast goes live in KL
The BBC Global News Podcast's presenter Jackie Leonard, and producer Karen Martin, spoke at Radiodays Asia in Malaysia. The show, which is also recording a special edition at the event, is one of the top-rated shows in many Asian countries, with 33m downloads a month. Unusually, the BBC shared daily download data, the show's audience profile and a comparison to other podcasts from World Service English.

"At the start, we reckoned nobody important at the BBC was listening to it, so we started to add a few puns and jokes into the podcast for fun," said Leonard. "It turned out that people were." Tomorrow at the conference, there's a full podcasting track.

Pod The North, a Canadian podcast newsletter, launches today. Run by Kattie Laur, it aims to "put Canadian podcasts on the map".

"Streaming services need to stop showing me the same ad over and over (and over)", says David Pierce in The Verge, a tech website. We'd suggest there's a parallel with some podcast ads, too.
Acast, a podcast hosting and monetisation company, has partnered with El podcast de Cristina Mitre, a Spanish health and beauty podcast that gets more than half a million listens. There's a press release here, y en español. Acast launched in Spain in March.

Want to be at Podcast Day 24 on October 6? You can see an event in New York, London or Sydney in person - and get the rest on catchup video. We've got a discount code: P24partnerZ1 will get you a sizeable discount, down to around €200 or similar. Tell everyone!
Tips and tricks
Podcast News - with Lemonada Media



Unladylike
returns today, from Starburns Audio. A feminist lifestyle podcast, it's hosted by Cristen Conger; today's episode looks at how white, Christian women have played a formative role in America's conspiracy culture.
We want your insight
Paid content
MIDiA is currently fielding a survey for the podcast industry, networks, and podcasters and their teams (who are based in US and UK) to learn about their biggest priorities, challenges, and unfulfilled needs when using major streaming and podcast services.
Please help us by filling in this short 10-minute survey.
The results will be used to drive innovation towards developing a better, more effective experience for podcasters and their teams using streaming services — from release to data analytics, promotion and beyond. As such, this survey is your chance to share what you would like to see improved or changed about any part of the process.
Participants will also receive a FREE copy of MIDiA's report, Music creator survey, Q4 2021: Redefining success, normally priced at £3,000 excl. VAT. In addition, three lucky participants will each win $1,000 in cash from our prize draw.
Number one for podcasts - Sep 6
Pod Events - with Podcast Day 24 on Oct 4
Getting
the
five
latest
events
This section is continually updated. Data: Podevents. See more and add yours, free
Latest Pod Jobs
This section is continually updated. Data: Podjobs. See more and add yours, free