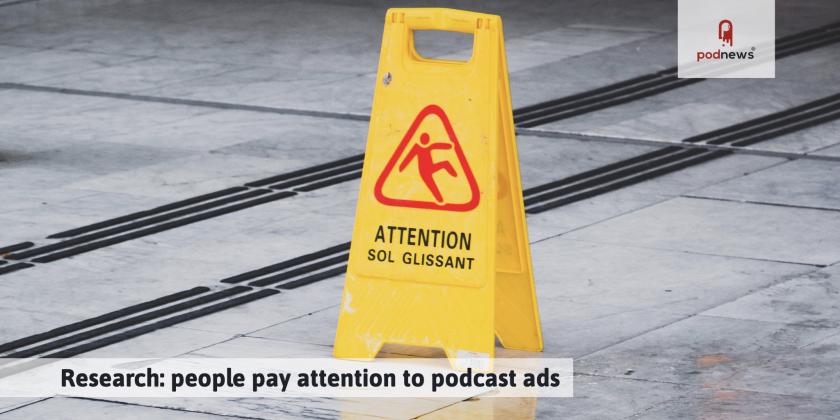 Research says people pay attention to podcast ads
LISTEN
· · 4.4 minutes to read
More listeners pay attention to podcast advertising than ads on TV or radio, according to new UK research from The Guardian. Podcast advertising also has a 'multiplier effect' when used in combination with other advertising media.

The Podcast Show - the new international festival for podcasting in London this May - has announced its first 100 speakers, including The Receipts, Jonathan Wall (BBC Sounds), Miranda Sawyer (The Observer), Jane Garvey & Fi Glover (Fortunately with Fi & Jane), Nihal Arthanayake (BBC Radio 5 Live), Glenn Miller (CAA), Marvyn Harrison (BELOVD Agency), Jen Sargent (Wondery), Fearne Cotton, Ross Adams (Acast), Julia White (Twitter), Alice Levine, Edith Bowman and Munroe Bergdorf … and they're just getting going! Get ready for another 250 names being announced in the coming weeks. You can book your day pass from £55 - use promo code PODNEWS for 20% off a limited number of passes. Podnews is a media partner (and we'll be there).

Who was the first independent podcaster to turn a podcast into a TV show? We asked that question yesterday; Aaron Mahnke reminded us that his show Lore holds the title of the first TV show based directly on an indie podcast (Amazon Prime, first airing Oct 2017; we reported it in Aug 2017). Other indie-podcasts-turned-TV-shows include Limetown (Facebook Watch, Oct 2019), The Midnight Gospel, from the Duncan Trussell Family Hour (Netflix, Apr 2020), and Archive 81 (Netflix, Jan 2022). Podcasts from bigger networks, rather than indies, include The Ricky Gervais Show (HBO and Channel 4, Feb 2010) and Earwolf Media's Comedy Bang! Bang! (IFC, June 2012).

Please add others to this Wikipedia list of podcast adaptations, which we have edited today to add dates to.
We should know better to ask questions about TV shows when we don't watch too much TV. We've amended the post from yesterday, and genuinely sorry that it upset so many people on Twitter.
Thanks to Daniel J Lewis who had the audacity to say that he didn't like the percussive music bed we've been trying out for the last few episodes under this bit. It's gone, Daniel. Thanks for the feedback.
Moves and hires
Jared Schwartz has been named Executive Producer - Podcasts and Audio at CoinDesk, a publisher covering news and events about cryptocurrency. He joins from Himalaya.
Podcast News

In
The Jordan Harbinger Show
today, Yuriy Matsarsky - a Ukrainian journalist turned civilian fighter against the Russian invasion of Ukraine. Since the incursion began, he's been keeping the world updated with events as they happen as the host of the daily podcast Fighting for Ukraine. We promised this earlier this week, but it's
live today
.

Podland News
later today will have an interview with Marty Michael, the CEO of host-read advertising platform Gumball, which recently
raised $10m
.

A haiku podcast
celebrates Jack Kerouac
Listen:
Haiku Pea
Pod Events - with The Podcast Show 2022
Getting
the
five
latest
events
This section is continually updated. Data: Podevents. See more and add yours, free
Latest Pod Jobs
This section is continually updated. Data: Podjobs. See more and add yours, free
Comments via boostagram
To send us a comment, listen to this episode on a supported podcast app, and send a message using a "boost". It will appear here within ten minutes.