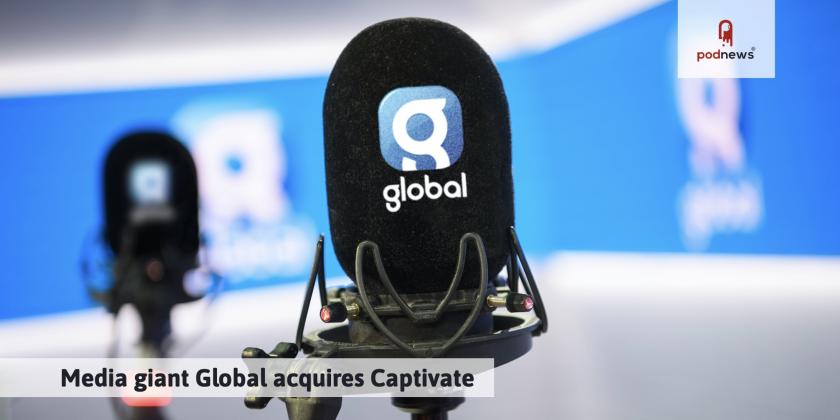 Breaking: Media giant Global acquires Captivate
Breaking: Media and entertainment group Global has purchased podcast hosting company Captivate. "This acquisition will enable us to support all talent in the podcast community from the very largest to emerging new talent", said Global's Group CEO Stephen Miron. Terms weren't given; company founders Mark Asquith and Kieran McKeefery will remain with the business. Podnews's Editor was an advisor to Captivate.

First look: We're told that Squadcast is to launch an update today that adds "full-featured, stable support" for Safari on Mac OS, and also adds beta support on iPhone and iPad 15.2+. Squadcast officially supports Chrome, Firefox, Edge, Opera, Brave, and Silk web browsers on MacOS, Windows, Android, and Linux operating systems since 2019: wider support, we think, than any other cloud recording audio/video service.

Adobe has unveiled Project Shasta, a web-based tool that enables remote recording, text-based audio editing, and AI filters. As an early alpha product, you can request access to it on the website.
When does a "lifetime account" only last nine months? When it's a lifetime account with podcast hosting company bCast. The service, which currently hosts 630 shows in the Podcast Index, has been accused by users of being a scam. After selling "lifetime accounts" on AppSumo earlier this year, bCast has announced that all lifetime accounts will expire in just two weeks. The TrustPilot reviews (which bCast still links to from its front page) are scathing.

Apollo is a new podcast app: but just for fiction podcasts. It features curated playlists, eighteen genres, and more tools specifically for fiction podcast listeners.
The Tech Stuff - with RSS․com
Following from last week's legal action against one podcast company for lack of transcripts, the audio editor Descript has added additional transcript formats to meet the podcasts:transcripts standard. Both .json and .vtt formats are now available from the service, and are compatible with supporting players. (If your podcast hosting company supports Descript, that gives you full support of transcripts, too - saving your customers, and you, from potential legal action).

podcast:images has been formally adopted into the Podcast Namespace. It allows podcasters to specify thumbnails of different sizes into their RSS feed - both at the episode and channel level. It might be useful when podcast artwork is viewed at very small sizes (to remove text or other elements). It's in our RSS feed (for the main channel) - smaller versions of our artwork are different, to deal with smaller screens.

The podcast:medium tag has also been formally adopted.

Thank you for many boostagrams this week, including Adam Curry saying he was pleased to hear our Editor on the microphone again, Kyrin from the Mere Mortals podcast, and one final boost from Adam Curry, reminding our Editor of his foolish bet of 100,000 sats (almost $50) that Apple Podcasts would release their app on Android this year. C'mon, Cupertino - one final sprint?
Podcast News - with Memberful

The Staple Piece
is a new fashion podcast, taking a look at those timeless, staple pieces of fashion. It's hosted by Stephanie Todd, who was at New York fashion company Ralph Lauren. The first episode takes a look at denim - once protective wear for miners, now a fashion item. -
read more

Podcasting 2.0
this week features an interview with Jason and Joseph from podcast app PodcastGuru.
Pod Events
Getting
the
five
latest
events
This section is continually updated. Data: Podevents. See more and add yours, free
Latest Pod Jobs
This section is continually updated. Data: Podjobs. See more and add yours, free