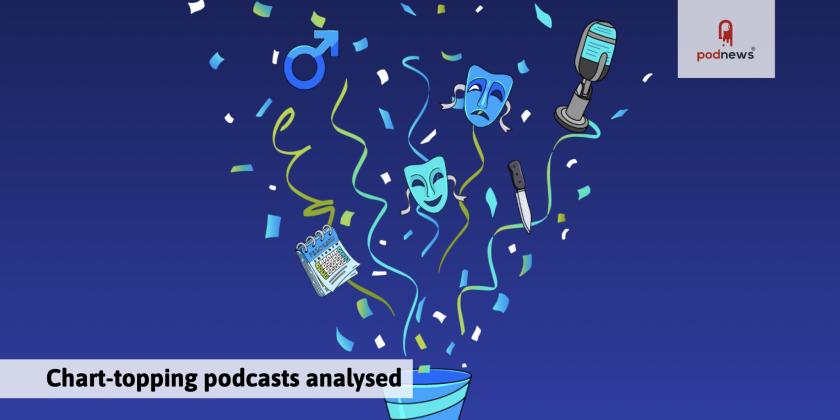 Chart-topping podcasts analysed
LISTEN
· · 4.6 minutes to read
What makes a chart-topping podcast? Rephonic has dug into the data to discover that top shows tend to be weekly; tend to skew male in audience; and newer shows have more chance of appearing at the top.

Dan Misener from Bumper, our newest supporter (see below), has added to our data point about trailers. On Friday we said that out of 362,324 podcasts we examined over the last three months, only 14% have an episode marked as a trailer. By comparison, Dan says, 54% of the Apple Podcasts top 200 had trailers, and 50% of the Spotify top 200 did too.

And, talking about trailers, we're told that the latest episode of the BBC Screenshot podcast is a good listen: it's about movie trailers, but contains lots of information for those who make trailers for podcasts too.

Riveter, a podcast production and marketing company, has launched. The company is a joint venture between Frequency Machine and Tink Media, and launches with a competition for US-based non-profits.
Good Tape is a "secure transcription service for your interview tape", aimed at journalists. It gives you TXT and SRT, and it's free.

Nicole Lapin, a finance journalist, has launched the Money News Network, a podcast-driven business and finance network.

The finalists for the Ondas Premios Globales del podcast were announced today in Malaga. The Spanish press release contains all the finalists. The awards, organised by PRISA Audio and Cadena SER, had 1,178 submissions from 18 countries: an increase of 25% year-on-year.

Podcast Industry Insights has added top-level Apple Podcasts category data for free, showing relative active vs inactive podcasts for each.

Data: of all people aged 13-34 in the US, one third listen to a podcast every day says Edison Research.

BBC Sounds data in Q4/22 was published. 188mn plays (62mn per month) were to on-demand content (excluding music mixes). The corporation also saw 259mn podcast downloads (86mn per month) on third-party platforms. A total of 148mn global downloads and streams per month would make it #4 on Podtrac's publisher list, behind NPR, Wondery and iHeart; though this number includes some catch-up radio shows unavailable as RSS podcasts.

Over a thousand Buzzsprout podcasts are using the subscriptions feature, according to Buzzcast. It was announced in late January.

The EarBuds Podcast Collective has five podcast episodes on the theme of Canada Black History and Futures, curated by Daniella Barreto.

Further reading: Nour Eldin writes about the smart way to listen to podcasts using AI … The Observer writes Podcasts in pivotal moment as number of new shows drops by 80%, except, as we covered last week, this figure is misleading … Eric Nuzum, writing in his newsletter, says that "Podcasting is now acting like a mature media platform, subject to the laws of economics and physics, as well as the realities of audience taste, engagement, and return on investment that governs other media platforms." … Erik Johnson is hurming and murming about podcast awards
Thank you to Bumper for becoming our latest silver supporter. Bumper is a podcast growth agency, to help organisations reach their business goals through the power of audio. The message says "Bumper is happy to support you!" and we're happy you're supporting us too. You can be like Bumper and support us
The Tech Stuff - with RSS.com
Podcast News
Podcast data for Feb 6
Pod Events - with Radiodays Europe 2023
Getting
the
five
latest
events
This section is continually updated. Data: Podevents. See more and add yours, free
Latest Pod Jobs
This section is continually updated. Data: Podjobs. See more and add yours, free