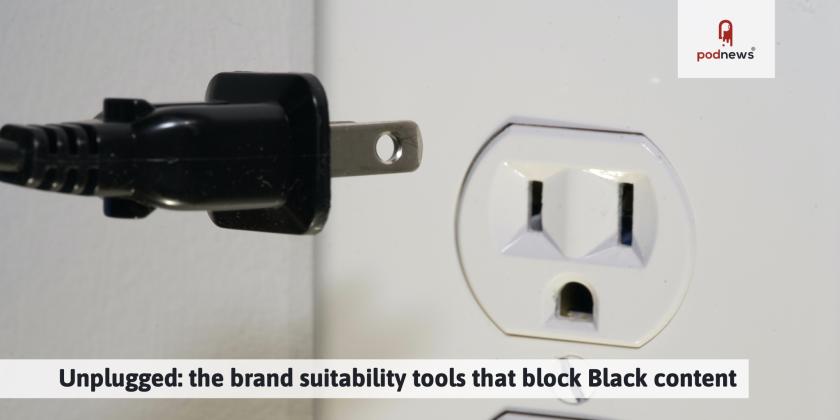 Unplugged: the brand suitability tools that block Black content
LISTEN
· · 3.8 minutes to read
Some brand suitability tools are making it impossible to monetise podcasts from Black creators because they don't understand the culture, new research says. Solutions just using a standard keyword blocklist claimed that 92% of Urban One's podcast content was so potentially problematic it couldn't be advertised on - but the tools didn't understand that words like "bomb" mean "cool", not an explosive device, or simply didn't understand the accent and got the transcripts so incorrect they were then flagged as shows to avoid. Sounder's AI-based tool, however, only flagged 10% as problematic: dramatically improving the monetisation for content from Black creators.

Podcasts are coming to TikTok. Some podcasters are receiving messages with details of how to add podcast feeds to TikTok via RSS. "Viewers will be able to listen to your podcast episode from the linked videos", the message says. The audio plays within the TikTok app on a bespoke player page (and only plays while that page is on screen). (Activity from TikTok had been seen by podcast hosts last October).

Edison Research has published the US Top 50 Podcasts for Q2 2023 - the first time that Edison Podcast Metrics has produced a quarterly ranker. The Joe Rogan Experience is #1, Crime Junkie is at #2 and The Daily is at #3; the highest new entry was Bad Friends, a comedy podcast from Andrew Santino and Bobby Lee, at #34. The survey interviewed 5,352 weekly podcast consumers in the US, aged 13+.

Edison Research Edison Podcast Metrics
Podcast Movement
Tips and tricks - with Pod Predictor by Coleman Insights
Moves and hires
Podcast News - with Airwave

Part of the Airwave podcast network:
In the
Queens Podcast
, Katy and Nathan pair cocktails with amazing women of history, like the ancient Egyptian scholar, philosopher, astronomer and mathematician Hypatia of Alexandria, or the Japanese Lady Muraski, the world's first novelist. Cheers!


Journalista
is new from iHeartPodcasts;
the true story of Courtney "Cookie" Hood
, former model and ex-wife of a Colombian drug cartel kingpin. She ran the CBS field office in Nicaragua during the civil war in the 1980's; and almost took down the Reagan presidency by lifting the lid off the Iran-Contra scandal.
Podcast data for Aug 2
#1 in Apple Podcasts

The Retrievals (Serial Productions & The New York Times)

I'm Not Here To Hurt You (Independent.ie)
#1 in Spotify

The Joe Rogan Experience (Joe Rogan)

I'm Not Here To Hurt You (Independent.ie)
Over the last week, 195,804 podcasts published at least one new episode (up 0.6%). source
Events
Getting
the
five
latest
events
This section is continually updated. See more and add yours, free
Latest Jobs
This section is continually updated. See more and add your vacancies, free