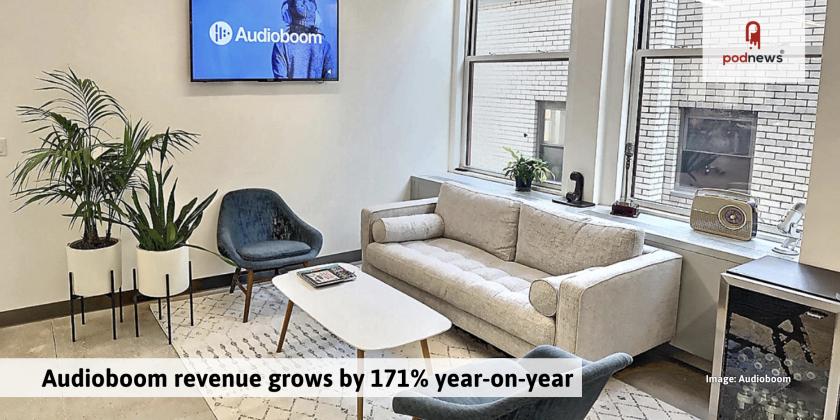 Audioboom revenue grows by 171% year-on-year
This article is at least a year old
Audioboom's revenue is up by 171%, the company announces today, revealing its financial results for the first half of 2019. The company says it's growing four times faster than the wider industry, and on the way to profitability. 88% of Audioboom's revenue comes from the US market, but it also says it's successfully growing its UK business.

Westwood One release its "Podcast Download - Spring 2019" report, with new data about how people discover and listen to podcasts. It reports that podcast ads are least likely to be skipped (in comparison to TV, radio, print or online); and 31% of new podcast listeners do so because they've heard them advertised on the radio.

What's one of the fastest-growing advertising categories on traditional AM/FM radio? It's… podcasting. 106 podcasts advertised on the radio in Q1 2019. Just 11 did in Q4 2018.

In the UK, the Young Audio Awards announce they are returning for 2020. Young people aged 8 to 18 who are involved in radio, podcasts or audio projects can enter.
IAB
Blubrry
AdsWizz and Tapad announce a partnership in the US and EMEA to enhance advertising targeting. "The Tapad Graph enables marketers to identify a brand customer or related household across multiple devices," says Tapad's website.

AdsWizz

Podcrypt has had a number of releases since we saw it last. It's a multi-platform podcast player that allows you to listen to podcasts and optionally donate back to podcasts automatically, using crypto-currency.
As there are more places to go for your podcasts than ever before, Nielsen release research on the fragmented US television market. The company reports that 18-34 year-old viewers took an average of 9.4 minutes flicking through menus and channels to work out what to watch next. "Think about how much more engagement content providers and platforms could achieve if they took out the guesswork.", the post adds.
Psst. Want a unique podcoaster? Find your unique link at the bottom of Podnews's email newsletter, and share that with others to be one of the first to grab one.
Multitude, a podcast collective founded in 2017, launch the MultiCrew, a membership program including an exclusive podcast, called Heart Heart Gut. "We want to continue our momentum and keep growing. The reality is we need money to do that. We could wait for a pile of cash to fall out of the sky or some giant media company to offer to acquire us - or, we could be powered by our listeners," the CEO Amanda McLoughlin tells us.


Aug 15 2023: This broken link now points to the Internet Archive.

The New York Times reckons we've already got enough podcasts: beyond the clickbaity headline, it's an interested read with folks like Jordan Harbinger, Tom Webster, and others.

The New York Times

Lore's Aaron Mahnke has helped write a comic book. He's also done an interview with DiscoverPods.

Pacific Content's Steve Pratt says that the company is being increasingly contacted about making internal podcasts for employees.
Thank you
Thank you to Ceslie Armstrong, who is our newest personal supporter. Be like Ceslie. And thank you to Podfront UK, representing the best podcasts in the world, for becoming our latest silver supporter. Your generosity is much appreciated.


Aug 15 2023: This broken link now points to the Internet Archive.
Podcasts