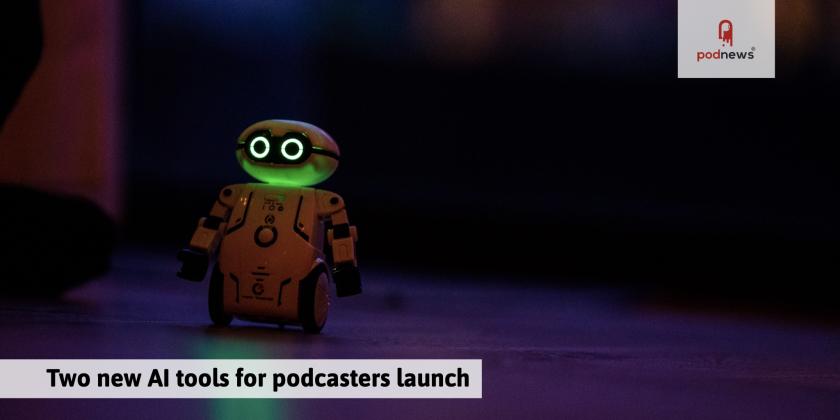 Two new AI tools for podcasters launch
LISTEN
· · 2.5 minutes to read
Buzzsprout and Ausha have both launched AI tools to help podcasters when publishing new shows. Buzzsprout's tool automatically builds episode titles, descriptions, chapter markers and transcripts; while Ausha has added ChatGPT to help produce social media posts. Both services are available to all customers, joining other services like Capsho.

Buzzsprout 🇺🇸

Spotify is the #1 podcast network in the US for audience reach, according to Edison Podcast Metrics. SiriusXM is second, and iHeart is #3 for podcasts.

Spotify 🇸🇪 SiriusXM 🇺🇸

At The Podcast Show, Pod Save the UK host Nish Kumar discussed the concept of impartiality in news coverage: in the UK, broadcast media is required by law to be impartial. "It's a noble aim, but social media has changed perceptions," he said, adding that audiences are tired of impartial phrasing being used to sanitise, or even minimise, some peoples' actions.

Over 10,000 attendees from 40 countries attended The Podcast Show 2023 in London, according to organisers.
Spotify 🇸🇪

At APM Studios, 73% of the network's hosts are people of color, which is up from 37% just one year ago. In today's Podcast Business Journal, Tom De Napoli, the VP of Revenue Strategy at APM Studios, tells us about the company's set of principles for working with brands, and its focus on diverse voices. Subscribe, free, to our weekly newsletter covering the business of podcasting and join 8,000 others.

The Black Pod Awards are open for entries; prices go up on June 1. The global awards are open to shows that are hosted, or majority hosted, by Black people.

Audiochuck, the podcast publisher created by Ashley Flowers, now has 40 full-time employees, Podnews has been told. The company has also hit 2 billion all-time downloads.
Tips and tricks - with Podnews Live - where podcasting connects
Podcast News

In its latest episode,
Humankind on Public Radio
explores misconceptions around poverty in the US and features stories of those who are facing it and those working to address it. The show is more than twenty years old on public radio, and features stories of people overcoming the odds and making our planet a more humane and liveable place.

This week, the
Podnews Weekly Review
features an unusual guest - the audience at The Podcast Show 2023. Hear their reactions to YouTube's RSS trial earlier this week and the new UK podcast ranker, in a special edition of our weekly review, with James Cridland and Sam Sethi.

Shameless podcast promotion in the wild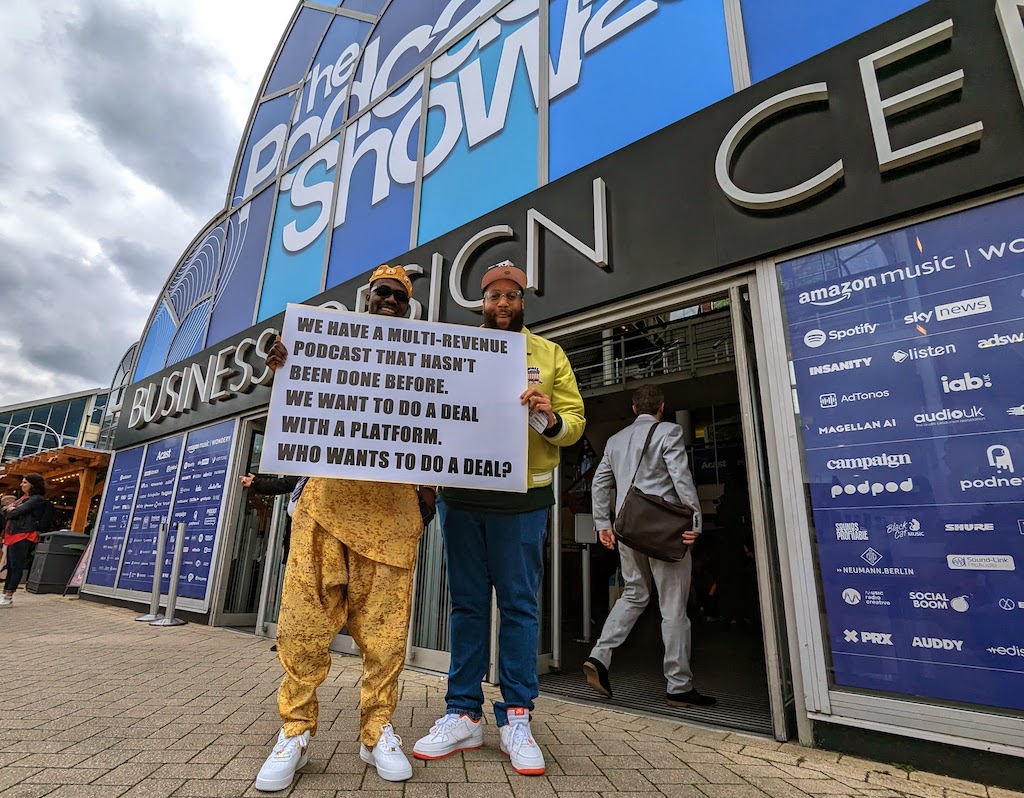 We're not sure who these two were, or what the podcast is - but this was quite the way to get some attention! We hope they were snapped up.
Podcast data for May 26
Pod Events
Getting
the
five
latest
events
This section is continually updated. Data: Podevents. See more and add yours, free
Latest Pod Jobs
This section is continually updated. Data: Podjobs. See more and add yours, free