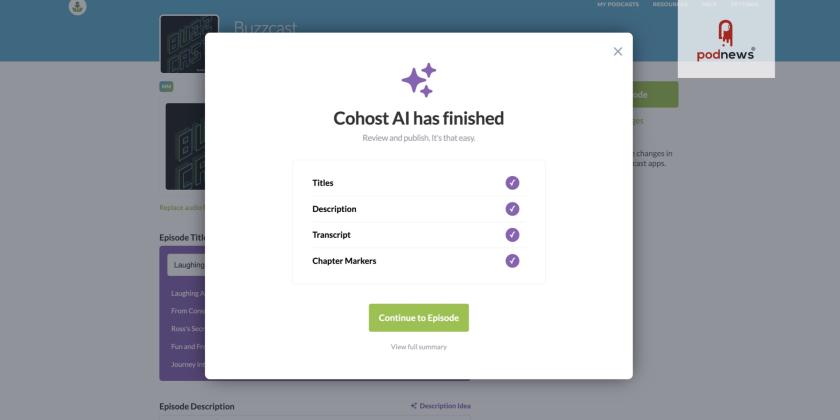 Buzzsprout Introduces AI Tool For Your Podcasting Workflow
Press Release · Jacksonville, FL, USA · via Buzzsprout ·
Buzzsprout is thrilled to announce the launch of Cohost AI—a groundbreaking tool that seamlessly integrates AI into your podcasting workflow.
Cohost AI automatically generates episode titles, descriptions, chapter markers, and transcripts, freeing podcasters from these often time-consuming tasks.
Leveraging the power of advanced AI platforms, Cohost AI saves podcasters time while enhancing their episodes with Podcasting 2.0 features like transcripts and chapter markers.
Cohost AI joins other initiatives from Buzzsprout, like Magic Mastering, Dynamic Content, automatic file optimization, and the Smart Insertion Point Finder that help podcasters focus on what they do best—creating great podcasts.
About Buzzsprout
Buzzsprout was founded in 2009 and has helped over 300,000 people launch their podcasts. It is the easiest way to get your podcast online, listed in every major podcast directory, and distributed to the world. Buzzsprout is based in sunny Jacksonville, Florida.
This is a press release from Buzzsprout which we link to from Podnews, our daily newsletter about podcasting and on-demand. This is reprinted verbatim; we may rewrite headlines and descriptions.