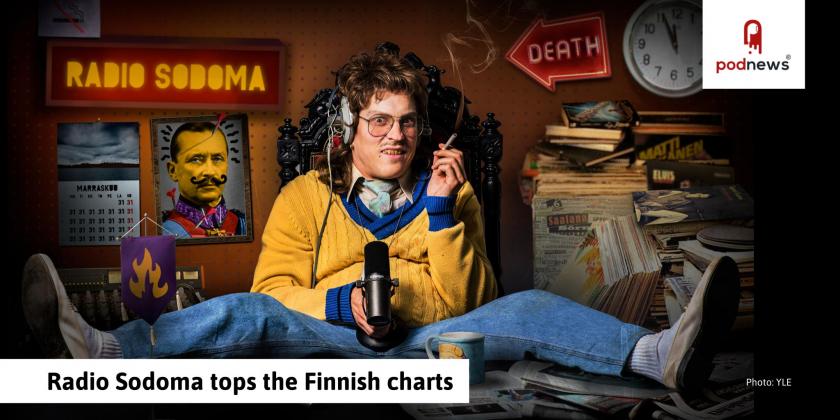 Fresh from Hell: fiction podcast's second season breaks records in Finland
Press Release ·
This article is at least a year old
Finnish podcast charts have been blowing up since September 24 by the release of Radio Sodoma ('Radio Sodom'). The second season of "the best and only radio station in Hell" gathered over 800 000 starts online in fourteen days. In a country of 5.5 million people this breaks all records.
Radio Sodoma is a one-man show and a fictional radio station written and voiced by Antti Holma, a well-known actor and author in Finland. Each 15-minute episode of the radio parody presents twisted radio formats that combine social critique with explicit dark humour.
Popular characters include frequent caller Satan, who in the second season gets laid off from Hell, Satan's boyfriend and radio DJ Kalevi Tuoninen with a soothing voice and the darkest aforisms, and Aunt Risto ('Risto-täti'), a degenerate childrens' show host.
Radio Sodoma is part of a new wave of radio fiction. The 15-episode second season joins the popular first season on Spotify and iTunes on October 11, after having been released on the Yle audio-on-demand player Yle Areena in September. The Yle catalogue on Spotify also includes an entry to the English language podcast market: The Felix Kersten Files, a mystery podcast following the story of Heinrich Himmler's Finnish masseur.
Radio Sodoma is produced by Yle Drama, the Finnish Broadcasting Company's radio and TV drama department. The podcast is made by producer Elina Ylä-Mononen and award winning freelance sound designer Suvi Tuuli Kataja.
This is a press release which we link to from our daily newsletter about podcasting and on-demand. This is reprinted verbatim; we may rewrite headlines and descriptions.