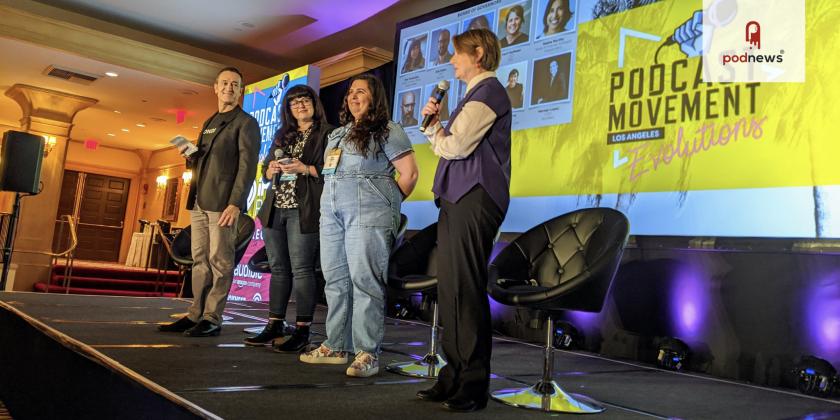 Podcast industry leaders come together to launch The Podcast Academy, and announce annual awards and professional development program
Press Release ·
This article is at least a year old
Los Angeles CA, USA—Leaders across the podcasting community jointly announced the formation of The Podcast Academy on Feb 14, a new membership-driven not-for-profit organization of independent podcasters and industry professionals dedicated to elevating awareness and excitement for podcasts as a major media category and advancing knowledge and relationships in and around the business.
Supporters of the Podcast Academy's launch include many of the world's top producers and independents, led by founding members Donald Albright (Tenderfoot TV), Erik Diehn (Stitcher), Anya Grundman (NPR), Kerri Hoffman (PRX), Courtney Holt (Spotify), Hernan Lopez (Wondery), Christy Mirabal (Sony Music), Rekha Murthy (Independent), Lauren Spohrer (Criminal), and Alia Tavakolian (Spoke Media).
As part of its focus on celebrating the high-quality work and creativity of the podcast community, The Podcast Academy will confer annual peer-based awards of merit – The Golden Mics – in recognition of outstanding achievements in podcasting. The first annual Golden Mics ceremony will be held in Los Angeles in early 2021.
"Film, Television, Music – all other major forms of art have long-ago established a member-based Academy with the goal of fostering and celebrating creative excellence. It's time for Podcasts to establish their own. I am delighted to be joined by a diverse group of people who really care about excellence, from across the country, representing all kinds of podcasts, from public radio to independents and networks", said Hernan Lopez, Podcast Academy Founding Member and Wondery CEO.
"I welcome the opportunity to celebrate the excellence throughout podcasting - at the mic and the amazing talent behind the scenes", said Kerri Hoffman, Podcast Academy Founding Member and CEO of PRX.
"As an independent content creator and podcast producer myself, I'm honored to join my peers from all areas of our industry on the Board of Governors of the Podcast Academy. This is an imperative move in podcasting, allowing us to recognize those who continue to elevate all sides of the industry," Donald Albright, Co-Founder, Tenderfoot TV.
The Podcast Academy will also host monthly webinars on industry topics, networking events in Los Angeles and New York City, and publish whitepapers on best practices. Additionally, the Academy will host a searchable directory of members, giving everyone the opportunity to connect with other professionals in the podcast field.
The Podcast Academy is a new, independent, membership driven not-for-profit organization, overseen by a Board of Governors, who will set the strategic vision. Members of The Podcast Academy are individual professionals within the podcast industry, each with voting rights for The Golden Mics. Members will be sorted into Peer Groups; each Peer Group will vote on its respective category for The Golden Mics and will oversee thought leadership in each respective area of the industry.
As of today, professionals interested in joining the organization can register to receive updates at thepodcastacademy.com. The Podcast Academy expects to start accepting applications in the Spring of 2020.
This is a press release which we link to from Podnews, our daily newsletter about podcasting and on-demand. This is reprinted verbatim; we may rewrite headlines and descriptions.