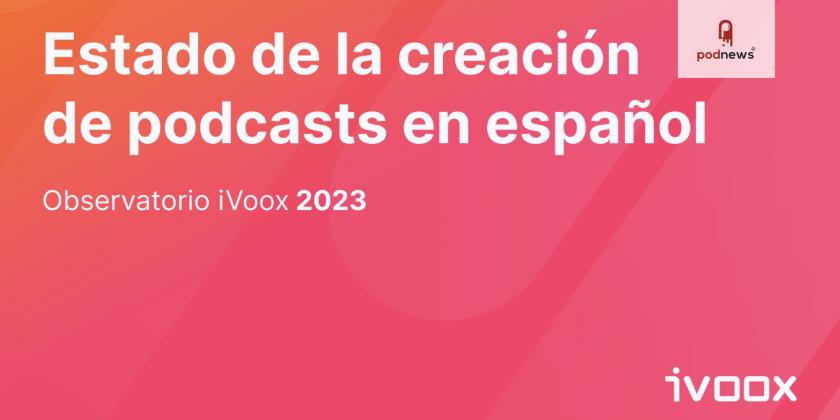 iVoox Observatory: The State of Podcasting in Spanish, 2023
Press Release · Barcelona, Spain · via iVoox ·
This release is available in Spanish on the iVoox website
Podcasting becomes more popular, driven by the creation of content for generation Z and the increase in advertising investment
The sector is enjoying the entry of new audiences and formats, and is consolidating as a profitable profession for the creator thanks to the spectacular economic support of advertisers and listeners.
Entertainment is the genre that concentrates the largest offer of content, and Film and Art and Literature are the ones that condense the largest production of new content.
As part of the iVoox Observatory, the leading podcast platform launches the first report on the production, monetization and advertising of Hispanic podcasting, where it analyzes the changes in trends over the last year.
How do Spanish-language podcasters publish and generate revenue? Born in 2020 to measure the evolution of the podcasting industry, the iVoox Observatory publishes the results of its first annual Report on the State of Podcast Creation in Spanish, based on a survey of nearly 600 podcasters, data extracted from its platform and a global analysis of industry trends.
Powered by iVoox, the leading podcast platform in Spanish, the report reveals the spectacular growth of the industry, which in 2010 counted just over 300 podcasts in Spanish, and now has nearly 500,000. Moreover, more than 62,000 podcasts have already been published so far this year, so an upward trend is predicted for 2022, when more than 81,000 were created.
The Spanish podcast creator
The Spanish podcast creator is mostly male (58%), is between 35-54 years old (63.69%), works (80.98%), has a university education (42.42%) and publishes from Spain (68.18%). In this country, Madrid (25.49%) is positioned ahead of Catalonia (18.14%) and Andalusia (14.95%) as the community with the highest number of podcasters.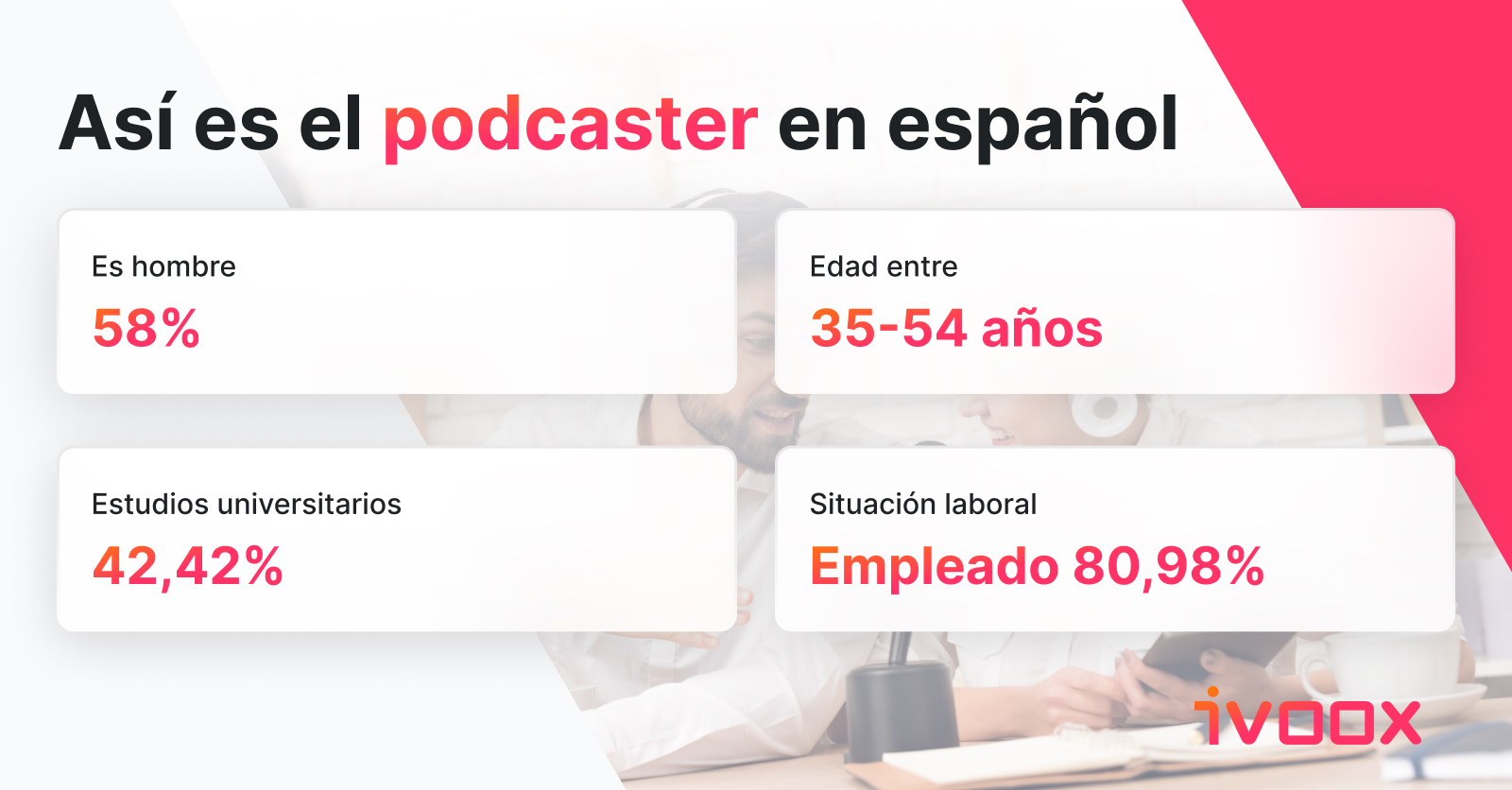 The vast majority say that their main motivation is the hobby of talking about what they are passionate about as a hobby (58.69%), although more and more podcasters aspire to make a living from it (30.98%), and many others find in this activity the opportunity to grow their business or personal brand (26.68%).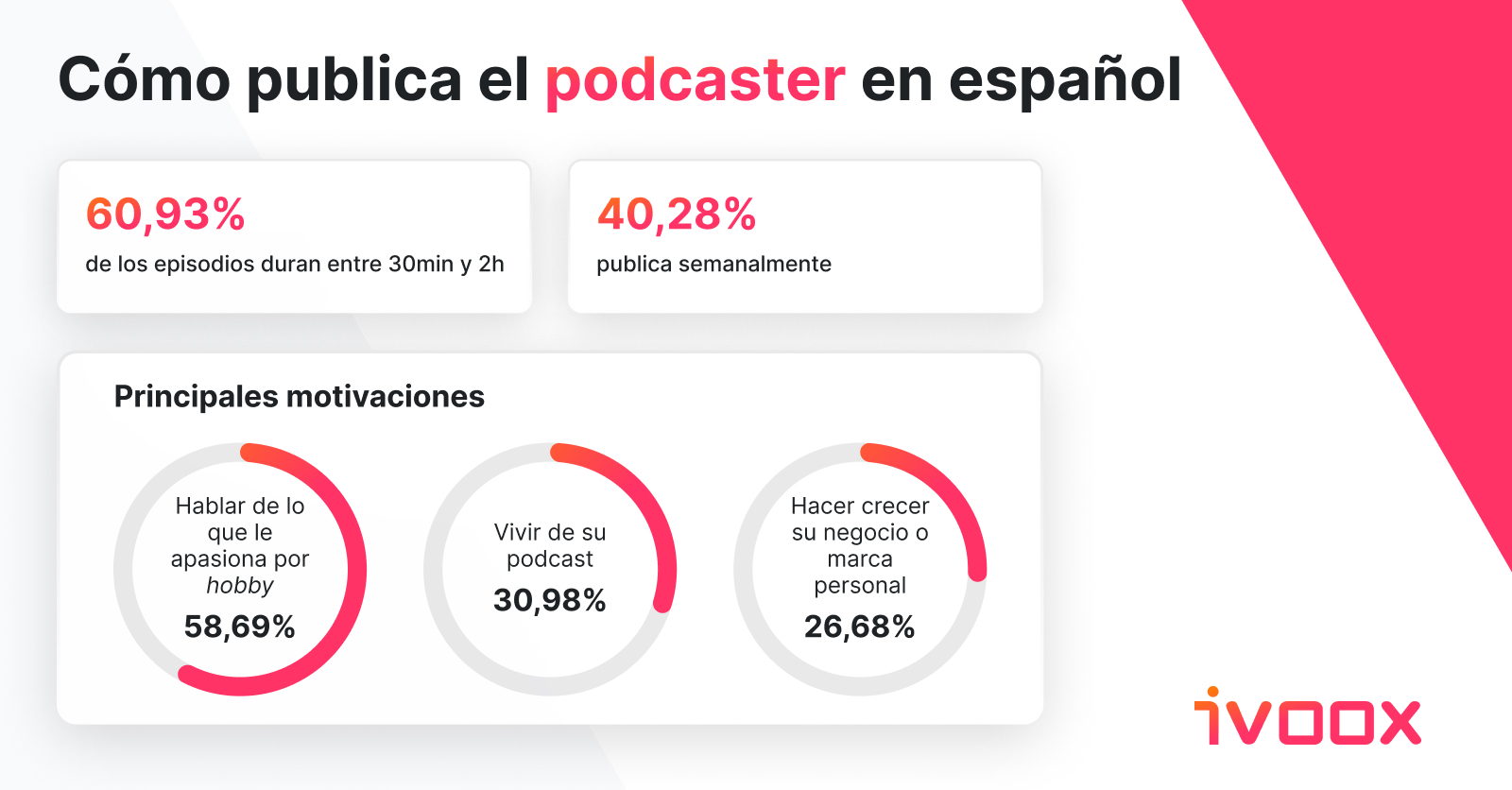 Podcasting continues to grow, and it is a format on which more and more creators are betting. In this sense, 34.94% are new podcasters who published their podcast in the last year, and 32.87% of the creators have had their podcast for between 1 and 3 years. Likewise, 47.16% dedicate less than 1 hour a day to their podcast and usually publish weekly (40.28%) episodes lasting between 30 minutes and 1 hour (33.91%).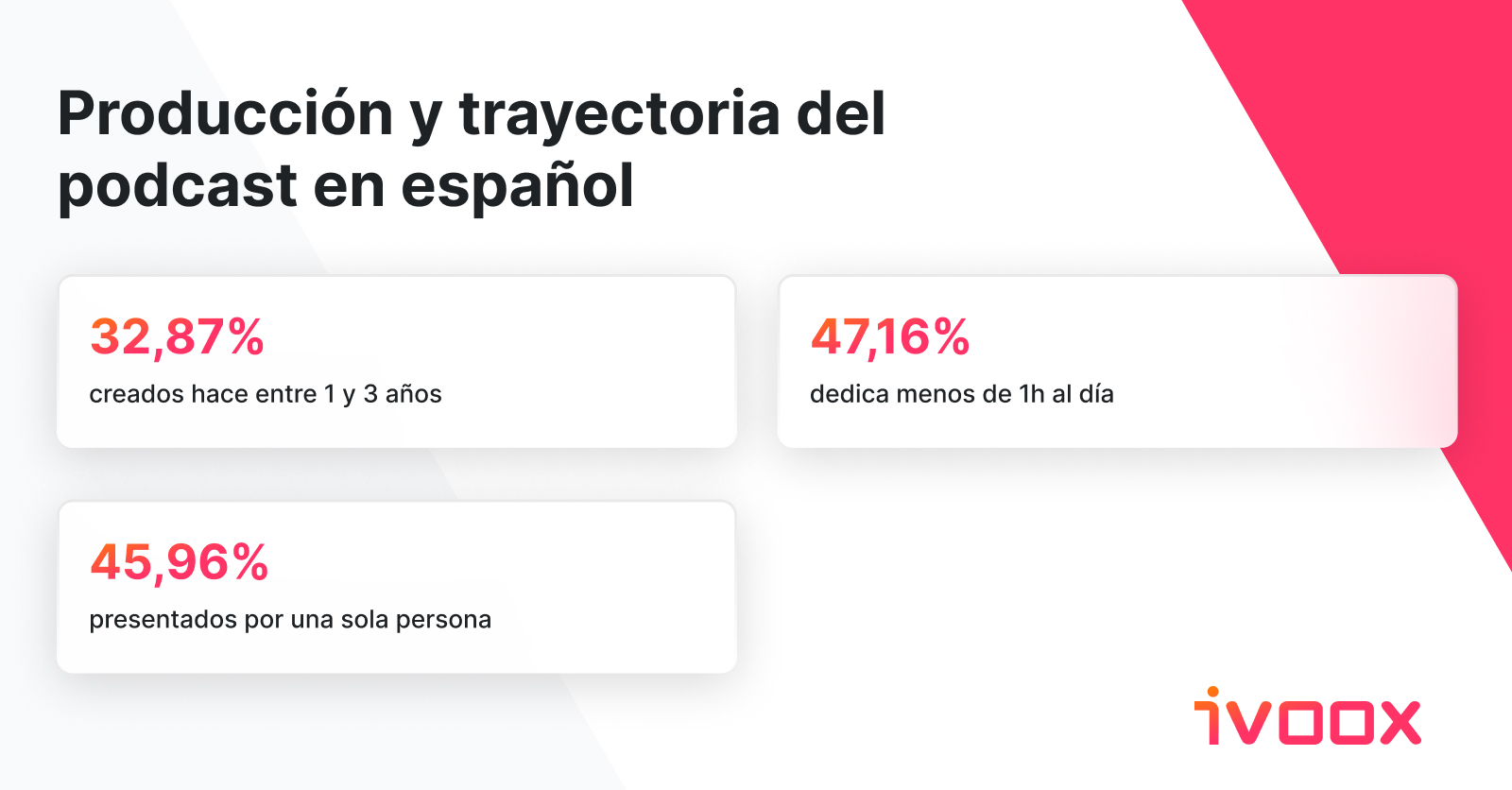 Entertainment is the genre that concentrates the largest offer of content, and the themes of Cinema and Art and Literature are the ones that condense the production of new programs. In terms of format, 58.52% of podcasts are conversational, followed by narrative (27.37%) and fiction (7.75%). Moreover, according to the iVoox 2022 Observatory on podcast consumption, it is also the favorite of the audience, who mostly listen to talks (59.76%) and interviews (46.08%).
This year, serials - podcasts with a beginning and an end - have also gained importance, especially documentaries and audiobooks. In addition, true crime has established itself as one of the undisputed favorites for listeners and producers. Above all, podcasts on mental health, pop culture or LGTBI topics are being created for Gen Z.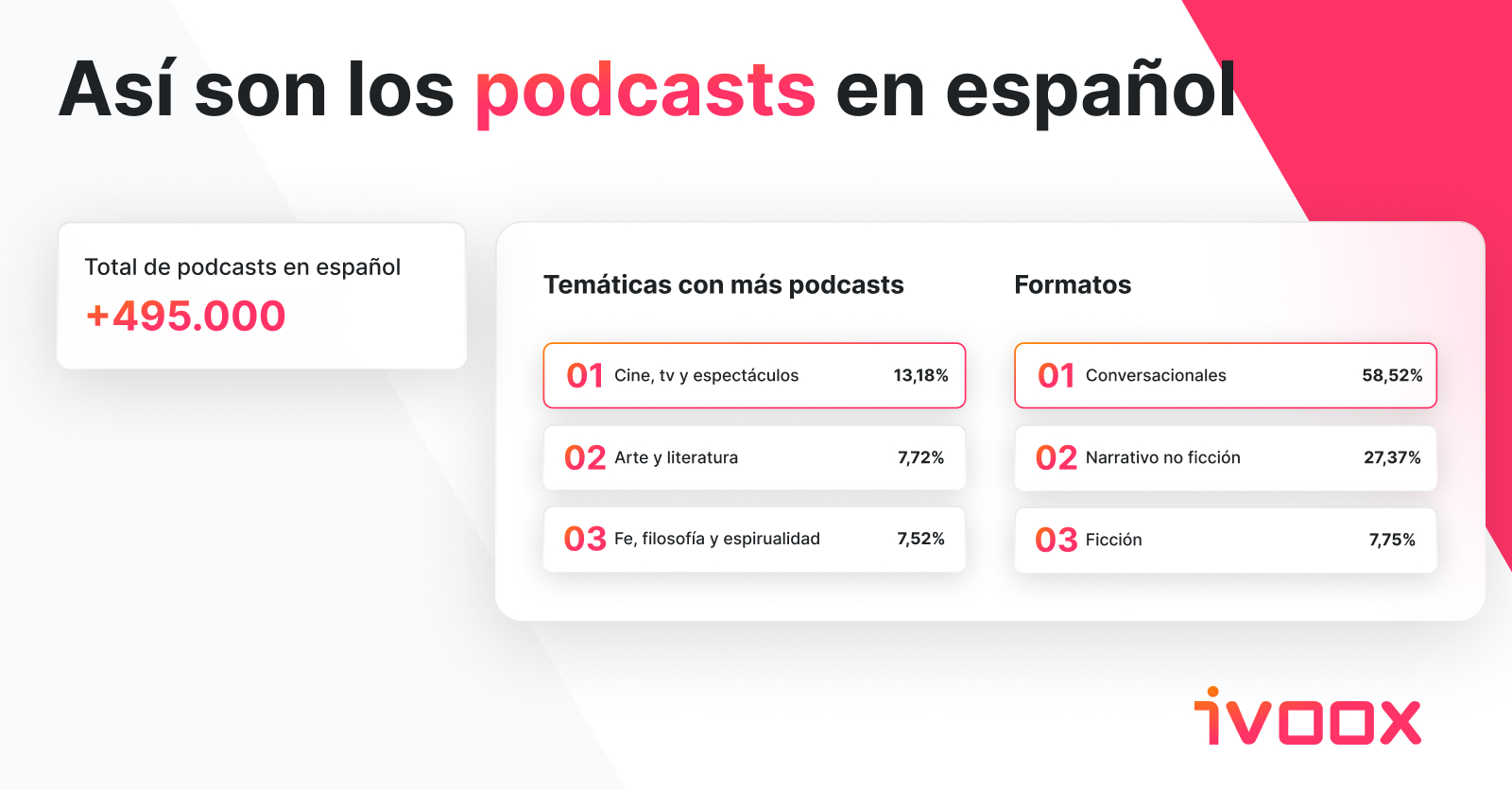 The rise of micropodcasting, video and live podcasting
At a time when entertainment options are multiple and consumer attention spans are limited, snack content is becoming more and more prevalent in digital media. Podcasting is no stranger to this trend, and short podcasts are growing in almost every subject area. The daily format has also become popular, both by independent creators and by the media, who publish every day to disseminate current content in fields such as science, video games or marketing.
The videopodcast is also here to stay, and 27.39% of the podcasts created in the last year already include video. Moreover, interest in this format has increased, and 24.89% of new creators are considering incorporating it into their content strategy. In addition, with the popularization of social networks such as TikTok or Instagram (Reels), microvideos are a channel increasingly used by podcasters, who use them to share highlights of their episodes or unpublished fragments. It is a format that increases promotion options, and is the best way to bring their content closer to the younger audience.
Another of the most relevant trends is the rise of podcasts with an audience, an option that 23.75% of creators have already opted for, with a format that allows them to strengthen the bond with their listeners, and also represents an extra monetization channel with which they can generate income. The data suggest that live shows with an audience will continue to increase, as a result of the desire of creators and audiences to live a more immersive experience.
Publicity and audience support strengthen the profession
More and more podcasters are starting to monetize their content, with 18.37% already doing so in one or more ways. In addition, monetization in the industry is becoming more and more established and listeners are willing to pay for content. Likewise, the mindset of creators has also changed, and 59.3% are considering starting to make money from their podcast.
The preferred monetization channel is direct support from listeners (35%), followed by subscription podcasting (20.30%), sponsorships and branded content (14.28%), in addition to affiliation (11.07%) and dynamic advertising (8.92%), for which they have useful tools such as iVoox's AdVoices maketplace. The creators of the platform have already generated more than €3.3 million through its various monetization schemes.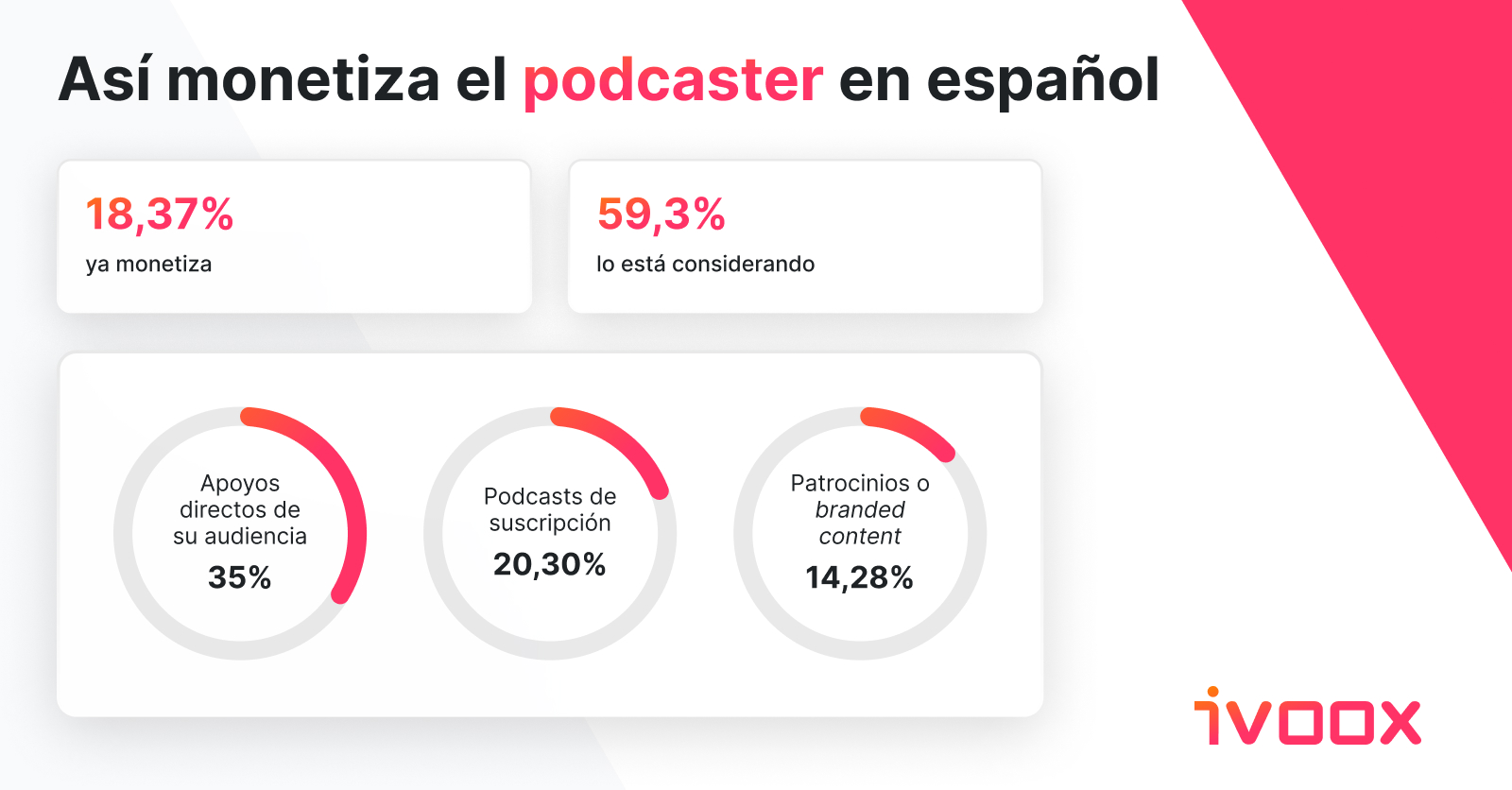 In addition, the branded podcast continues to grow, and in 2023, branded podcasts have multiplied, with a focus on CSR and entertainment. Creators are also feeling more and more comfortable carrying out advertising actions on their podcast, and the ones they like the most are sponsored mentions (53.36%), followed by advertising spots (47.35%) and campaigns. in social networks (42.23%).
The global market for audio ads is expected to grow by 2% this year, exceeding $36 billion (Dentsu). In Spain, 85% of communication and advertising professionals continue to plan digital audio in their strategies (Estudio Audio Digital IAB 2023), and the forecast for this year is positive: almost 9 out of 10 professionals believe that investment in digital audio will increase. By sector, telephony and home and food continue to lead advertising investment. In fact, advertising investment in Spain is forecast to increase to 6.2 billion in 2023, with a growth of 0.7% compared to 2022, and to reach 6.4 billion in 2025 (Dentsu).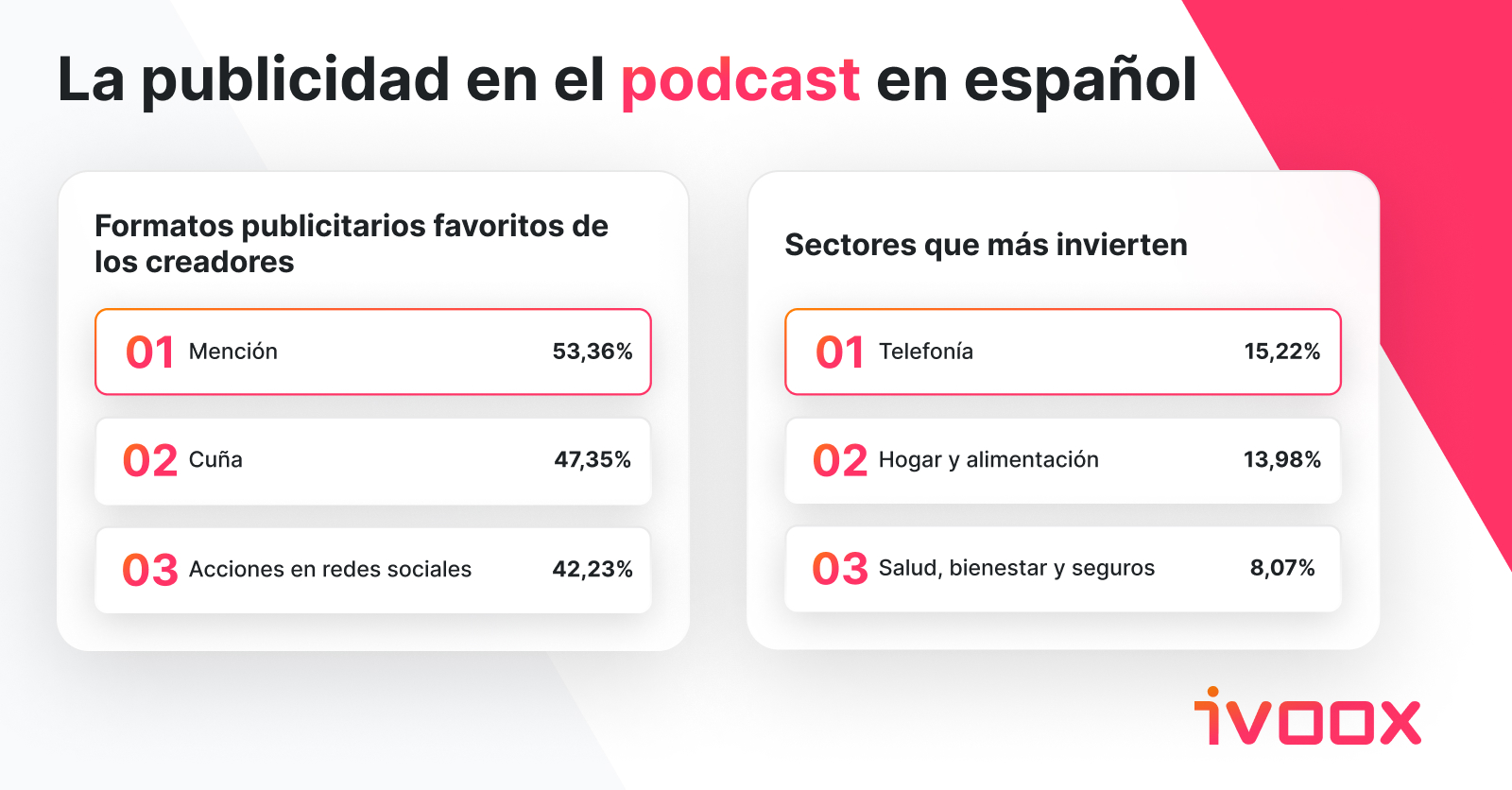 About iVoox
iVoox is the leading podcast and radio platform in Spanish. Founded in 2010, it has been helping to develop the podcasting ecosystem in Spain and Latin America for more than 10 years. In addition, it is a pioneer in promoting monetization in the world of Spanish-speaking podcasts, being the only platform that allows podcasters to generate income and grow their audience at the same time. It has more than 5 million unique users per month, more than 100 million episodes available and more than 75 million listeners per month, with a rating of 4.7 in the main app stores. iVoox has the largest catalog in Spanish, with more than 1.3 million podcasts available in 50 different languages, of which more than 495,000 podcasts are in Spanish.
iVoox has a wide range of content that in turn allows monetization for the podcaster. iVoox Originals is the largest catalog of exclusive and free podcasts in Spanish, with more than 200 shows. It also has iVoox Plus, ,a subscription service with more than 80,000 exclusive paid podcast episodes and more than 20,000 audiobooks. As a platform that has always allowed content to be hosted, it has some unique historical gems such as passages from the history of the great Juan Antonio Cebrián or the radio dramas of master Juan José Plans.
This is a press release which we link to from Podnews, our daily newsletter about podcasting and on-demand. We may make small edits for editorial reasons.