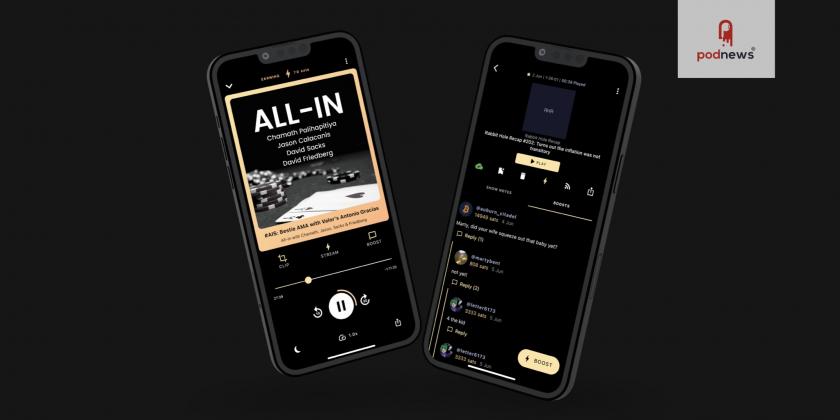 Fountain - the podcast app where you get paid to listen
Press Release · London, UK ·
Podcast app Fountain announced today that you can now earn simply by listening any of your favourite podcasts.
Fountain CEO Oscar Merry commented: "The time and attention we give to tech platforms is incredibly valuable. Every minute that you spend consuming content, creating content, or viewing ads, increases the value of the platform you're using. Most free apps we use every day don't recognise or reward this - but Fountain is different. It's the only podcast app that rewards both listeners and podcasters for the value that they bring to the platform"
What you can do on Fountain
Listen to earn
Earn simply by listening to any of your favourite podcasts as well as daily promotions.
Share podcast clips
Create and discover clips of the most valuable highlights from podcasts. Earn money from the clips you create.
Support content creators
Give back to the shows you love. Boost to send a message with a payment or stream money for every minute you listen.
Why this is worth paying attention to
The podcast app marketplace is dominated by two major players. Apple Podcasts is the default app installed on over a billion iPhone devices and Spotify are investing heavily into intellectual property to support their premium subscription. Before Fountain, no other podcast app offered a compelling reason for listeners to switch from using these apps.
Fountain investor Anthony Pompliano commented: "The team at Fountain is pioneering a new category, Listen to Earn, which will allow anyone in the world with an internet connection the opportunity to earn monetary value for listening to their favorite podcasts. Rather than creating a worthless native token to pay individual users with, Fountain has intelligently decided to use bitcoin, a global digital currency that has proven to hold purchasing power more effectively than any fiat currency over long time periods. By paying listeners for their time and attention, incentives are finally aligned. The more users contribute to the platform, the more they get paid, and the higher signal Fountain gets for surfacing the best audio content."
Better podcast advertising with Fountain Promotions
Fountain Promotions are native ads that allow listeners to earn extra money every day. Getting paid to listen to ads is a more rewarding experience for users but it also solves two common yet unreported headaches for podcast advertisers.
If the episode your ad is placed in is downloaded, it might not be played.
If the episode is played, listeners can easily skip your ad.
Both of these cases are still counted as downloads in your reach metrics. In other words, your ad is not reaching users but you're still paying.
Fountain Promotions are un-skippable and a portion of the advertising budget gets paid back to the user for every second they spend listening. Fountain Promotions are voluntary and do not interrupt the podcast listening experience. Podcasters who want to get their content in front new audiences can promote an episode or clip within the app once they have claimed their Fountain Podcaster Wallet.
A more rewarding way to enjoy your favourite podcasts
For Listeners - Earn money for something you do every day
For Podcasters - Turn your biggest fans into supporters
For Advertisers - Stop paying for podcast ads that nobody hears
How to start earning on Fountain
This is a press release which we link to from Podnews, our daily newsletter about podcasting and on-demand. This is reprinted verbatim; we may rewrite headlines and descriptions.