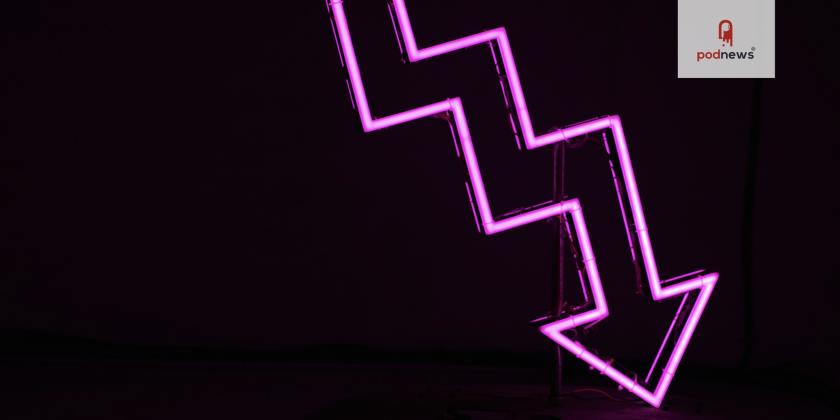 Have the number of new podcasts really "plummeted"?
· By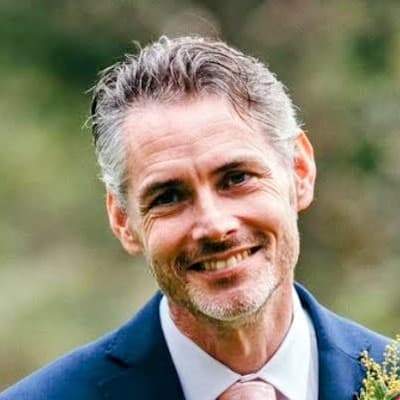 James Cridland
· 3.3 minutes to read
Paid podcast directory service Listen Notes reports a dramatic drop in new podcasts, down from over 1m new launches in 2020 to just 219,000 new shows in all of 2022.
Does this 80% drop mean that podcasting is in decline, or podcasters are giving up, as some industry commentators have suggested?
It depends what we're really measuring.
The pandemic, of course, had an effect, as people were forced to stay at home and try new creative outlets. But this "down by 80%" number is also affected by other factors: and we believe it's not the whole story.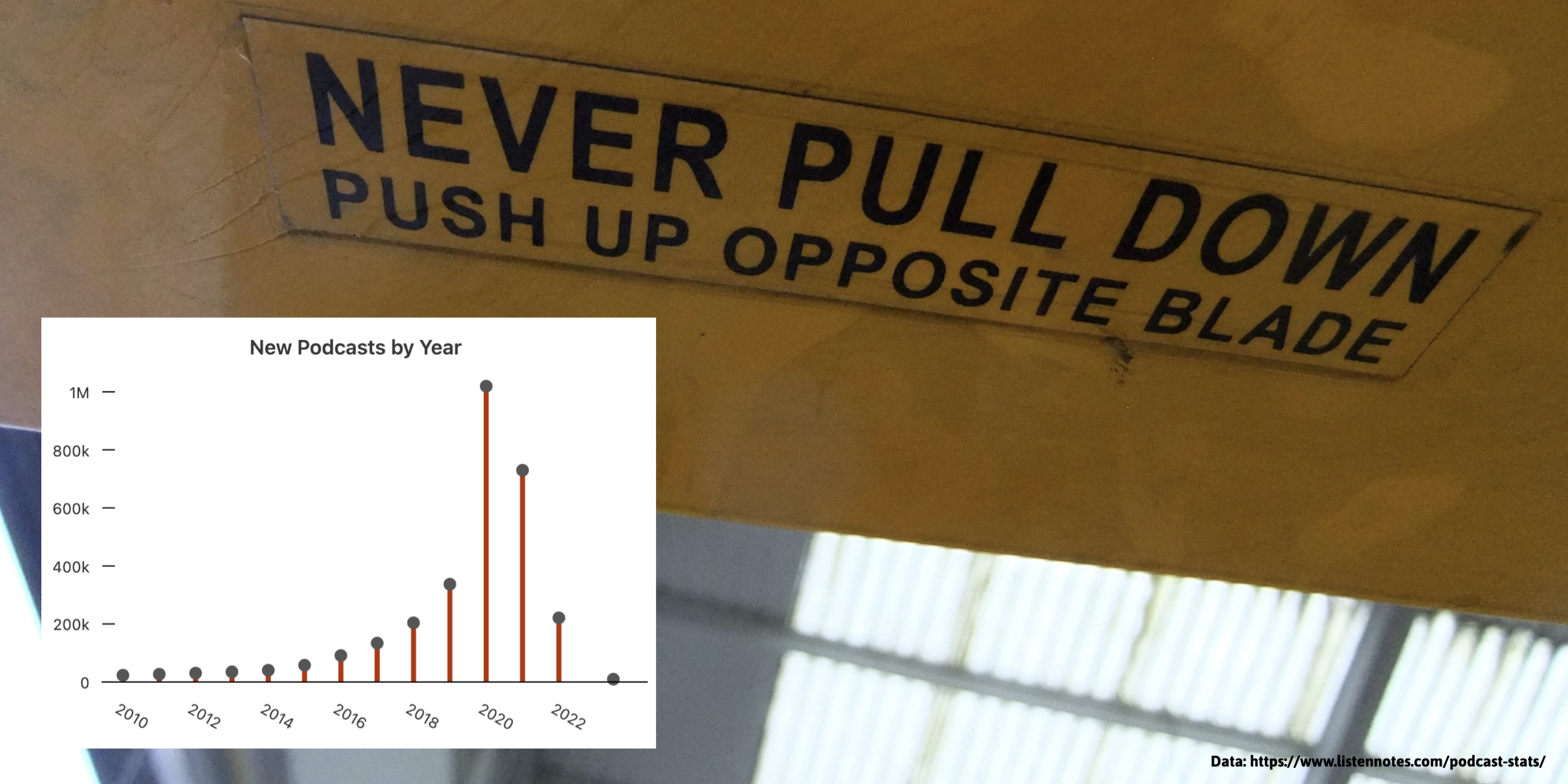 What is Listen Notes measuring?
Its data on podcasts come from a variety of sources - but it doesn't list Spotify exclusives. A search for Archetypes doesn't find Harry and Meghan's exclusive show, as one example.
Spotify claimed that there were "1.2m new podcasts in 2021", 80% of whom, the company says, were from Anchor. Listen Notes claim a total of 729,691 podcasts were new in 2021 - probably because they can't see the exclusives in Spotify's catalogue, which include a lot of Anchor shows, as we'll explore below.
Indeed, for Spotify, the number of shows on their platform is continuing to increase dramatically. Spotify claimed a catalogue of 4.4m podcasts in July 2021, claimed 5.2m podcasts in August 2022, and now 5.5m podcasts in January 2023.
Something changed with Anchor
Daniel J Lewis, who runs Podcast Industry Insights, supplied similar falling numbers sourced from Apple Podcasts to Podnews. However, Daniel pointed out that new Anchor shows used to be auto-submitted to Apple Podcasts: and are no longer.
Anchor used to submit all new shows to Apple Podcasts, automatically. As one example, Test, a podcast containing just one episode called "a" which lasts just 1 second, was submitted in Sep 2020 by an Anchor user called "mackie"; apparently auto-approved by Apple Podcasts. (Apple and Anchor have both denied to Podnews that the companies had a process that circumvented approval).
These auto-submissions to Apple Podcasts stopped in the middle of 2021: and these "podflashes", as Daniel J Lewis calls them, clearly made a big difference. Our research suggests that just 4.6% of all Anchor-hosted shows have more than ten episodes and have been updated in the last 30 days.
The cessation of the automatic submission and approval of these low-quality podflash shows from Anchor was possibly the biggest reason that the total number of new shows available via RSS in Apple appears to have dramatically dropped.
Podnews analysis shows that podcast companies offering predominantly free podcast hosting, like Anchor, saw the number of new shows hosted on those platforms drop by as much as 93% when comparing 2020 to 2022. Anchor, alone, sent over half a million fewer podcasts to Apple Podcasts during the seven-month period we compare.
The number of shows hosted on paid platforms has fared much better: Acast saw a drop of just 10%, Captivate only 20%.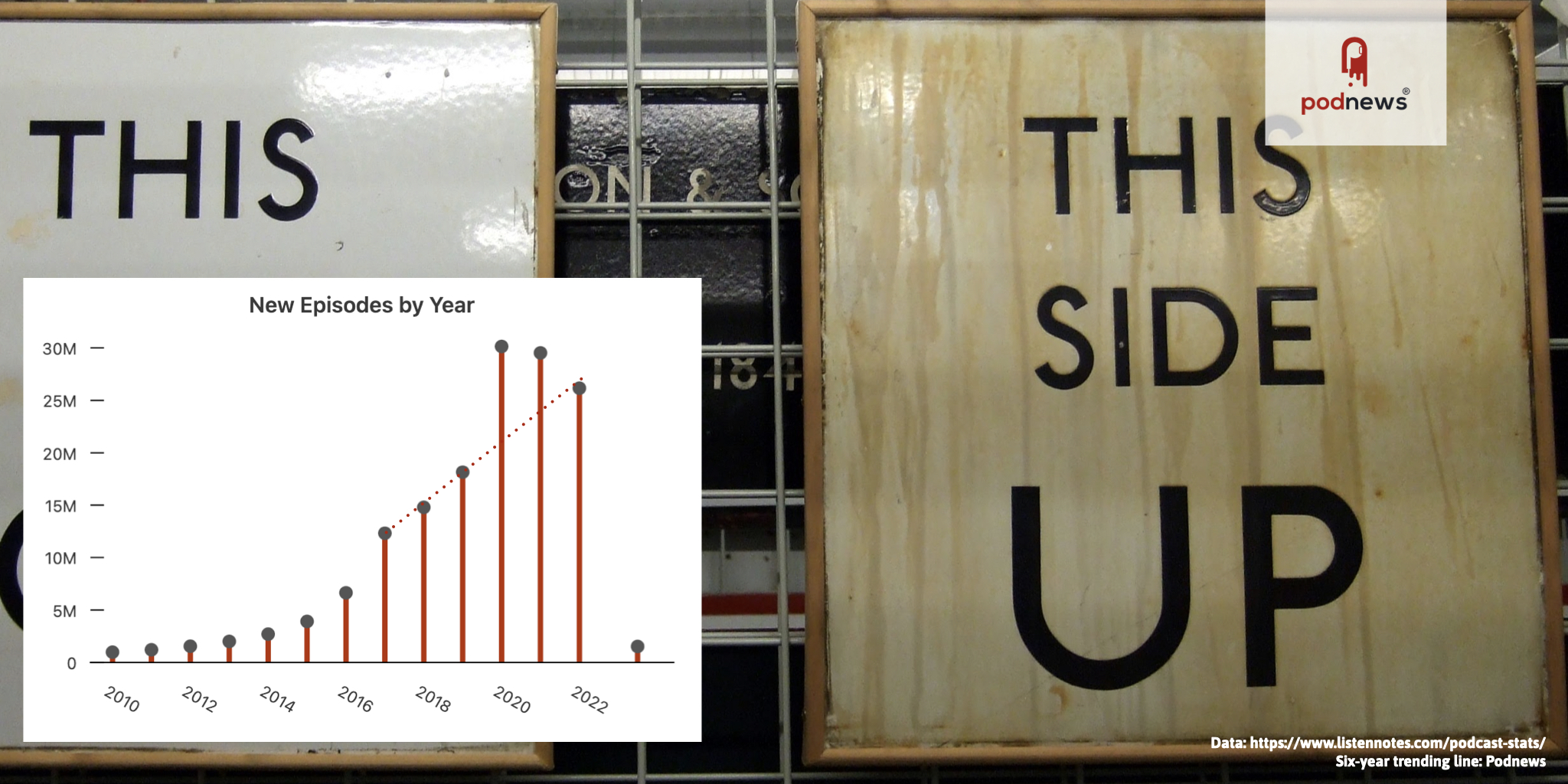 The number of episodes tells a different story
If it's mainly a reduction in low-quality "one-show-and-done" podcasts, then what does the data say about the number of episodes?
Well, the number of new episodes per year on Listen Notes hasn't slowed nearly as much. Remove the pandemic years, and 2022 seems to follow the growth trajectory of previous years.
In short - the number of new shows has declined; but the number of new episodes appears to be relatively unchanged.
So what happened, and is it bad news really?
The pandemic saw many creative people unable to work as normal: and experimenting with podcasts. You'd expect that to mean that many more podcast shows were created during the pandemic, and that certainly appears to be the case.
However, this data is affected by Anchor's auto-submissions; and affected by "podflashes". The Listen Notes data isn't wrong - but it doesn't tell the whole story.
The increasing number of episodes suggests that podcasters aren't, as the narrative suggests, "giving up". Committed podcasters are continuing to release new episodes, at an ever-increasing rate.
Far from podcasting being in severe decline, the industry seems healthy and growing.
| | |
| --- | --- |
| | James Cridland is the Editor of Podnews, a keynote speaker and consultant. He wrote his first podcast RSS feed in January 2005; and also launched the first live radio streaming app for mobile phones in the same year. He's worked in the audio industry since 1989. |
This page contains automated links to Apple Podcasts. We may receive a commission for purchases made.