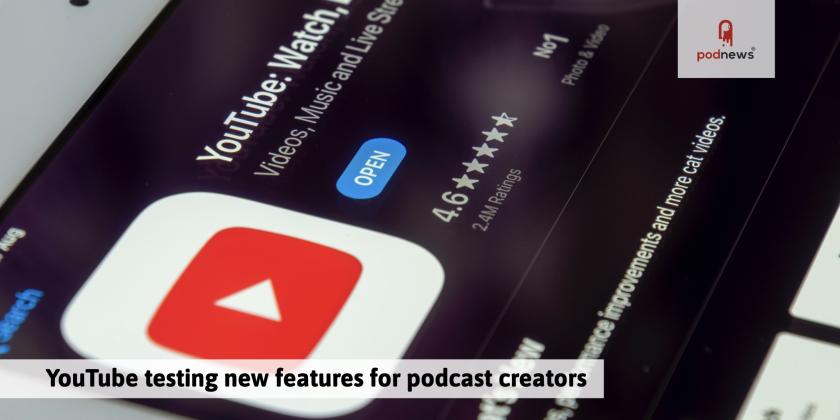 YouTube testing new features for podcast creators
LISTEN
· · Updated · 4.1 minutes to read
YouTube has announced a test to allow podcasters to "create and measure podcasts in YouTube Studio". If you're in this experiment (we're not), you can upload a podcast, view podcasts, and mark existing playlists as podcasts (presumably so that they appear on the YouTube podcasts homepage, which is a US-exclusive for now). It also adds analytics. It's another slow step towards podcasts on the platform.

YouTube

You don't need video to be highlighted on YouTube's podcast homepage, we notice - like Wait Wait Don't Tell Me, which is just a static thumbnail. On the page, YouTube appears to have rolled out v3 of their podcast icon, which is blue now.YouTube
We hope YouTube is genuine about wanting to work with the podcast industry - however, in spite of our regular contact with YouTube's PR, the company has made no communication about this (or, indeed, any comms about their podcasting features). We look forward to working with them to help them communicate their plans accurately.YouTube

Podcast transcripts, including live captions, are now visible in a new tool, called Steno FM, which was launched on Friday. Here's an example, showing a recent episode from Buzzcast; and a list of hosts who support transcripts.

Kast Media and Big IP Media have announced a multi-year partnership. The companies have now partnered on five shows: Happy Sad Confused, The John Campea Show Podcast, The Big Thing, The Dan Murrell Podcast, and Star Wars Explained.
All the best podcasters are filling in the Podnews Report Card. Your feedback goes back (anonymously) to the podcast platforms, and helps them know where to improve. If you're one of the best podcasters and you've not yet filled it in, we'd suggest you rectify that - results at Podcast Movement.

Podnews Podcast Movement

The Swiss Podcast Awards will be presented on Mar 15 in Zürich. The organisers have also launched an app - Suisse Podcasts, which just contains shows from the country.

In Austria, the winners of the Ö3 Podcast Awards were announced. The winner was Wer nichts weiß, muss alles essen, the slightly confusingly-titled "If you don't know anything, you have to eat everything", a podcast covering animal welfare, agriculture and nutrition.

In England, The Yorkshire Post publishes an interview with the owner of a podcast studio company in Wakefield.

"Big fan of your podcast! May I ask you something?" - We'd would be curious if its just us that gets these…
Moves and hires
The Tech Stuff - with RSS.com
Podcast News

Podcasting 2.0
has Nathan Gathright as a guest this week, who has launched Steno FM (above).

Why do people make certain decisions; why do they believe in what they do; why are they who they are… and what happened along the way?
Neil Mitchell Asks Why
is
new from the Melbourne-based radio broadcaster
, and looks to be his first native podcast. (His breakfast show on 3AW has more than twice the market share of his nearest competitor.)

The new season of
Bear Brook
is out today: five years and more than 21 million downloads after its debut. Still hosted by Jason Moon, the new season looks at a murder that ended with the conviction of a 19 year-old with just one piece of evidence - a taped confession. But, the confession might not be all it claims to be.
Podcast data for Feb 20
#1 in Apple Podcasts

Stolen Hearts (Wondery)

Stolen Hearts (Wondery)
#1 in Spotify

The Joe Rogan Experience (Joe Rogan)

Between Two Beers Podcast (Steven Holloway, Seamus Marten & The Alternative Commentary Collective)
Over the last week, 213,750 podcasts published at least one new episode (down 101.0%). source