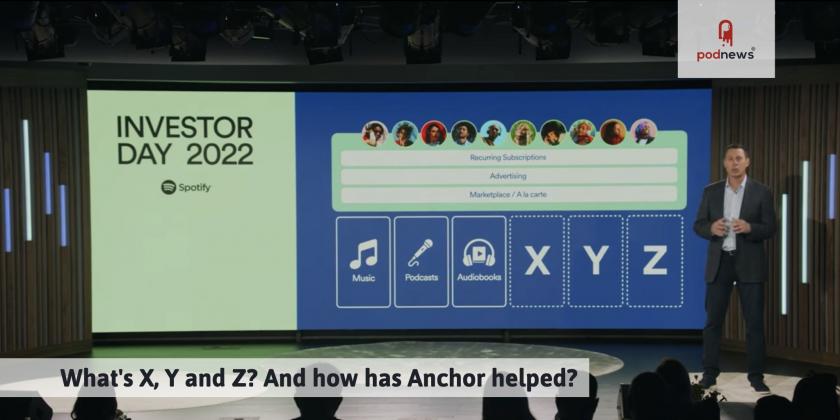 What's X, Y and Z? And how has Anchor helped?
LISTEN
· · Updated · 4.3 minutes to read
What were "X, Y and Z" - the new content areas mentioned in Spotify's Investor Day briefings? Just listen to Alex Norström, as Audiobooks, then "X, Y and Z" appear on-screen: "There are additional markets and verticals that we believe are natural fits for our platform and audience. There's Audiobooks. There's News, Sports and Education. Those are vast markets."

Another two pieces of detail from the Spotify investor day from CFO Paul Vogel:

"30% of our monthly active users engage with podcast content". That figure hasn't been disclosed for some time, and grew from 16% (Feb 20) to 22% (Oct 20).
"Only a minority of podcast time spent was monetized by us in 2021 … approximately 14% [is] currently monetized by us on a global basis."

iHeart's Conal Byrne writes for Forbes, promoting the benefit of RSS, which was soundly denigrated by Spotify in their presentation. (More on this on Monday).
Tips and tricks - with RedCircle
Podcast News - with Post Script Media
Pod Events
Getting
the
five
latest
events
This section is continually updated. Data: Podevents. See more and add yours, free
Latest Pod Jobs
This section is continually updated. Data: Podjobs. See more and add yours, free