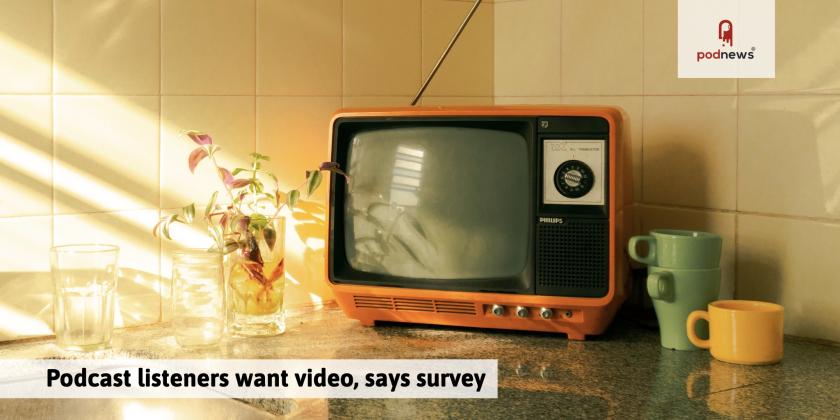 Podcast listeners want video, says survey
LISTEN
· · 3.8 minutes to read
46% of podcast listeners say they prefer listening to podcasts with video, according to a Morning Consult survey. Among the reasons why: "to see facial expressions and reactions from the hosts and guests", and "to better focus on the podcast". The same survey unsurprisingly puts YouTube as the most preferred podcast platform among podcast listeners; Spotify, Apple Podcasts and then Pandora.

A cloned voice, powered by AI, meant that a German media publisher doubled the amount of daily tech news podcast episodes, leading to increased revenue. Isabel Grünewald had her voice cloned for new episodes of Kurz Informiert, increasing total plays of the show by 37%. The company doing the voice cloning was Aflorithmic, based in Barcelona and London.

Apple Podcasts doesn't make the US hits any more, claims Ashley Carman in a newsletter, noting that the company seems more keen to promote podcasts with an accompanying premium subscription. Coincidentally, the Podnews Daily and Podnews Weekly Review are available ad-free in Apple Podcasts.
Thank you to Capsho for becoming our latest supporter. Capsho is AI copywriting software for podcasters to help you reach more listeners. Their support of Podnews means we can invest more in our website and newsletter. You can be like Capsho by supporting us.
Tips and tricks - with Podcast Movement Evolutions
Creating a content strategy is a sure-shot way to shine amidst the noise, says Nidhi Kala. She recommends defining a target audience and studying your competitors.
Podcast News - with editaudio
This page contains automated links to Apple Podcasts. We may receive a commission for purchases made.
Podcast data for Jan 13
Pod Events - with Radiodays Europe 2023
Getting
the
five
latest
events
This section is continually updated. Data: Podevents. See more and add yours, free
Latest Pod Jobs
This section is continually updated. Data: Podjobs. See more and add yours, free