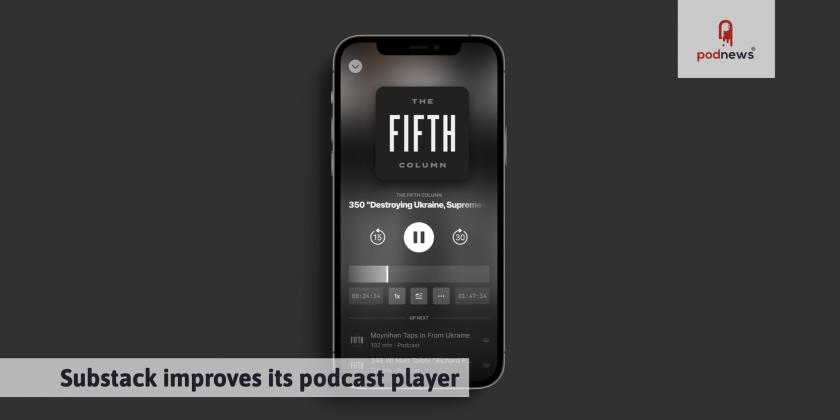 Substack improves its podcast player
LISTEN
· · 3.5 minutes to read
Substack has dramatically improved its podcast player in its iOS app. As shown above, the updated app now has a full-screen podcast player, speed controls, accessible playback options and a customisable 'playing next' queue. Here's more about podcasting on Substack.

Apple has launched three new Apple Podcast Collections, for listeners to discover new and popular podcasts covering true-crime ("Darkside"), culture ("tbh") and entertainment ("Popped"). The collections, which will be updated weekly, are available for listeners in the US and Canada only, from Browse and Search in the app.

Targetspot's owner, AudioValley, has published its 2021 annual results. Revenue is up 44.5%; Targetspot earned €26m (US$27m) in revenue, though the company lost €6.4m (US$6.8m) overall.
SiriusXM has signed a content deal with I Am Athlete, an athlete-led media network. The agreement will mean SXM Media will have exclusive ad representation, while I Am Athlete will get a new nightly show on SiriusXM's Mad Dog Sports Radio channel.

Bryan Moffett is taking part in RAIN's Podcast Business Lunch tomorrow at 12pm Eastern. What's he doing with his additional Network Growth role at NPR - and how come podcasts is at the centre of it all?

Twitter, which was planning some form of podcast integration, has been bought by Elon Musk for $44bn. Musk is the world's richest man, and also owns an electric car company, a space exploration and communications corporation, a tunnel construction company, an artificial intelligence research laboratory, and a company making silicon chips that can be implanted in your brain, yet inexplicably doesn't appear in this list.
Moves and hires
Michael LaPointe has joined Vespucci as Editor-In-Chief of Paperless. Michael's writing has been featured in The Atlantic, The New Yorker, The New York Times, The Paris Review and the Times Literary Supplement amongst others. Michael has been nominated for multiple National Magazine Awards, the Journey Prize, and the Digital Publishing Awards. His first novel, "The Creep" was published by Penguin Random House last year.
Tips and tricks - with SoundStack
Podcast News - with Acast
Pod Events
Getting
the
five
latest
events
This section is continually updated. Data: Podevents. See more and add yours, free
Latest Pod Jobs
This section is continually updated. Data: Podjobs. See more and add yours, free