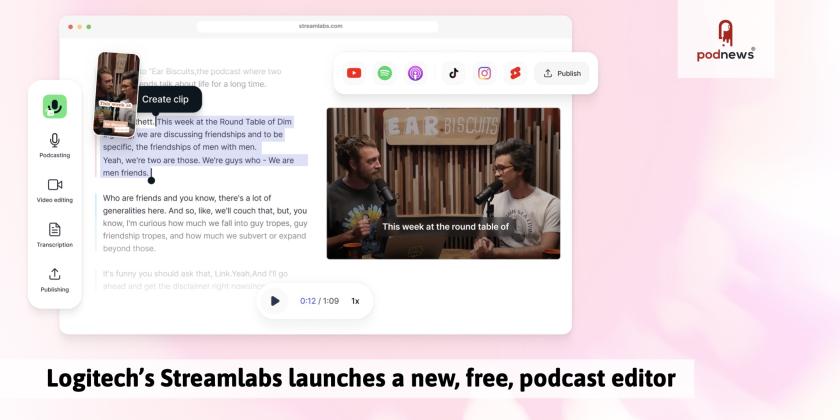 Logitech's Streamlabs launches a new, free, podcast editor
LISTEN
· · 3.5 minutes to read
Logitech's Streamlabs has launched podcast editor software. The software allows you to edit words not waveforms, and includes video. The tool has a free tier, an AI-powered highlight tool, and creates clips for all social platforms. The company also owns the Yeti microphone brand.

In Sweden, Spotify has been fined more than US $5mn (58mn SEK) for not adequately explaining how it uses personal customer data, particularly in languages other than English. The Swedish Authority for Privacy Protection said that "it has been difficult for individuals to understand how their personal data is processed and to check whether the handling of their personal data is legal."

Spotify

During the writer's strike in the US, the Writers' Guild of America has created a set of guidelines for audio fiction writers — both members of the WGA and non-members — who want to either ensure they are following the rules of the strike or stand in solidarity with the WGA.
Google
Podcast Movement
Moves and hires
Podcast News
Podcast data for Jun 15
#1 in Apple Podcasts

Rachel Maddow Presents: Déjà News (Rachel Maddow, MSNBC)

Doireann and Friends (Doireann Garrihy)
#1 in Spotify

The Joe Rogan Experience (Joe Rogan)

Doireann and Friends (Doireann Garrihy)
Over the last week, 211,194 podcasts published at least one new episode (down 0.6%). source
Events
Getting
the
five
latest
events
This section is continually updated. See more and add yours, free
Latest Jobs
This section is continually updated. See more and add your vacancies, free