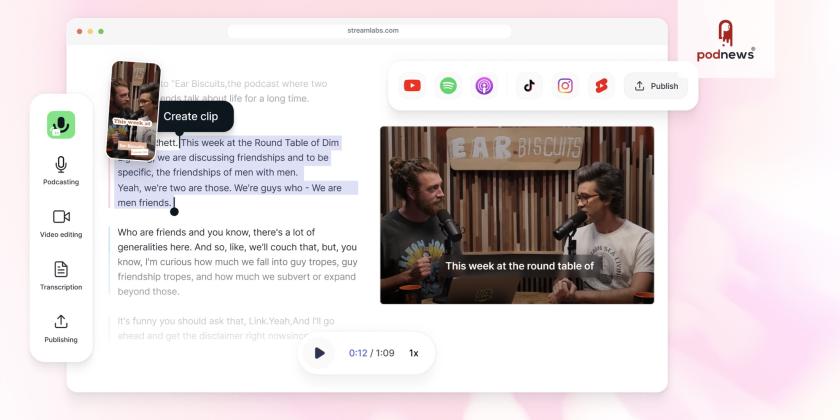 Logitech's Streamlabs Adds to Powerful Streamlabs Ultra Product Suite with New Podcast Editor
Press Release · San Francisco, CA, USA · via SourceCode Communications ·
Streamlabs, a leading provider of live streaming tools and brand of Logitech, expands its Streamlabs Ultra subscription offering with podcast editing capabilities through Podcast Editor. This new tool will add to the popular streaming platform's already robust suite of offerings, elevating the creator experience and providing a new stream of revenue and engagement.
With the ease of text-based editing, Podcast Editor helps creators record and edit their video and audio content fast with easy text-based editing, auto-generated transcripts, and resizing tools so they can promote and share content across different platforms like TikTok, Instagram, and more. It will allow creators to customize clips, create subtitles, add images, and perform real-time translations of their video content.
Plus, with the AI-assisted tools it is possible to easily find clip highlights, cut unnecessary filler words like "oohs" and "ums", and even remove awkward pauses within seconds, trimming hours off of total edit time.
As the world of podcasting continues to explode, with as many as 464.7 million listeners tuning in globally, Streamlabs' Podcast Editor comes to creators at a time when more people than ever are listening to their favorite content and more streamers are favoring talk-show-like formats. In fact, according to Stream Hatchet data, Just Chatting has been the most popular Twitch category, racking up over 826 million hours watched in Q1 2023 alone. This new tool is a game changer for live streamers who rely on the ability to seamlessly upload and distribute content to entertain, educate, and connect with their communities while monetizing a hobby they love.
Content creators can edit up to one hour of content per month at no cost. Through Streamlabs Ultra, 40 hours of content can be managed through the software, and users receive access to the Podcast Editor along with premium features available for Streamlabs Desktop, the Streamlabs Web Suite, Streamlabs Mobile, Talk Studio Pro, Video Editor Pro, and Cross Clip Pro, providing a holistic suite of products under one service to help streamers with streaming, recording, branding, editing and sharing short and long-form content.
Designed to meet the needs of growing creators, Streamlabs Ultra has become a pivotal part of the growth and evolution of streamers' content, reach, and revenue stream. For example, popular gamer and streamer QTCinderella has leveraged the Streamlabs product suite to grow her Twitch subscriber count to nearly 1 million since beginning streaming in 2018. "If you're not posting to other platforms, you're shooting yourself in the foot, said popular Twitch streamer QTCinderella. "Whether it's Podcast Editor, Multistreaming, or Cross Clip, Streamlabs tools help elevate your content and streamline your workflow. Don't miss out on potential growth by limiting yourself to just one platform."
"Logitech is committed to serving the needs of gamers and creators by delivering breakthrough product experiences to unlock their potential. Streamlabs has been an extension of this philosophy toward the booming gaming community since the creator economy took off during the pandemic," says Vincent Borel, Head of PC Gaming & Creators at Logitech G. "Podcast Editor now enables Streamlabs to provide the most robust suite of offerings for creators to reach their audiences wherever they are while focusing on the elements of content creation they love the most - streaming and engaging with their audience."
Content creation is not just a side hustle anymore, with streamers and other creators on Streamlabs making over $1 billion in tips alone. Over the years, they've evolved into careers for some of the biggest streamers in the world across the beauty, gaming, and lifestyle sectors. As the media consumption landscape continues to evolve, it's important to give creators the tools they need to be nimble and move along with it. Legendary comedy creators Rhett & Link, best known as the hosts of Good Mythical Morning and other long-running YouTube shows, encourage creators of all stages and audience sizes to add Podcast Editor to their arsenal.
"We wish the Streamlabs Podcast Editor and Talk Studio tools existed when we were first starting out as creators. We could have saved a lot of time and tedious work," says the duo. "Maybe we could have even moved out of Rhett's father-in-law's basement quicker. Although the large pipe directly above our heads that made a loud noise whenever someone flushed the toilet did add a little flair to our live streams."
With Streamlabs' experience in monetization, brand building, and audience engagement tools, the company is eager to give users a robust suite of tools to expand their reach, build their brand and engage their audience across platforms.
Users can subscribe to Streamlabs Ultra to start using the premium benefits of Podcast Editor or access the free version here.
This is a press release which we link to from Podnews, our daily newsletter about podcasting and on-demand. We may make small edits for editorial reasons.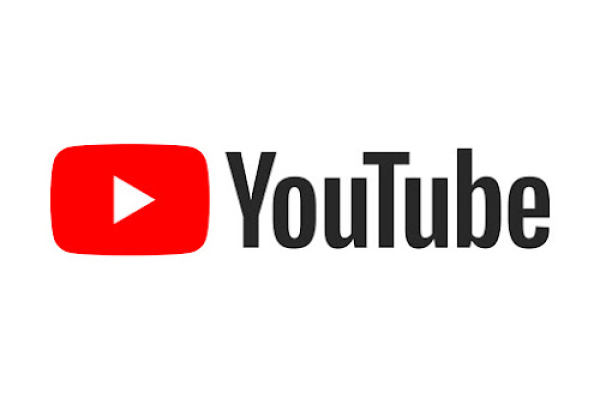 YouTube