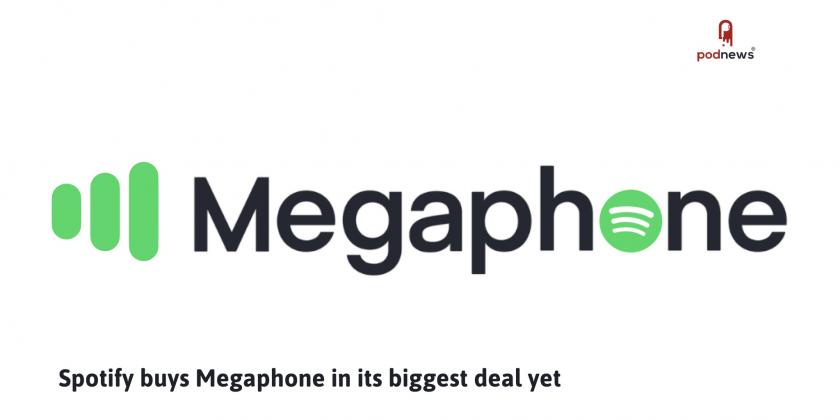 Spotify buys Megaphone in its biggest deal yet
LISTEN
· · 4.2 minutes to read
This article is at least a year old
In its biggest deal yet, Spotify announced it has bought podcast hosting company Megaphone. The Verge suggests that the purchase price was $235m. Spotify says that its Streaming Ad Insertion technology will be made available to all Megaphone publishers; and a note sent to current Megaphone clients explicitly highlights that they will continue to support all podcast platforms. We have analysis below.

Megaphone has 5,500 shows, though we understand only about 40% are opted-in to sell ads through the platform. Documents seen by Podnews suggest that Megaphone is currently selling just 10% of their available ad inventory: with Spotify's ad sales, that's expected to rise to 70%; and Megaphone also brings more inventory for Spotify to sell. For now, the document says, Megaphone's brand will continue; for advertisers, the Megaphone Targeted Marketplace will be rebranded "as soon as we evolve the proposition".
Competitor iHeartMedia currently uses Megaphone for its 489 shows; but bought Voxnest at the end of last month.
Is this move good news or bad news for podcasting? We'd love to publish your thoughts tomorrow. Just hit reply (and let us know if you don't want us to use your name).

In a timely post, Laura Mayer writes about her experiences in podcast consolidation, including poor treatment from management. She doesn't mention companies by name in the post: however, her LinkedIn shows she worked for Panoply/Megaphone for two years, then switched to competitor Stitcher/Midroll. We hope Spotify will treat its new Megaphone staff a little better.

Stitcher's Midroll has published research into podcast ads. Podcast Ads Perform, Host-Read Ads Outperform is the headline, and it shows that host reads appear to be up to twice as effective as normal spot ads. The company worked with Signal Hill Insights.
Triton Digital has published their Australian Podcast Ranker for October. There's no change in the top 3: an incomplete ranker, it lists participating publishers only, and not the country's largest podcaster, the ABC. Total publisher downloads were up 1.4% - but October has 3.3% more days than September, so daily podcast downloads have actually fallen in reality, for the first time this year.

Veritone has posted record revenue for Q3 2020. The company owns audio ad agency Veritone One.
Bitcast, a podcast clipping and sharing app, has partnered with Podcast Notes, who their press release calls "the leading publisher in the podcast space".
HWY61 is a new podcast network based in London. They're looking for producers to collaborate with them in developing narrative podcast series.
Apple launched some new computers with some of their own chips in them. Big Sur, the company's latest version of mac OS, will be available to download tomorrow. We're told Hindenburg Journalist Pro is fully compatible - but be careful if you use a different audio editor. Last time around, it took Audacity six months to work correctly on Catalina.
Tips and tricks
Podcast News - with Vurbl

On
Vurbl Voices
Paul chats with
Rod & Karen Morrow
about podcasting for over a decade, engaging their audience, and recording in front of a live audience.
Listen on Vurbl


Thin Black Line
looks at the 1993 death in police custody of Daniel Yock, an Australian indigenous man, which sparked decades of anger against the Queensland police. It's presented by Walkley Award-winning investigative journalist Allan Clarke, and is released during NAIDOC Week. (Podnews is produced on the ancestral homelands of the Jagera and Turrbal people.)
Analysis
Spotify's purchase of Anchor gave them a podcast host for the grass-roots of podcasting - a free host with easy, mobile-first tools. Anchor hasn't been used by larger companies, however: even Spotify themselves haven't been using it, preferring to host their Spotify Originals on Megaphone.
Spotify's "Streaming Ad Insertion" technology only works within the Spotify player: instead of stitching an ad into the show when it's downloaded, SAI allows the ad to be chosen at the very time that it's played, according to Sounds Profitable's Bryan Barletta in a recent article. However, the rest of the podcasting world doesn't work like that; and currently only about 10% of podcasts are consumed using Spotify. While this is important to Megaphone publishers, who will gain significantly from the acquisition, it's a small percentage of total podcast revenue.
However, with Megaphone, Spotify can now begin to profit from their podcast investments both within the Spotify app, but also across other podcasting platforms for the first time - from Apple Podcasts to Google Podcasts, Spotify can now sell ads and benefit from the wider podcasting ecosystem.
Far from making podcasting more closed, this seems to be an investment by Spotify into the open podcast infrastructure - RSS feeds, free shows and all.
If you thought Spotify was a big part of podcasting yesterday, it's become an awful lot bigger today.
Pod Events
Getting
the
five
latest
events
This section is continually updated. Data: Podevents. See more and add yours, free
Latest Pod Jobs
This section is continually updated. Data: Podjobs. See more and add yours, free