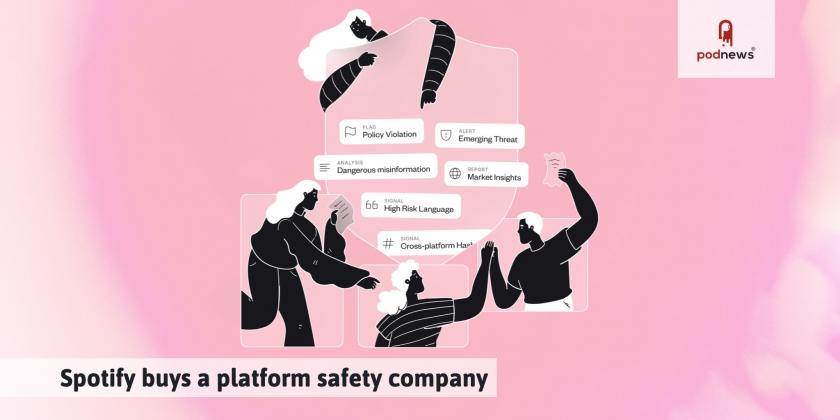 Spotify buys platform safety company
LISTEN
· · Updated · 3 minutes to read
Is it time to re-think promo codes?
Writing in Sounds Profitable today with Podsights, Tom Webster publishes the second set of data from a recent study of podcast advertising execution. The finding? We know promo codes work: but there might be a better way of using them.
Podsights 🇺🇸
Spotify has acquired platform safety company Kinzen. "The technology the Kinzen team brings to Spotify combines machine learning and human expertise - backed by analysis from leading local academics and journalists - to analyze potential harmful content and hate speech in multiple languages and countries." Kinzen is based in Dublin, Ireland; no terms were given.

Spotify 🇸🇪

Spotify's Podsights ad measurement service has launched in the UK, France, Germany, Spain and Italy. The company is also testing Podsights tools on audio ads in music, partnering with Omnicom Media Group in the UK.

Spotify 🇸🇪 Podsights 🇺🇸

Acast held a "Capital Markets Day". The fast-growing company described itself as "the Wordpress of podcasting": it offers 5 ads in each show, though just sells 28% of them (p50); and about half their biggest shows aren't monetised at all (p14), so plenty of room to grow. The company is achieving $22 CPM.

Acast 🇸🇪
Tips & Tricks
Podcast News - with Lemonada Media

From Lemonada Media:
On
Funny Cuz It's True
Elyse Myers interviews well-known individuals about their most awkward moments. Relentlessly unfiltered and relatable, we'll laugh at and learn from the moments that keep us up at night.

In the weekly review podcast
Podland News
with Podnews's Editor James Cridland and Sam Sethi, the very excellent Skye Pillsbury talks about her podcast newsletter The Squeeze.

The Mel Robbins Podcast
launches today. The motivational audio creator and international best-selling author has signed a multi-year deal with SiriusXM which gives SXM Media exclusive global ad sales rights.
SiriusXM 🇺🇸
Podcast data for Oct 6
Pod Events
Getting
the
five
latest
events
This section is continually updated. Data: Podevents. See more and add yours, free
Latest Pod Jobs
This section is continually updated. Data: Podjobs. See more and add yours, free