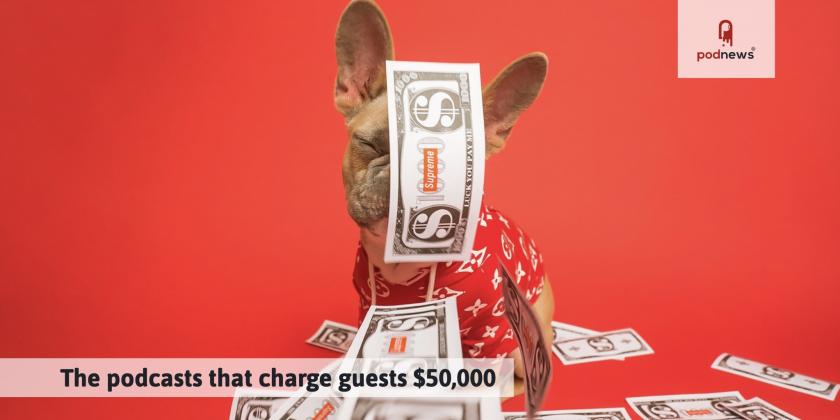 The podcasts that charge guests $50,000
LISTEN
· · 2.4 minutes to read
Podcast guests are paying up to $50,000 to appear on popular shows, and the podcasts don't disclose it, according to a piece from Ashley Carman in Bloomberg. It quotes a number of podcasts who charge more than $30,000 per interview: which only added a full disclosure (an FTC requirement) after being contacted by Bloomberg for the story.

One subject of her report, podcast guest booking platform Guestio, has posted copy denigrating industry newsletters on their front page. In a coincidence, Ashley Carman is also to launch Soundbite, an industry newsletter with more in-depth reporting about the podcast and music industry.

Exclusive: One of the biggest podcasts in the world will be making it to Radiodays Asia in Kuala Lumpur in early September. Presenter Jackie Leonard, and Karen Martin, the Editor of the Global News Podcast from the BBC World Service, will be speaking in a two-day conference which will also include podcasters from across the world. The Global News Podcast was quoted as achieving 12m downloads a month in 2019. SquadCast's Arielle Nissenblatt and Podnews's James Cridland will also be speaking. You can buy tickets here.

Spotify has turned on podcasts for users in Ukraine. The music service had launched for Ukrainian users in July 2020. (The company pulled out of Russia completely in April this year; Podnews is also unavailable in Russia and Belarus).
Tips and tricks
Podcast News

Podland News
later today includes Jon Spurlock talking about cross-app comments: one of the new podcast namespace tags that will allow comments across all kinds of podcast apps.

Number one for podcasts - Aug 4
Pod Events
Getting
the
five
latest
events
This section is continually updated. Data: Podevents. See more and add yours, free
Latest Pod Jobs
This section is continually updated. Data: Podjobs. See more and add yours, free
Comments via boostagram
To send us a comment, listen to this episode on a supported podcast app, and send a message using a "boost". It will appear here within ten minutes.