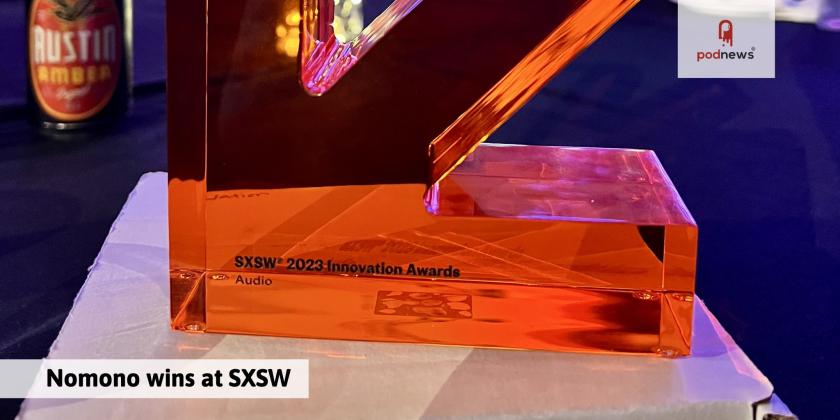 Nomono wins at SXSW
Nomono has been named the 2023 SXSW Innovation Award winner in the "Audio" category. The company produces a cloud-connected, self-contained recording kit for capturing audio recordings in the field.

9to5Google has spotted upcoming code in the YouTube Music app for podcasts. The data indicates that podcasts will appear in your library tab; and the search function in the app will search podcasts as well. You'll also be able to add episodes to your playback queue. YouTube Music gets podcasts in the US only later this year.

YouTube Music on the Google Play store has more than a billion downloads on Android. (That makes it ten times more downloaded than Google Podcasts.) However, it has 1m ratings on iOS (Spotify has 25m) and 4.56m reviews on Android (Spotify has 28m).

YouTube is all very well, but the science says that audio is better than video, according to Australian branded storytellers Written & Recorded, who link to five scientific studies saying so.
Phantom Producer
Paid content
For the first time, Phantom Producer, the cloud-based Radio Imaging service used widely in the US, has expanded its services to International markets like the UK, Canada and Australia.
Users can create customized sweepers, links, and production elements with the click of a few buttons on their phone, tablet or desktop. The tech platform was created by Australian producer Jeff Thomas, formerly of Howard Stern/SiriusXM, KIIS-FM Los Angeles, Virgin Radio and 2MMM-FM.
As programming executives and production teams find themselves covering more stations over wider territory and often off-site, Phantom Producer allows the freedom to work from multiple locations while still being connected to their studio play-out systems. Phantom Producer is poised to alter the way many stations create customized imaging by offering the ability to choose, mix and create elements - along with their station voice or jingle – completely 'in-the-box' without the need for any additional equipment or training. Learn more at phantomproducer.com
Tips and tricks - with Phantom Producer
Podcast News - with Left Over

Spotify has lost another exclusive. Audio fiction podcast
Quiet Part Loud
, launched as a Spotify
exclusive
in November 2022, is now, we notice, available via RSS in any app.

Media Roundtable
focuses this week on the team's insights from Podcast Movement Evolutions.

Swindled
launches its seventh season on Sunday. A top twenty show, the true crime podcast dedicated to exposing the greediest of white collar criminals, con artists and corporate evil. It's repped by AdLarge.
Podcast data for Mar 16
Pod Events
Getting
the
five
latest
events
This section is continually updated. Data: Podevents. See more and add yours, free
Latest Pod Jobs
This section is continually updated. Data: Podjobs. See more and add yours, free