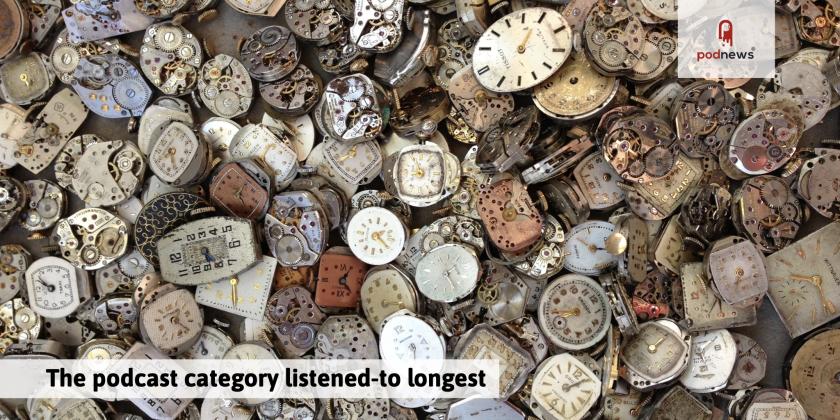 The podcast category listened-to longest
LISTEN
· · 3.6 minutes to read
Total downloads are one thing, but what podcast categories are listened-to longest? Apple Podcasts data supplied to Podnews tells us the top five categories with the longest overall global listen time, are: (1) Society and Culture, (2) Comedy, (3) News, (4) True Crime, and (5) Health and Fitness. That data is for December, but is much the same for the last half of the year, with Health and Fitness occasionally making it to #4.

We'd note that the categories drop-down in the Charts section of the app follows this order.

Swell AI claims to "automate writing articles, summaries, time-stamped show notes and more for your podcasts and videos."

What does podcasting look like in 2023? Ozeal Enriquez, the Director of Content Marketing at Q'd Up Audio and founder of Pod Houston, thinks more podcasters will turn their shows into live events, and we'll see more representation for all voices.
Stat of the day: "There are 2,499,664 feeds in the (Podcast) Index with less than 2 episodes", says Dave Jones.
Moves and hires
Tips and tricks - with Podcast Movement Evolutions
Fathom .fm is the AI podcast player from the future
Paid content
On Fathom, podcast fans enjoy a next-generation podcast listening experience, with captions, transcripts, chapters, and even the ability to create custom clips for saving and sharing their favorite moments. What's more, Fathom allows listeners to search INSIDE podcasts, surfacing hidden moments ready to like, save, and share.
If you're a podcast creator, claim your podcast and start your viral adventure. Check out Fathom's revolutionary new podcast experience today: Click here to learn more.
Podcast News - with editaudio
This page contains automated links to Apple Podcasts. We may receive a commission for purchases made.
Podcast data for Jan 17
Pod Events - with Radiodays Europe 2023
Getting
the
five
latest
events
This section is continually updated. Data: Podevents. See more and add yours, free
Latest Pod Jobs
This section is continually updated. Data: Podjobs. See more and add yours, free