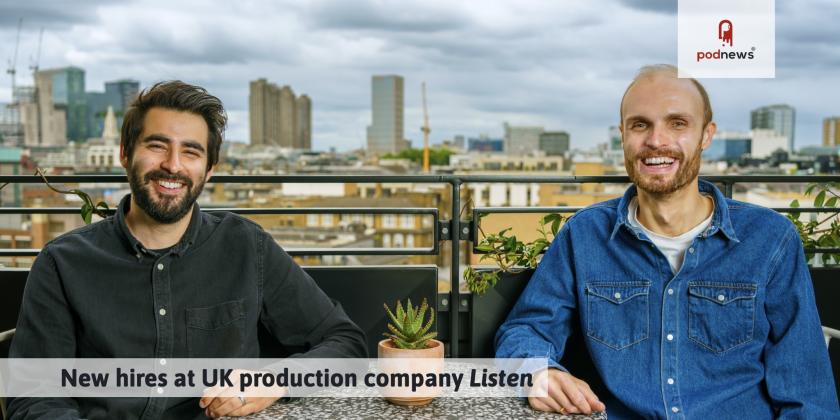 New hires at UK production company Listen
LISTEN
· · 4.2 minutes to read
Above: new hires at Listen include Darby Dorras, right, with MD Josh Adley. Find more info in our people section.
Moves and hires
The Tech Stuff - with RSS.com
Podcast News

Missing Pages
is the first original podcast from The Podglomerate, which reopens cold cases from the book world. It's hosted by world-renowned literary critic and publishing insider Bethanne Patrick. Across its eight-episode debut season, Missing Pages uncovers the power struggles, mistaken identities, and unfathomably bad behaviour within the secretive world of book publishing. Each episode brings in authors, experts, publishing insiders, and a circus of NYC media elites to tell the real story; unfit for print.

Chameleon: Scam Likely
is
brand new from Campside Media
. Ordinary citizens all around the US are losing their life savings to scam callers… so the hunt is on for the shadowy multinational mob behind the con. Hosted by Yudhijit Bhattacharjee, it launches today.

If you like learning about new podcasts in Podnews, you can now get this section as a podcast itself.
New Podcast Trailers
is available in your favourite RSS podcast app.
Number one for podcasts - Aug 1
Pod Events
Getting
the
five
latest
events
This section is continually updated. Data: Podevents. See more and add yours, free
Latest Pod Jobs
This section is continually updated. Data: Podjobs. See more and add yours, free
Comments via boostagram
To send us a comment, listen to this episode on a supported podcast app, and send a message using a "boost". It will appear here within ten minutes.