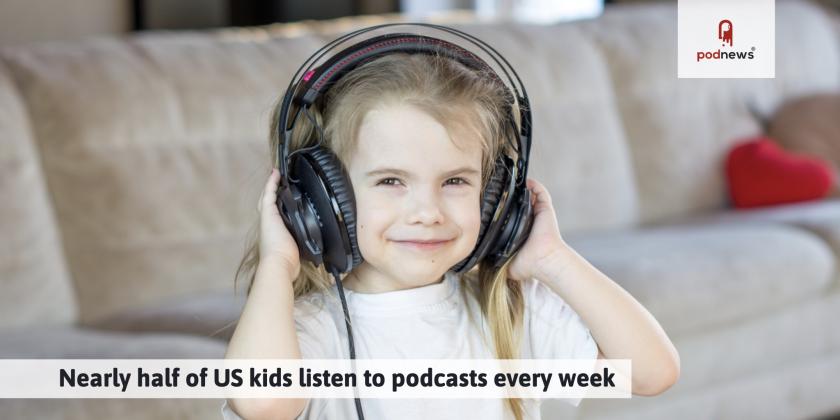 Nearly half of US kids listen to podcasts every week
LISTEN
· · Updated · 2.5 minutes to read
Almost half of children (48%) in the US are listening to podcasts weekly, according to a new study from talent agency UTA (asking 5,000 US parents). Two-thirds listen monthly. The company says that "podcasts are a huge part of family media".

The IAB released its US Podcast Advertising Revenue Study 2023, looking at drivers, strategies, and tactics for growth. Amongst its findings:

IAB

The use of brand safety and suitability tools has almost doubled. 69% of publishers are using brand safety solutions, and 62% using brand suitability solutions.
More than 90% of ad revenue is coming from Dynamic Ad Insertion. That share has almost doubled in three years.
Programmatic advertising has grown five times in the last two years alone, but its share is just 11%. (In other channels it's 87%).

On Air Fest has published the full lineup for On Air Open House, an all-day immersive sound event at dublab on Saturday Nov 4. It's free to attend via RSVP; you can expect the sounds of life in prison with Ear Hustle, local tales with LAist's Imperfect Paradise and How to LA, and more audio in Dolby Atmos.
Google
Headliner's Eddy, an editing and production tool, generates a promo pack of summaries, keywords and quotes. The company has just added four episode art images for your show, produced by generative AI.

In an email, BetterHelp, the biggest podcast advertiser in the US, has informed podcast networks that it will be using the ArtsAI measurement pixel in ad campaigns in 2024 for measurement and optimisation. The email says: "They would love for their network partners to cover the pixel costs and it seems like several of their partners have agreed to this already." (Our sister publication the Podcast Business Journal interviewed ArtsAI's Erik Lundberg last month).

Podcast Business Journal

Descript has added a set of AI Actions, tools that can help with specific production tasks; including a chapter generation tool, a summary generator, and a social post writer.

Descript

Hindenburg v2.02 is out, with one change you won't miss: on the Mac, the popular digital audio editor now supports light mode if you like that better. Here's how the Podnews Weekly Review looks.

Podnews
Podcast News

The
Podnews Weekly Review
has John and Mark from Caloroga Shark Media on the show this week, explaining how their short-form podcast network came about. Plus, Sam and James look at Spotify's surprise profit.
Podnews

Where do you present your show from - home? work? a hired studio somewhere?
Collect Call With Suge Knight
is a show being presented by the founder of Death Row Records - from prison. Join the man who signed Tupac, Snoop Dogg and Dr Dre, from San Diego's RJ Donovan correctional facility. (It isn't the first show to contain audio from a prisoner - that accolade might go to Serial among others).

Seriously Catherine
is new today from Catherine Hover, an entrepreneur and community builder from Saragota Springs NY, USA. Each episode of the podcast delves deep into a range of topics, including entrepreneurship, community building, and the unique charm of Saratoga Springs. It launches today with a party and networking event.
Podcast data for Oct 27
#1 in Apple Podcasts

Ghost Story (Wondery | Pineapple Street Studios)

Global News Podcast (BBC World Service)
#1 in Spotify

The Joe Rogan Experience (Joe Rogan)

Rotten Mango (Stephanie Soo & Ramble)
Over the last week, 208,567 podcasts published at least one new episode (down 1.4%). source
Events
Getting
the
five
latest
events
This section is continually updated. See more and add yours, free
Latest Jobs
This section is continually updated. See more and add your vacancies, free