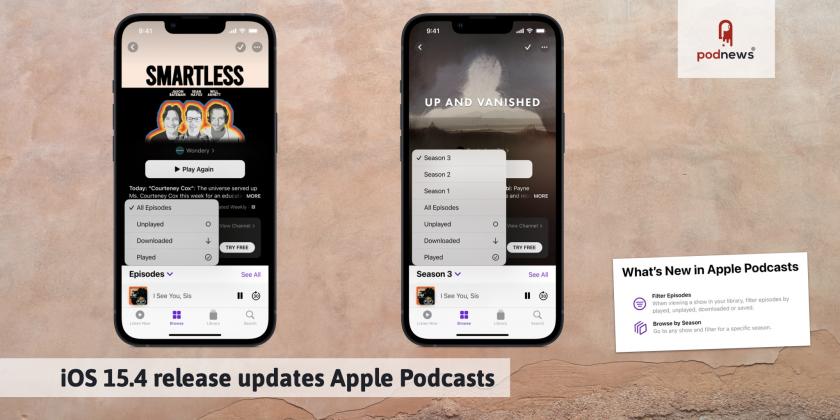 iOS 15.4 release updates Apple Podcasts
LISTEN
· · Updated · 3.8 minutes to read
Apple has released an update to Apple Podcasts as part of iOS 15.4, iPadOS 15.4 and macOS 12.3, which were all released today. Listeners can now browse by season on show pages, and you can now filter episodes - played, unplayed, downloaded, or saved - from show pages too.

Voting is now open for The Podcast Academy Board of Governors. It's the first election; the Academy's rules are that 40% need to be "independent podcasting professionals", which is defined as companies with 20 employees or less. Voting is by members only: look in your email for a mail called "Board of Governors Vote!"

Tangia R. Estrada and Maribel Quezada Smith have launched a new website for BIPOC Podcast Creators, the group they have run for the last year; and with it, a consultancy, Amplify BIPOC, to help brands gain a deeper understanding of multicultural audiences.
"There aren't many examples of successful shows that start as platform exclusives for a reason." - Matt Deegan, who doesn't like Amazon's Amp much.
Moves and hires
Podcast News
Pod Events - with The Podcast Show 2022
Getting
the
five
latest
events
This section is continually updated. Data: Podevents. See more and add yours, free
Latest Pod Jobs
This section is continually updated. Data: Podjobs. See more and add yours, free
Comments via boostagram
To send us a comment, listen to this episode on a supported podcast app, and send a message using a "boost". It will appear here within ten minutes.