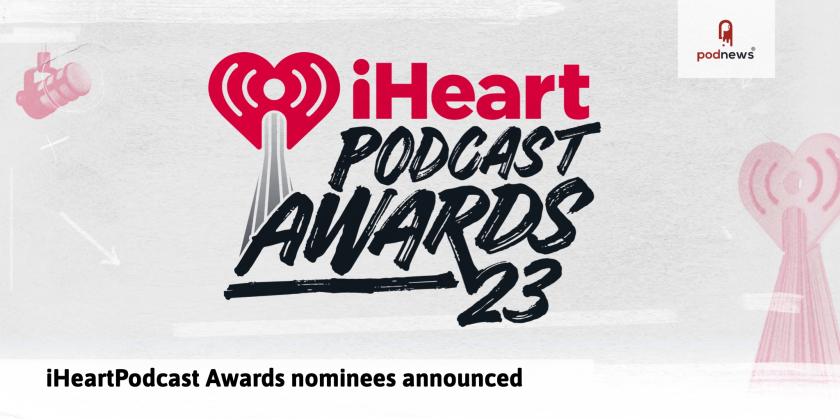 iHeartPodcast Awards nominees announced
LISTEN
· · Updated · 2.3 minutes to read
iHeartMedia announced the nominations for the iHeartPodcast Awards 2023. They'll stream on Mar 14. Our list of nominations shows just 17 of the 143 nominations are from iHeartRadio.

The iHeartPodcast Awards "Best International Podcast" nominations list includes a nomination for British Villains. The credits, from Chicago's Luminary, list exec producers The Cut Productions in Los Angeles, LA's Ninth Planet Audio, and LA's Western Sound; and the writers were LA's Rosecrans Baldwin and Vanessa Sadler, who lives in LA but happily for this nomination is English. Phew. Gor blimey, guv, call off the rozzers, mate, it's all above board innit.

Triton Digital announced the US Podcast Report for November 2022. Listing participating publishers only, Crime Junkie is the new number 1. The data has removed spikes caused by Samsung Free.
Moves and hires
SoundStack has hired Hailey Feagans as VP of Marketplace Operations, and Heather Smith as VP of Publisher Enablement. Hailey comes from LiveOne; Heather, from Advisr and Triton Digital.
Podcast News

The last
Podnews Weekly Review
for this year is an epic - more than two hours, including interviews with Barometer, Oxford Road, the Podcast Index and Ad Aures, and 2023 predictions and 2022 highlights from 12 different podcast folk. Sponsored by Buzzsprout, it's available now.

Luminary's
Telephone Stories
is now available on all platforms - a show examining the hall of mirrors that was Michael Jackson's life, painstakingly, sometimes painfully, reconstructing the complex narrative of an iconic and troubled performer haunted by criminal allegations. It was produced by Ninth Planet Audio.

Enter The Webbys today. Mark Your Spot in History.
Paid content
The Webby Awards have been honoring the very best of the Internet since 1996. Winners range from iconic early Web throwbacks, to recent viral sensations, to powerhouse digital icons that have withstood the test of time. By participating, you can place your work on the same stage as boundary-pushing talent, like past Webby Winners The Meteor, Spotify, HBO, Apple, VOX, The Daily, Crimetown, The New York Times, Pivot, California Love and Dustlight, to name a few. Help them continue celebrating the most innovative, creative, and transformative work that shapes the online zeitgeist.
Learn more, and enter the 27th Annual Webby Awards by our Final Entry Deadline of December 16th, 2022 - that's today!
Podcast data for Dec 16
Pod Events - with Podcast Movement Evolutions
Getting
the
five
latest
events
This section is continually updated. Data: Podevents. See more and add yours, free
Latest Pod Jobs
This section is continually updated. Data: Podjobs. See more and add yours, free