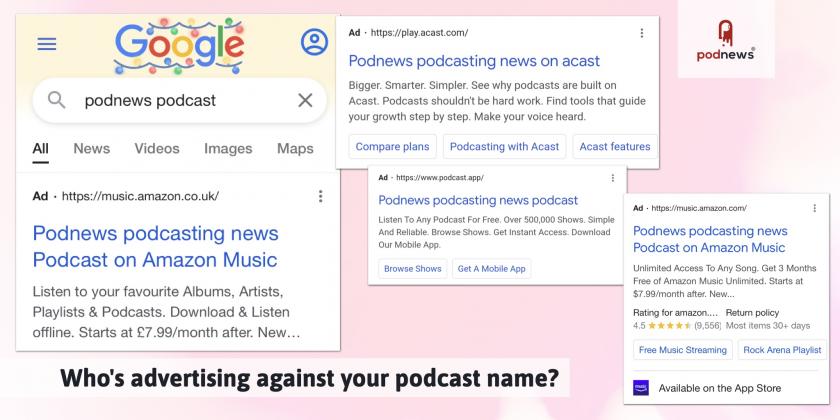 Who's advertising against your podcast's name?
LISTEN
· · 3.5 minutes to read
Podcast apps may be buying ads for your podcast in Google Search without you knowing. Acast, The Podcast App and Amazon Music are all advertising against our own podcast title, and that of many other podcast titles, too. On an iPhone in the UK, an ad for Amazon Music appeared as the #1 search result for Podnews, seeming to suggest that access to our podcast costs £7.99/month, which is misleading (it's free on any platform). The Acast ad leads to a web player, but no method of subscribing; The Podcast App's ad led us to a web player with promotion for their own podcast app.

This isn't against Google's terms; and it's probably nice to have some additional marketing for your podcast. What do you think? Is this OK? Hit reply and let us know.

Facebook is growing for podcast consumption: Tom Webster from Edison Research reports that Q3/21 data showed that 20% of people had listened to a podcast on Facebook. The same data three months earlier was just 8%. Meanwhile, still no sign of podcasts in Facebook outside the US; though if you are, you can now add your podcast to the platform.

PodMon is another AI-based audio monitoring tool that "searches tens of thousands of podcasts" for topics. It's German, based in Jena.
Dave Jackson and Elsie Escobar from Libsyn are hosting a holiday game afternoon for podcasters - it's not limited to Libsyn customers, and the artwork features Dave and Elsie in festive costumes we think may have been Photoshopped.

Social podcasting app Reason has hit 12,000 users, and added a better view of what your contacts have been listening to recently on its front page. The company is working on a hosting solution.

Podcast Movement has a sale for both Podcast Movement Evolutions in LA in March, and Podcast Movement 2022 in Dallas in August. We're hoping to make it to LA, Omicron permitting! The sale ends today at midnight.
The Tech Stuff - with RSS․com
We've updated our audio quality comparisons example page with a few more files, including 16kbps Opus and AAC files. (You'll be impressed at what you can do in 16kbps; Opus works on Android and in Chrome).

AWS has announced Amazon Linux 2022, which is in public preview. They've announced that they'll release a new version every two years; it's based on Fedora. (We'll switch to it).

Umbrel has been updated to v0.4.9; Helipad is due to be released this week by Dave Jones of the Podcast Index. The tool will show boosts and boostagrams in real time.

Boostagram Corner: Dave Jones thanks us for our daily coverage last week during the US holiday season (2112 sats); Adam Curry gave us 2222 sats, while another person notes that "Spotify has done exactly zero for "podcasting". You've only helped yourself". In total, that's 9,858 sats last week.
Tips and tricks
Podcast News - with Blue Wire

In
Blue Wire
's limited series
WR1
presented by WynnBet, legendary NFL wide receiver Cris Carter interviews legends of the WR position as well as the next generation of superstars to understand what makes this position so unique, as so many personalities and stories come from outside of the hash marks. Guests include Julian Edelman, Adam Thielen, Mike Evans, Calvin Johnson, and many more.

LEONARD: Political Prisoner
has won the 2021 Human Rights Audio Documentary Award from Duke University. The podcast revisits the facts and irregularities of the case against Leonard Peltier, who has spent the last 44 years in federal prison; the audio series and related supporting documents will be preserved on campus at the Rubinstein Rare Book & Manuscript Library. "You had listed the award previously in a Podnews newsletter, which is how we discovered it and applied," says the host, Rory Owen Delaney. -
read more

Got Books? Conversations with Booksellers & Bookmakers
has started a new season - a podcast with a mix of booksellers and people who make books come to life. From Scotland to Berlin, Senegal to Toronto, you'll learn why bookshops are all such special places. The truly international podcast is produced by two Romanians in London and Berlin. -
read more
Pod Events
Getting
the
five
latest
events
This section is continually updated. Data: Podevents. See more and add yours, free
Latest Pod Jobs
This section is continually updated. Data: Podjobs. See more and add yours, free