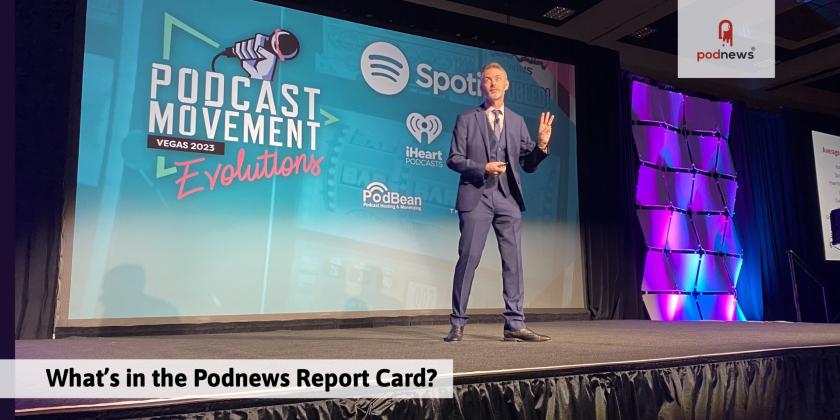 What's in the Podnews Report Card?
LISTEN
· · 1.7 minutes to read
Our Editor James Cridland shared the results of the Podnews Report Card at Podcast Movement. We'll have this data in full in Monday's Podnews; but overall, Apple has increased its lead over Spotify as the most favoured podcast platform used by podcast creators. YouTube is eagerly awaited by many publishers; and Google Podcasts saw a disappointing fall in ratings from those in the industry.

A free podcast transcription tool has been launched. It runs entirely on your own local device ("for the highest privacy and security"), the company says; it uses whisper.cpp's "tiny" model. It's powered by Spreaker, though you don't need to be a customer to use it. It hosts the SRT file itself, which is ideal to add it to your RSS feed.

Acast spoke at Podcast Movement about how the company uses geo-targeting to safely serve ads for sports betting only in locations where it's legal.
We'll be back with our usual length Podnews on Monday.
Tips and tricks - with Phantom Producer
Podcast News

The
Podnews Weekly Review
was recorded live at Podcast Movement. James and Sam's guest was Jordan Blair from Buzzsprout. We talk about the new Spotify announcements in front of a live audience.

Need a new show to listen to on a long flight back from Podcast Movement?
New Podcast Trailers
is available in your favourite RSS podcast app, and contains trailers from lots of new shows.
Podcast data for Mar 10
Pod Events
Getting
the
five
latest
events
This section is continually updated. Data: Podevents. See more and add yours, free
Latest Pod Jobs
This section is continually updated. Data: Podjobs. See more and add yours, free