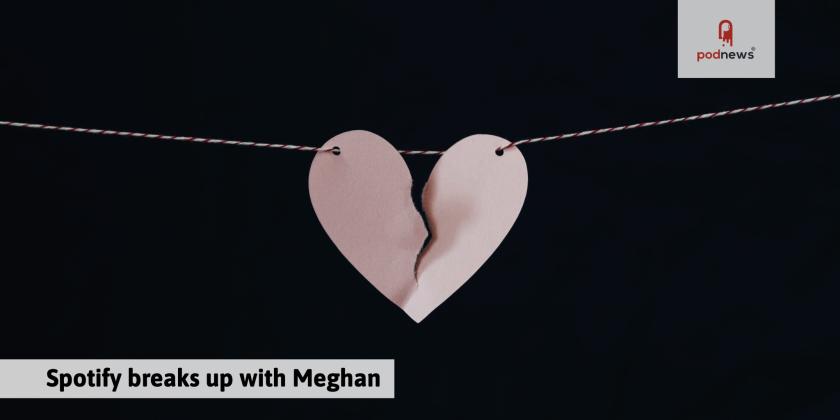 Spotify breaks up with Meghan
LISTEN
· · 3.7 minutes to read
Archewell, the podcast company owned by Prince Harry and Meghan Markle, will not have its contract renewed with Spotify. The decision was mutual, according to a statement. However, speaking on his podcast, Bill Simmons (who is a senior Spotify podcast executive) called them "fucking grifters".

Spotify Archewell

Meghan Markle's podcast produced just twelve episodes in a $20mn contract. The Wall Street Journal suggests that she may not earn the full amount after not meeting productivity clauses. Podnews has heard from multiple sources that some interviews on the show were done by other staffers, with her questions edited-in afterwards. Podnews
Will Page, former chief economist at Spotify, suggests that Harry and Meghan earnt more from Spotify than the most streamed song ever, Blinding Lights by The Weeknd. "Not bad for 12 hours work," he told Shaun Ley on BBC Radio 4's The World Tonight (from 24min).Spotify

Podium has launched a new tool that turns your podcast into a book. Called "Podbook", the tool will turn any podcast into anything from a 20-page ebook to a 250 page paperback-like read. Podcasters can join the waitlist, and this sample is made from Huberman Lab.

Podium Podium

CoHost has released a white paper about podcast analytics - detailing key metrics, measurement techniques, and industry best practices. The free download also gives tips on how to take action with your data.

CoHost
Google
Podcast Movement
Anchor "shut down my podcast and never paid me", claims a redittor, who says they're owed $700.

Anchor

Storyboard, a platform for internal and private podcasting, has added "Chat By Storyboard", a new app letting teams communicate using voice messages with AI-powered transcripts.

Storyboard

The Independent Podcast Awards have partnered with the Podcasting, Seriously Awards Fund. The Fund covers submission fees for producers, editors and others from underrepresented backgrounds.

Independent Podcast Awards

In the UK, the Cheerful Earful Podcast Festival is to return to London in Q4, with some of the country's biggest comedy shows performing live.

In Portugal, consultancy Widecom has launched a podcast unit. Zeeko - Podcast Creative Agency aims to be "a landmark in the production of podcasts for individuals, brands and institutions".

Earbuds focuses on episodes celebrating Juneteeth, chosen by Justin Richmond.
Tips and tricks
The Tech Stuff - with RSS․com
Podcast News
Podcast data for Jun 19
#1 in Apple Podcasts

SmartLess (Jason Bateman, Sean Hayes, Will Arnett)

Scamanda (Lionsgate Sound)
#1 in Spotify

The Joe Rogan Experience (Joe Rogan)

The Joe Rogan Experience (Joe Rogan)
Over the last week, 207,238 podcasts published at least one new episode (down 101.8%). source
Pod Events
Getting
the
five
latest
events
This section is continually updated. Data: Podevents. See more and add yours, free
Latest Pod Jobs
This section is continually updated. Data: Podjobs. See more and add yours, free