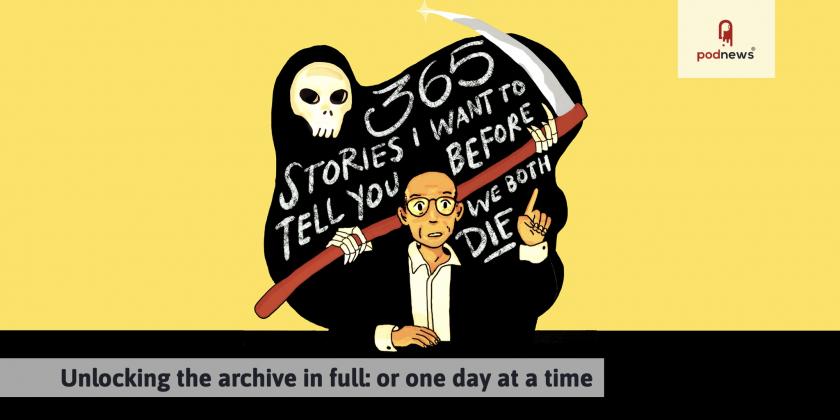 Unlocking the archive in full: or one day at a time
LISTEN
· · Updated · 4.2 minutes to read
In 2021, film director and actor Caveh Zahedi recorded a podcast every day for a year - called 365 Stories I Want to Tell You Before We Both Die, it features stories from his life. Now, producer Leon Neyfakh and Prologue Projects are making the whole year's stories available as a paid podcast. They are letting people pick their price: $3.65 (one penny per story), $36.50 (ten cents a story), or $365 (one dollar per story), working with Supporting Cast.

Neatly - a week's worth of stories remains available in the free feed - the stories originally published this week last year; the shows change daily, starting over at the beginning of each year. We're told they will "continue doing this forever, until we all die or become millionaires".

Are you selling access to your show? The free ride for Spotify's paid podcast subscription service is coming to an end. In Spotify's earnings call yesterday, Daniel Ek said that from 2023, the company will take a 5% cut (plus payment costs). Apple Podcasts takes 30% (including them).

With the excitement earlier on this week about Spotify's proprietary video podcasts: Substack quietly released video on their platform back at the end of January, we're told by Podland's Sam Sethi.
Tips and tricks - with SoundStack
Podcast News - with Acast

From Acast:
Alexis Fernandez asks -
Do You F*****g Mind?
All things self growth, self love, relationship and learning to give less of a f**k will be discussed here, with some neuroscience thrown in for good measure - learn mindset hacks to live the most badass life.

In
Podland
later today, we hear from Neil Mody on Headliner's future plans; and from Tom Billington on the Podcast Show 2022 in London, which takes place next month. Co-host Sam Sethi also breaks the news that he's bought a big red bus.

Mood Ring
is new from APM Studios today - a
new weekly podcast from author and journalist Anna Borges
, it launches just ahead of Mental Health Awareness Month, and shares practical and creative ways to improve our lives, with each episode focusing on one new way we can cope with our feelings, our baggage, or the world around us.
You have more influence than you think
Paid content
When you think of influence you probably think of Beyonce, Ronaldo, or Obama… but you don't think about yourself.
In the latest episode of the Nudge Podcast, Professor Vanessa Bohns talks about the influence you already have. She explains why we underestimate how many people like us, why we overestimate how social our friends are, and how we change our views depending on who we're talking to.
Tune in and learn the science behind great marketing.
Listen to the Nudge Podcast on Apple Podcasts, Spotify, Google Podcasts, and your favourite podcast app.
Pod Events
Getting
the
five
latest
events
This section is continually updated. Data: Podevents. See more and add yours, free
Latest Pod Jobs
This section is continually updated. Data: Podjobs. See more and add yours, free
Comments via boostagram
To send us a comment, listen to this episode on a supported podcast app, and send a message using a "boost". It will appear here within ten minutes.