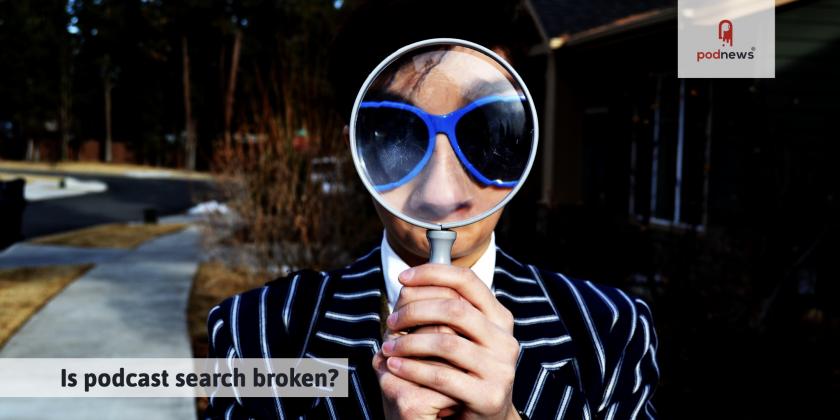 Is podcast search broken?
LISTEN
· · 2.5 minutes to read
The Podcast Academy has launched a special package for independent podcast creators. The package provides free TPA membership (with masterclasses, networking events, and a mentorship programme) and a free submission to The Ambies. You can apply on the TPA website.

Cumulus Media, which sells ads for The Daily Wire and broadcasts the Ben Shapiro Show, has pulled out of future Podcast Movement events. The company released a statement:

At Cumulus Media, our tenet is that Every Voice Matters and we support conferences and trade events where differing political viewpoints can be expressed and received with respect. As such, we were dismayed and disappointed by Podcast Movement's handling of the reaction to our partner, top podcaster, and conservative talk leader Ben Shapiro's mere presence at Podcast Movement. After giving the leaders of Podcast Movement sufficient time to appropriately address their misstep, we are disassociating from Podcast Movement, including canceling our 2023 sponsorship plans.

Since the Shapiro thing has resurfaced: Dave Jackson, a member of the Podcast Hall of Fame and podcast consultant, has written his thoughts. After reflection, Podnews has consciously avoided publishing "hot takes" from both sides, but unlike many, Dave's piece is balanced, respectful, and written with humility and curiosity.
Tips and tricks
Podcast News - with Lemonada Media


We all experience fear. But what if we were able to fear less? What would we do if we didn't allow our fears to get in our way?
What Would You Do If You Weren't Afraid?
is new from Storyglass, hosted by TikTok executive, leadership coach and best-selling author Michal Oshman. The show includes guests and advice, and launches today.

All The Wiser
returns for a new season today. A long-form interview show about hope and possibility on the other side of pain, it's hosted by producer and storyteller Kimi Culp. The first episode interviews Amanda Knox, who was wrongfully imprisoned in Italy for four years, about who our stories belong to and how we can avoid objectifying the real people behind them.
Number one for podcasts - Sep 7
Pod Events - with Podcast Day 24 on Oct 4
Getting
the
five
latest
events
This section is continually updated. Data: Podevents. See more and add yours, free
Latest Pod Jobs
This section is continually updated. Data: Podjobs. See more and add yours, free