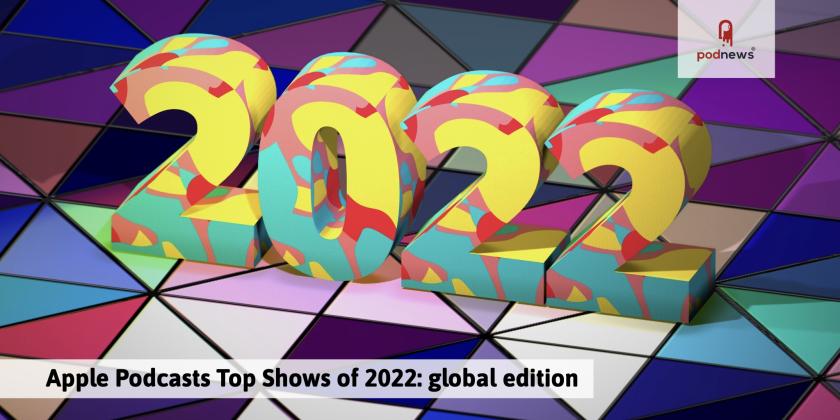 Apple Podcasts Top Shows of 2022: global edition
LISTEN
· · Updated · 2.7 minutes to read
Get in front of 25,500 podcast professionals every day in January - as the title sponsor for Podnews. Your message could be in everyone's inboxes every weekday for a month, and to thousands more as the sponsor of our popular daily podcast. We can even change the message every day to suit you. Want to know more? Contact Kristy Scott at sales@podnews.net
A French startup, Vib3s, has launched a podcast making platform. The tool lets users start a podcast without a technical or audio background; and lets you connect two USB microphones as well as remote recording.
The Adthos platform gets a deep-dive this week by Sounds Profitable's Bryan Barletta, Adthos CEO Raoul Wedel and operations manager Emile Renaud. The tool can create ad copy, voice it, mix it, and create the VAST tag for you.
The Women's Podcast Report from SXM Media and Edison Research is now available to download.
Podcast News - with Podcast Movement Evolutions

The
Between Two Beers Podcast
from New Zealand says it's the most popular long-form interview podcast in the country, with more than 650,000 downloads this year. It joined NZME's network in late 2021, and has grown its downloads by more than 260%. Most recently, their guest was WWE Hall of Fame member Butch Miller.

Le Podcastologue
launches today - un nouveau podcast entièrement consacré à l'industrie du podcast francophone, autant au Québec qu'en France. Dans le premier épisode, en ligne aujourd'hui, vous pourrez entendre une entrevue d'Annie Laurin, du balado Captives, et de Nina Cohen, directrice du Paris podcast festival.

Queen of the Con
is returning for a third season. It unveils the story of Danielle Miller, a Manhattan-raised influencer – daughter of a Rockette and the former New York Bar Association president – who shamelessly flaunted her lavish lifestyle on social media, while swindling the U.S. government out of nearly $1M and taking countless unsuspecting victims for hundreds of thousands. It's from AYR Media for iHeartPodcasts.
Podcast data for Dec 15
Pod Events
Getting
the
five
latest
events
This section is continually updated. Data: Podevents. See more and add yours, free
Latest Pod Jobs
This section is continually updated. Data: Podjobs. See more and add yours, free