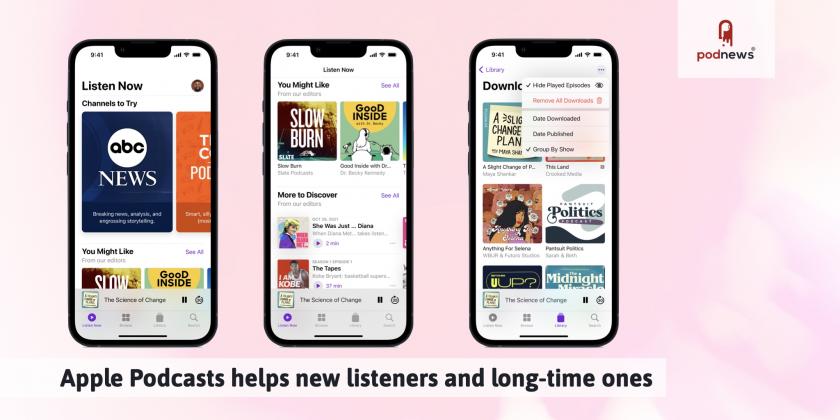 Apple Podcasts helps new listeners and long-time ones
LISTEN
· · 3.2 minutes to read
Apple has released iOS and iPadOS 15.2, as well as new versions of watchOS and tvOS. There are new features within Apple Podcasts to help new and long-time listeners.

Listeners who open Apple Podcasts for the first time (or haven't yet listened to any shows) will now discover curated channels, shows, and episodes on the Listen Now tab. As they follow and play shows, Listen Now will become even more personalised, we're told. (Here's the form to suggest promotion of your show on Apple Podcasts).
Listeners can also now remove all downloads if they want to free up device storage. In Apple Podcasts, navigate to Library > Downloaded > "…" > "Remove All Downloads."

First look: Acast and Nielsen will release data today showing US podcast fans are spending even more time listening to podcasts. The data also says 73% of podcast listeners take action after hearing an ad, with 55% saying they have a more positive opinion about brands who advertise on their favourite podcasts. The data will be presented today in an AdWeek Spotlight Event.

Are charts still being manipulated? While Apple Podcasts say that their charts are based on a mix of new follows, playback activity and completion rate, a media lecturer at Cardiff Metropolitan University has made it to #4 in the sports category and #50 overall - without increasing his number of downloads at all.
AdWeek has announced the winners of their Podcast of the Year; Apple Podcasts won the prize for "best podcast site or app"; and Bloomberg's The Pay Check was awarded their Podcast of The Year award.

Apple has launched an Android app to help stop their AirTags product being misused to track people. Apple has Android apps for Apple Music and Apple TV; but Apple Podcasts isn't available for Android.

Podcast host ShoutEngine, which offered both free and paid services, is to close on Dec 30. The platform removed its freebie plan from its website in mid-June 2019. While they didn't offer 301 redirects in life, they will after death, according to a note on their front page.

Pacific Content has published the first in a series of blog posts with podcasting predictions for 2022 from a wide variety of industry people. Meanwhile, Omny Studio also share theirs.

Podtrac has published its list of "top new shows for 2021", ranked by average downloads per episode for shows that were published for the first time in the last twelve months. Wondery and iHeartRadio both have nine shows in the top 25; The Apology Line was the most successful new release. Podtrac measures participating publishers only.

Triton Digital is to launch a new Podcast Report, this time in Canada. Bell Media and CBC are already signed-up to participate.

Vox Media is to merge with Group Nine Media, the publisher of POPSUGAR, NowThis, Thrillist and others. The new Vox Media will have around 2,000 employees; both companies produce a number of podcasts.

OneFinePlay has launched a podcast business directory containing all types of organisations and resources for podcasters, including newsletters.

A Forbes blogger looks at Podcastle, which uses AI noise-reduction technology and offers a browser-based editing tool, including audio editing using text (much like Descript).

Spotify isn't just missing podcasts: Spotify HiFi, announced in February, still hasn't launched, say TechHive.
Moves and hires - with Pod People
Podcast News - with Memberful

Mere Mortals
has a long-form interview with the podfather himself, Adam Curry: about how his value-for-value model works, and how he and co-host John C Dvorak are always testing new things.
Pod Events
Getting
the
five
latest
events
This section is continually updated. Data: Podevents. See more and add yours, free
Latest Pod Jobs
This section is continually updated. Data: Podjobs. See more and add yours, free