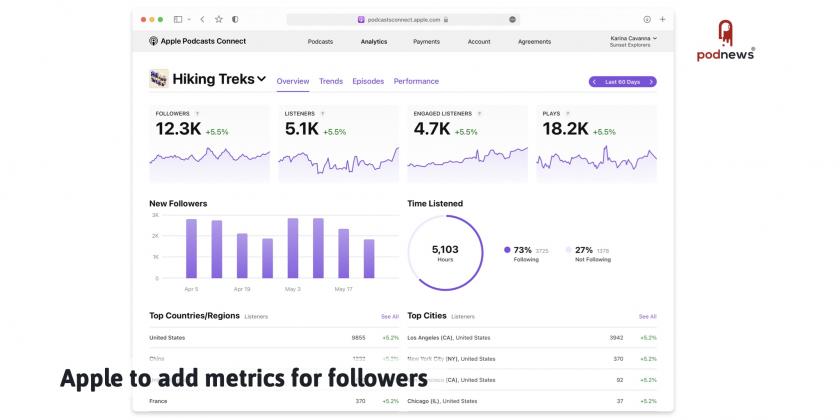 Apple to add follower numbers
LISTEN
· · Updated · 3.6 minutes to read
Breaking: Apple Podcasts will add follower numbers to Apple Podcasts Connect, starting next month. You'll be able to view followers per show and easily measure followers across shows. Additionally, Apple Podcasts Connect will accept MP3 files for subscriber audio, and allow podcast publishers to customise subscriber banners.

In Canada, Rogers Media is running Canada's Next Great Podcaster across its radio stations: a competition to win CAD $10,000 and get your show idea produced. Caution, though: Matt Cundill pointed out to Podnews that the rules let Rogers use any of your ideas they like (even if you don't win) without giving you a penny (¶7d); it might not really be $10,000 (¶9a); and the draw is entirely random anyway and nothing to do with your entry (¶10).

We asked Rogers. Matt Mise, Commercial Integration Director, News & Entertainment, Rogers Sports & Media, told Podnews: "It is standard practice under the terms and conditions of our contests that we may use submission entries solely for the purpose of promoting the specific contest (or similar one) that the submission is connected to. After reviewing the terms again, we've updated the verbiage to better clarify this. It should be updated on the contest terms and conditions page by Tuesday morning. With regards to how the winner is chosen, this is the first time we're executing a contest of this type in support of podcasters, and the response has been overwhelmingly positive. Eligible entries must still provide all required elements to describe and present their podcast concept in order to qualify to be selected. We will look to offer more contests like this in the future where there will be opportunity for a more vigorous selection criteria."

The Times of India highlight the winners of the Times Podcast Challenge in Kolkata.
Tips and tricks
Podcast News
Announcing Adori's new YouTube Integration
Paid content
It makes your podcast an immersive experience with images, subscription and e-commerce links - here's an example - and you don't need to be a video editor to do it.
Adori Studio allows you to seamlessly in 3 easy steps:
Import podcasts from RSS feeds or upload audio files
Enhance them with visualizations
Upload those enriched assets directly to YouTube
Get started today with Adori Studio - or, if you're coming to Podcast Movement Evolutions, set up a meeting to learn more.
Pod Events - with The Podcast Show 2022
Getting
the
five
latest
events
This section is continually updated. Data: Podevents. See more and add yours, free
Latest Pod Jobs
This section is continually updated. Data: Podjobs. See more and add yours, free
Comments via boostagram
To send us a comment, listen to this episode on a supported podcast app, and send a message using a "boost". It will appear here within ten minutes.