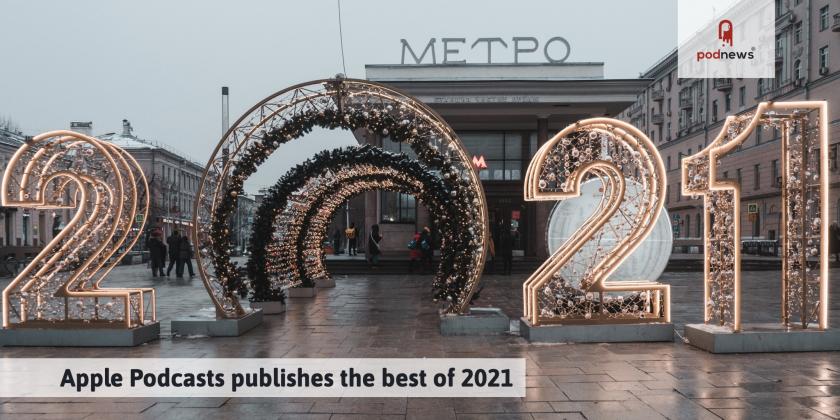 Apple Podcasts publishes the best of 2021
LISTEN
· · 4.5 minutes to read
Moves and hires - with Pod People
Noel King has joined Vox's Today, Explained as Editorial Director and co-host. She was formerly with NPR's Morning Edition and Up First. The daily podcast will also air on local public radio stations nationwide, in partnership with New York's WNYC Studios.
Tips and tricks
Downloads vs audience - what's the difference? A useful primer from Podtrac. (Also - a quicker read than our comprehensive look at podcast stats.)

Top tip: the latest update for Hindenburg Journalist Pro changes the application's name to Hindenburg PRO - which means, if you use Loopback or OBS, you'll need to reset your virtual device. Ask us how we know.
Podcast News - with Blue Wire
Share your work with the internet's best
Paid content
Enter The Webbys. Stand out on a global stage.
Since 1996, The Webby Awards has been recognized as the preeminent international honor for Internet excellence. Last year's Webby Awards received over 13,500 entries from around the world.
By participating in The Webbys, you place your work on the same stage as boundary-pushing talent, like past Webby Winners Crooked Media, Spotify, The Washington Post, The Daily, Pivot, California Love and Lemonada Media, to name a few.
To ensure winners reflect the very best of the Internet, we added several new categories this year, including new Podcasts honors for Advice & How-To, Creativity & Marketing, Public Service & Activism, and Sustainability & Environment for General Series. We have also added Crime & Justice, Family & Kids, Featured Guest, Health & Wellness and Interview/Talk Show categories to expand honors in Individual Episode, and much more.
Learn more, and enter the 26th Annual Webby Awards by our Final Entry Deadline on December 17th, 2021.
Pod Events
Getting
the
five
latest
events
This section is continually updated. Data: Podevents. See more and add yours, free
Latest Pod Jobs
This section is continually updated. Data: Podjobs. See more and add yours, free