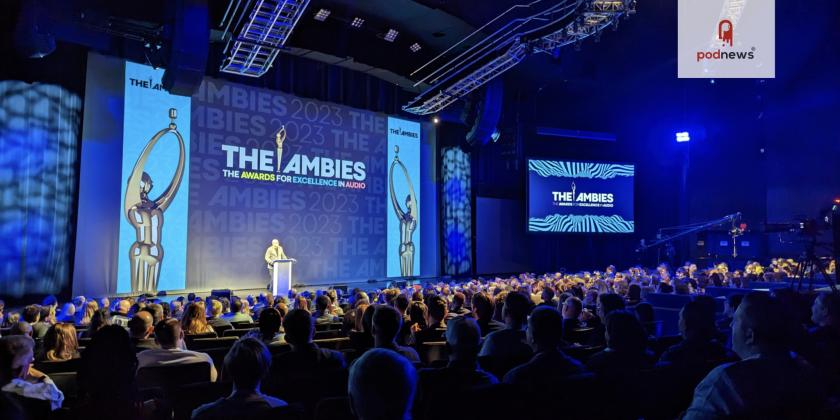 The Ambies - the winners of the third annual awards, 2023
Press Release · Las Vegas, NV, USA ·
Tonight, The Podcast Academy (TPA), the preeminent professional podcast organization, announced winners across 26 categories at its third annual Awards for Excellence in Audio (The Ambies®) from the International Theater in Las Vegas hosted by Emmy Award-winning producer, writer, comedian, actor and podcast host Larry Wilmore. Additionally, "Stuff You Should Know" co-hosts Chuck Bryant, Josh Clark, and producer Jeri Rowland accepted this year's Governors Award, an honor that recognizes the impact a podcast or individual has had on the industry.
The Ambies celebrate excellence in podcasting and elevate awareness and status of podcasts as a unique and personal medium for entertainment, information, storytelling and expression.
Community Building Sponsor Wondery highlighted TPA's Mentorship Program at the Ceremony and Platinum Sponsor Sonoro, introduced the upcoming Global Podcast Summit they are hosting with TPA in June.
THIRD ANNUAL AWARDS FOR EXCELLENCE IN AUDIO WINNERS
Best Scriptwriting, Fiction (Sponsored by Castbox): Jenny Deiker Restivo and Nathalie Chicha for I Hear Fear
ABOUT "STUFF YOU SHOULD KNOW"
If you've ever wanted to know about champagne, Satanism, the Stonewall Uprising, chaos theory, LSD, El Niño, true crime and Rosa Parks then look no further. Josh and Chuck have you covered. "Stuff You Should Know" is distributed by iHeartPodcasts and available on the iHeartRadio app and everywhere podcasts are heard.
ABOUT THE PODCAST ACADEMY
Founded in February 2020, The Podcast Academy is a not-for-profit professional membership organization that celebrates excellence in podcasting and elevates awareness of podcasts as an indispensable medium for entertainment, information, and creative expression. It values individual and organizational creators alike, of all backgrounds and means, and defines achievement through the values of quality, creativity, innovation, inclusion, and impact. The Podcast Academy provides community, professional development, and industry connections through inclusive, dynamic programming. For more information about The Podcast Academy, please visit www.thepodcastacademy.com and follow/like/subscribe on Instagram, Twitter, Facebook, YouTube and Linkedin.
Support for The Podcast Academy includes The Hollywood Reporter, Sonoro, Wondery, Audible, The Podcast Show, PRX, Stitcher, Tenderfoot TV, Castbox, Loeb & Loeb, Paramount, The Amazon Music Channel on Twitch, and IMDb.
This is a press release which we link to from Podnews, our daily newsletter about podcasting and on-demand. This is reprinted verbatim; we may rewrite headlines and descriptions.