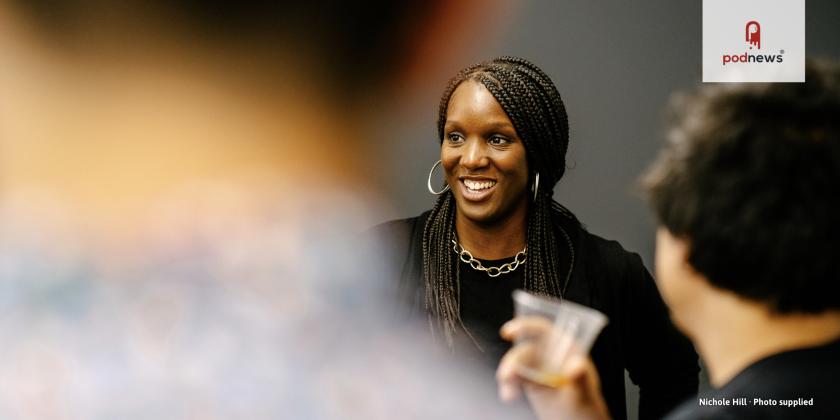 Black Holiday Traditions and Reflections Around the World
Press Release · Washington DC, United States ·
In the latest season of The Secret Adventures of Black People, guests from Ireland, England, France, Jamaica, the Netherlands, and Wales share tender memories of past holiday celebrations and offer thoughtful reflections on what it means to be Black in countries outside the U.S.
The Secret Adventures of Black People, hosted by Nichole Hill (pictured above), is a non-fiction, non-narrated podcast offering 8-15 minute theatrical glimpses into the poignant, hilarious, and relatable experiences of Black people in America and abroad. The goal in sharing these narratives, is to tell a wholistic story of Black life around the globe and showcase the multitude of ways there are to be - and sound - Black!
This season you'll hear how a Nigerian household observes the Irish tradition of watching British soap operas on Christmas in Black Christmas in Ireland. You'll eavesdrop on the Caribbean recipes used by a Black Brit and her family to make English food more palatable in Black Christmas in England. And you'll hear the complicated reflections the holidays inspire about being Black and French in Black Christmas in France.
Listeners praise Nichole's honest, playful, and theatrical storytelling. "In a sea of podcast voices, Nichole's stands out as unique and fresh. I found the first couple of stories to be an absolute delight to listen to, and a balm in my feed," wrote a reviewer.
Episode Summaries
Black Christmas in Ireland - Kenny cites some surprising holiday television classics while reflecting on his relationship with being Black and Irish.
Black Christmas in England - Athena shares the Caribbean workarounds for English recipes while reflecting on what calling someone Black British does and does not mean.
Black Christmas in France - Amelie reflects on the ways in which she is in between two worlds on the holidays and with her relationship with being both Black and French.
About Nichole Hill:
The show is hosted, written, and produced by Nichole Hill. Nichole Hill is a podcast producer, storyteller, writer, and improviser living in Washington, DC. For more information on the host visit nicholelhill.com
Listen
This is a press release which we link to from our daily newsletter about podcasting and on-demand. This is reprinted verbatim; we may rewrite headlines and descriptions.
This page contains automated links to Apple Podcasts. We may receive a commission for any purchases made.