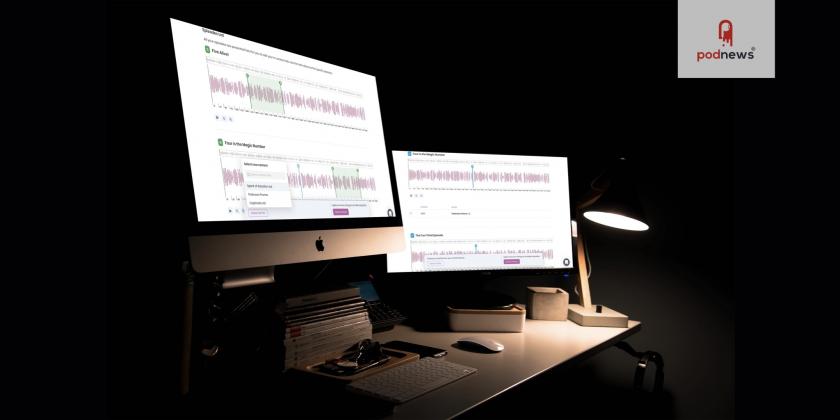 Captivate releases AMIE, 'Audio Monetization & Integration Engine', to independent podcast creators
Press Release · Sheffield, United Kingdom ·
This article is at least a year old
In the first of a three-module release series, leading podcast distribution platform Captivate has launched dynamic content capabilities to all audio creators using the software.
The system allows podcast creators to manage their own internal cross-promotion and self-sourced advertisements by integrating them dynamically into pre-roll, post-roll and mid-roll ("in-content") slots. With unlimited ad slots and no tiering limitations on usage, Captivate's CTO, Kieran McKeefery, describes the move as "a gateway to even more opportunities for the serious everyday podcast creator" whilst focusing on giving podcasters diversity in monetization options over the long term.
"Captivate's dynamic content & ad platform has been developed in a three-module manner to allow the serious indie podcaster to acclimate to this previously complex technology and to benefit from its use, before committing to a focused path to monetizing their audio influence.", added Captivate CEO, Mark Asquith.
Asquith continues, "Modules two and three deliver world-class ad server integrations via the widely developed VAST tag protocols and bring together Captivate's audio bites, network cross-promotional features and a revolutionary audio swap marketplace into one, diverse platform for audio monetization."
The founders confirmed that modules two and three are in alpha testing currently, with a release coming in Q1 2022.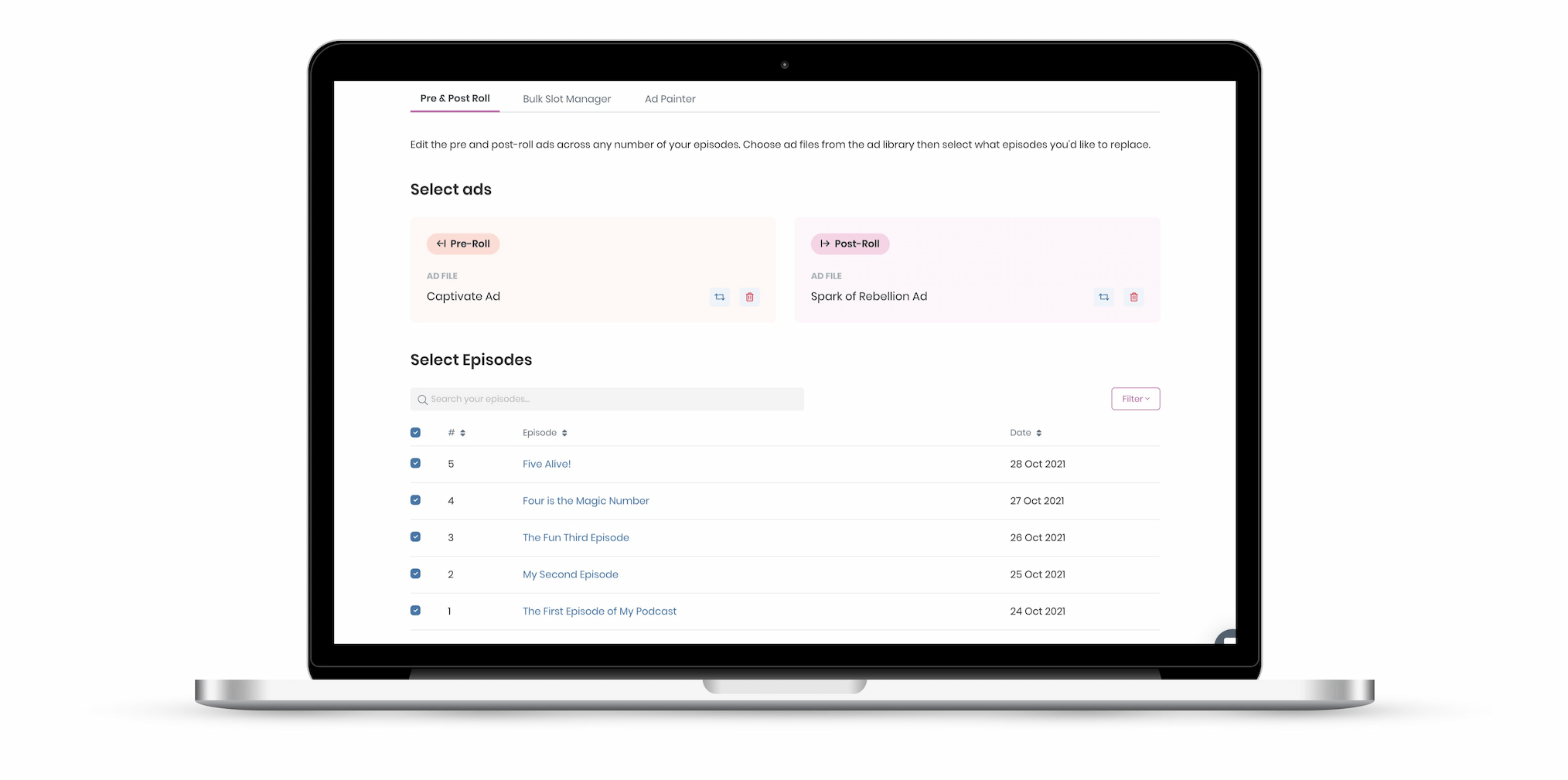 As part of this rollout, Captivate has also released innovative bulk editing tools to help podcasters manage their dynamic content quickly and efficiently.
Discussing the bulk tools, McKeefery was clear on why the decision was made: "So many other podcasting platforms that focus on the independent podcaster do dynamic content in such a watered-down form that it doesn't always help the creator as much as it could do. When developing AMIE, we knew that being able to manage pre & post-roll, mid-roll slots and even the ability to 'paint and replace' baked-in advertisements was vital to the busy, working podcaster."
"Baked-in" refers to the practice of advertisements being read out by the podcast creator during the recording of an episode. Once published, these advertisements are 'baked-in' parts of the audio and removing or replacing them typically involves re-recording and/or re-editing the entire piece of content, a time-consuming process that is often too cumbersome to achieve and hinders monetization opportunities for audio creators.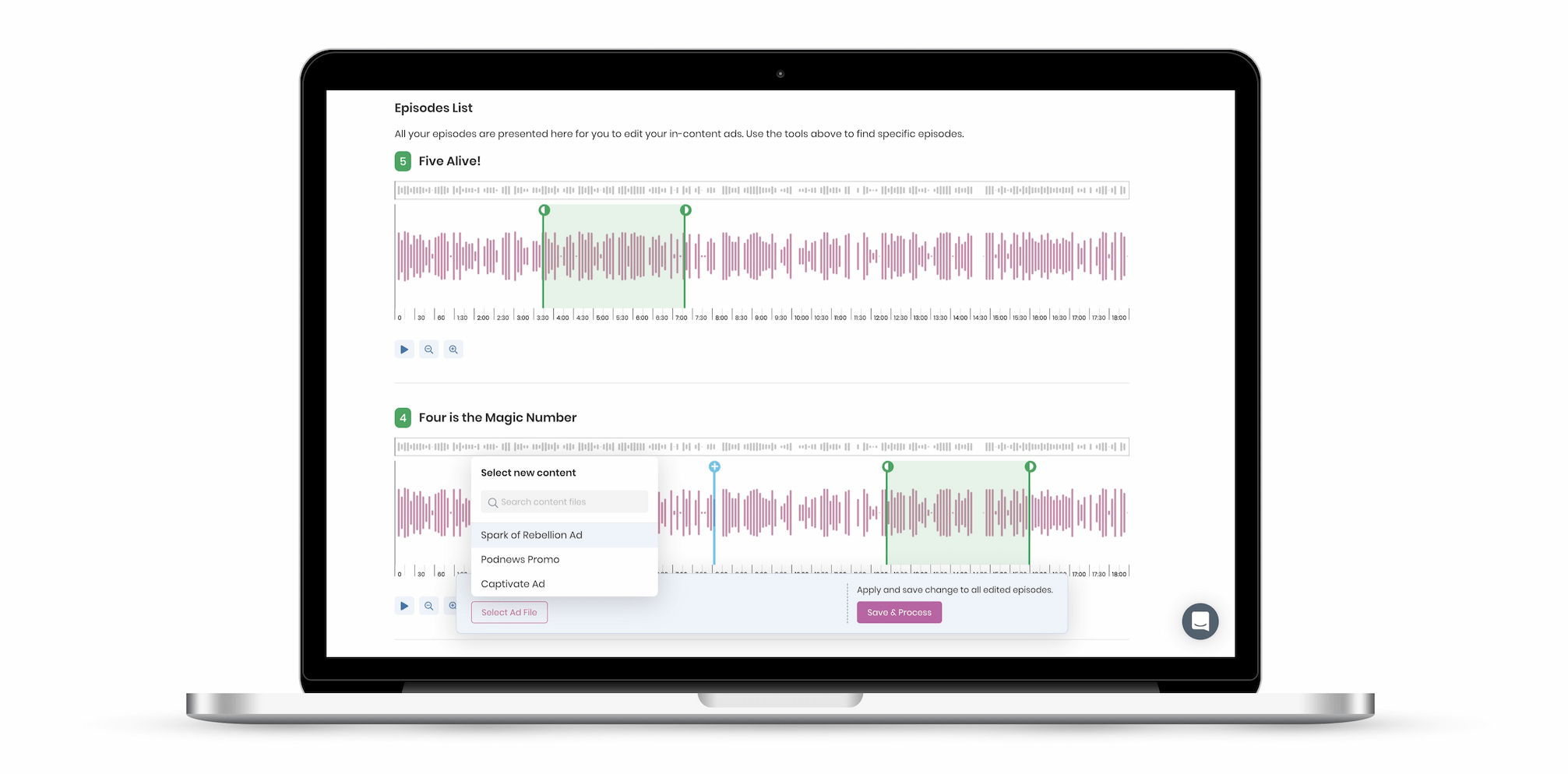 Captivate's innovative "Ad Painter", above, allows a creator to identify and 'paint' the regions of audio where baked-in ads exist within an episode and, either individually or in bulk, replace them with new ads that Captivate seamlessly "stitches in" to the existing episode.
AMIE module one is available now to podcasters on the Captivate beta programme, with a public release on November 16th to all Captivate podcasters.
About Captivate.fm:
Captivate.fm is a podcast hosting company based in Sheffield, England. Founded in 2019 by Mark Asquith & Kieran McKeefery, Captivate hosts over 12,000 podcasts and has developed a range of innovative features to help podcasters with privacy, first-party attribution and podcast promotion whilst focussing on its mission to help the independent podcast creator harness, grow and monetise their audio influence in diverse ways.
This is a press release which we link to from Podnews, our daily newsletter about podcasting and on-demand. We may make small edits for editorial reasons.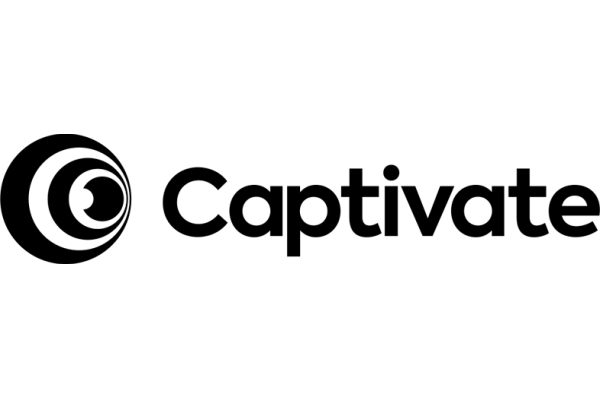 Captivate