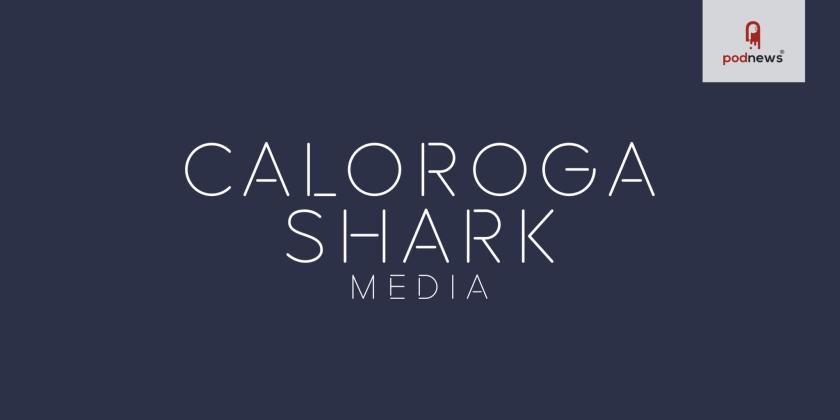 Caloroga Shark Media launches slate focused on short form podcasts that will captivate and entertain audiences
Press Release · New York, NY, USA ·
Caloroga Media and The Shark Deck have joined forces to launch a new podcasting company, Caloroga Shark Media. The new company will primarily focus on short-form shows under 10 minutes.
Caloroga Shark Media will debut with a mix of 16 scripted and unscripted shows. The exciting slate includes some already successful shows, "Palace Intrigue" and "Daily Comedy News."
The roster expands with an array of unscripted titles, including "Taylor Swift Today," "Entertainment Daily," "The Messi Effect," "Musk" (an in-depth exploration of Elon Musk), and "Kard Talk" (an immersive look into the world of the Kardashians). The scripted lineup features "Murder Weekly," "Romance Weekly," "Ghost: Scary Stories Daily," "TV in the Basement," and "The Best Song Ever (This Week)."
"Ghost: Historias de Miedo Diarias" is available now in Spanish. "Romance Semenal" (Romance Weekly) and "Asesinato Semenal" (Murder Weekly) are coming soon.
John McDermott expressed his excitement about the new venture, saying, "Short form is the future. In a busy world, the goal is to give a defined audience what they want in an entertaining, reliable and fast format." Co-Founder Mark Francis added, "This is a groundbreaking opportunity for us to reach a wider audience with high-quality, professional content that resonates with listeners who like their podcasts shorter and more often."
Caloroga Shark Media's innovative approach to podcasting promises to deliver engaging and entertaining content to audiences while maximizing efficiency and profitability for the company. All shows are fully produced by CSM. The slate of shows for launch will include:
"Palace Intrigue" is a daily news podcast that keeps you up to date with the captivating world of the British Royal Family. With a focus on King Charles, Meghan Markle, Prince Harry, Kate Middleton, Prince William, and the rest of the family, this podcast provides a front-row seat to the drama, power struggles, and secrets within the palace walls. Tune in daily for fascinating stories that shape the monarchy.
Start your day with "Daily Comedy News" for a dose of humor and stay updated on the comedy scene. Dive into the worlds of comedy legends like Dave Chappelle, Joe Rogan, Jim Gaffigan, and more. Get monologue recaps from late-night shows like Jimmy Kimmel, Jimmy Fallon, and Stephen Colbert. Stay in the know with daily updates on stand-up comedy, TV shows, festivals, and new releases on Netflix.
Discover a new world of terror and suspense with "Ghost: Scary Stories Daily," the ultimate daily podcast for terrifying tales! Each day, leading up to Halloween, we'll bring you bone-chilling ghost stories that will make your heart race and your spine tingle. Join us on this haunting journey and face your deepest fears. A Spanish language version "Ghost: Historias de miedo diarias" is also available. Ghost will continue as a weekly series after Halloween.
Welcome to the ultimate Taylor Swift fan zone! Stay up-to-date with all things related to her music, tours, movies, and personal life. Taylor Swift Today has got you covered with the latest headlines and updates. From chart-topping hits to blockbuster films, we've got it all right here! Get ready for an exhilarating journey through the fabulous world of Taylor Swift!
Step into the dark and twisted world of crime with Murder Weekly, the podcast that will send shivers down your spine. Each week, we bring you a gripping murder mystery that will keep you guessing until the very end. With thrilling plots, intriguing characters, and unexpected twists, Murder Weekly will leave you craving for more. Join us as we unravel the secrets behind perplexing homicides in history. Tune in to Murder Weekly and prepare to be captivated. (Coming soon in English and as "Asesinato Semenal" in Spanish).
THE BEST SONG EVER (THIS WEEK)
"The Best Song Ever (This Week)", is an extraordinary podcast hosted by Scott Frampton. Dive into a single song as Scott unravels its intricacies and reveals what makes it remarkable. This podcast blends diverse genres and eras, combining nostalgia with chart-topping hits. Experience music in a whole new way with Scott's soulful exploration and captivating breakdown of each song.
Get ready for a nostalgia-filled journey through television history with the "TV In The Basement" podcast. Hosted by Journey Joe Mitchell, each episode explores beloved shows from different eras, including classics like "Happy Days" and "MAS*H" from the '70s, action-packed '80s series like "The A-Team" and "Knight Rider," iconic '90s shows like "Seinfeld," "Friends," and "The X-Files." and into the 2000s with "The Sopranos" "Lost."and even "Suits". Don't miss out on this trip down memory lane!
"The Messi Effect" is a podcast that explores the impact of legendary soccer player Lionel Messi as he joins Inter Miami in the MLS. It goes beyond soccer analysis to delve into the glamorous world of Messi and the cultural phenomenon he brings to Miami. The podcast showcases behind-the-scenes stories of parties, events, and Messi's new fashionable lifestyle in Miami. It celebrates the synergy between a global sports superstar and Miami's cosmopolitan vibe.
"5 Good News Stories" is a podcast hosted by Johnny Mac that focuses on sharing positive and uplifting news from around the world. Each episode features five inspiring stories, ranging from acts of kindness to scientific breakthroughs. The podcast aims to remind listeners that there are reasons to be hopeful even in challenging times. Tune in for a dose of positivity and inspiration!
"Entertainment Daily" is a podcast that covers the latest stories in the entertainment world. It provides up-to-date information on movies, TV shows, celebrities, and music. The show includes breaking news, interviews, analysis, and behind-the-scenes content. Whether it's box office hits, trending series, or celebrity gossip, this podcast has it all. "Entertainment Daily" is informative and entertaining, perfect for entertainment enthusiasts.
Join us for "Romance Weekly", a captivating podcast that explores heartwarming love stories. From whirlwind romances to overcoming challenges, immerse yourself in tales of love triumphing over obstacles. Discover the enduring power and beauty of love as we share enchanting narratives of couples navigating relationships. This series will also be available in Spanish as "Romance Semanal". A sneak peek is available now and will begin regularly Nov. 2nd.
Welcome to the fun, fabulous world of America's greatest celebrity family, the Kardashians. Join us as we follow the lives of Kim, Kourtney, Khloe, Kendall, Rob, Kris, Caitlyn, the husbands, boyfriends, girlfriends and exes. The triumphs and tragedies, the family dramas, the breakups, the makeups, the business, the personal. We'll have all the highlights and cover it all in under 10 minutes on "Kard Talk".
This podcast delves into the fascinating world of Elon Musk and his daily activities. As a renowned entrepreneur, Musk has achieved remarkable success in various fields, which has led to both adoration and criticism from the public. In this podcast, we will explore Musk's bold announcements, philanthropic endeavors, and groundbreaking ideas, shedding light on the man behind the Tesla, SpaceX, and other revolutionary ventures.
Mark Francis: Co-Founder of Caloroga Shark Media, has an impressive track record in podcasting, satellite radio, internet, and terrestrial entertainment platforms. Co-founding Diversion Podcasts in 2019, Mark's passion for podcasts has resulted in incredible successes. From the gripping "The Dream Team Tapes" to the thrilling "Good Assassins" and the addictive "The Royals of Malibu," his work with podcasts have captured the hearts and minds of millions of listeners worldwide! One of his projects, "I Am Kobe," developed in collaboration with iHeartPodcasts, has taken the podcasting world by storm. Not only did it win the prestigious Webby Awards for Best Sports Podcast 2022, but it also received the People's Voice Winner accolade! As the host of "Palace Intrigue", the super successful daily show is now celebrating more than 2 Million downloads. Mark was also at SiriusXM from 2003-2019 as Senior Director of Talk Production. Caloroga is the street he grew up on in Australia.
John McDermott: Co-Founder of Caloroga Shark Media, is the mastermind behind popular comedy platforms, podcasts, and radio shows. He started at WOR New York spending a decade working on many types of spoken word content from financial to political. In 2004, John joined Sirius XM, where as VP of Comedy and Entertainment he developed a comedy platform with over 35 million subscribers. Under his leadership, Sirius XM launched iconic radio channels like Comedy Central Radio and Just For Laughs Radio. He also created special event channels like Comic-Con, E3, and Star Wars Celebration Radio. Until recently he was the Executive VP of Programming at Cadence 13/Audacy. John's golden retriever was named "Shark" and loved hanging out on the deck.
This is a press release which we link to from Podnews, our daily newsletter about podcasting and on-demand. We may make small edits for editorial reasons.