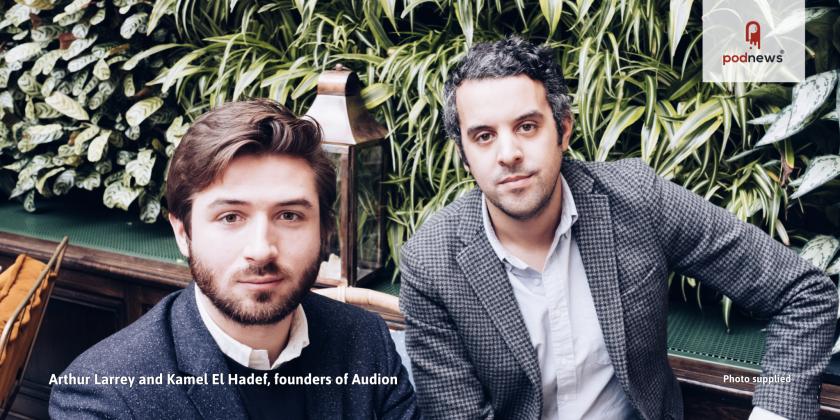 Audion raises €1.1m to launch the first French real-time adtech for podcasts
Press Release ·
This article is at least a year old
Paris, France—Audion, the first French integrated solution which allows to perform real time customized audio advertising on podcasts, has raised €1.1 million. The adtech has already won the 2019 Media Strategy Grand Prix and developed a unique, fully automated solution that reliably monetizes podcasts, and includes personalization (DCO) and measure of effectiveness. Founders Future, Kima Venture and several leading business angels have been involved in this first funding round that will allow Audion to reinforce its leading role in the French audio and podcast advertisement and to launch its solution abroad.
Founded in 2018 by Kamel El Hadef and Arthur Larrey, Audion allows podcasts editors to insert advertisement in real time. The ad is automatically adapted to the geographic context (localization, weather conditions) and to the podcast's content in order to guarantee smooth non-intrusive advertisement that respects the user experience. The integrated solution allows the editor to monetize, in a single click, all of its podcasts in a personalized and targeted way, regardless of the platform.
This seed round was made possible thanks to Founders Future, Kima Ventures and several business angels specialized in adtech. Audion, which works both with prestigious agencies (Havas Media, Dentsu Aegis, WPP, OMG, Publicis, …) and editors (audio streaming, radio replay, native podcasts) has achieved a turnover of almost two million euros in its first year. This funding round will allow the start-up that is already present in Germany, to accelerate the development of its technology and to expand in four new countries in 2020.
In France, the podcast market is growing by 25% per year, with more than 5 million monthly listeners. However, no business model has so far been identified for this fast-growing sector. Publishers were directly talking with advertisers to sponsor their content one by one and advertisers had to negotiate with each podcast publisher to promote their products. Audion has created an automatized and personalized advertising model that matches the new way to consume audio contents.
Kamel El Hadef, co-founder of the start-up: "We are in a fast-growing sector, which should follow the growth observed in the United Kingdom and the United States, where the podcast market will exceed $ 1 billion in 2021. The podcast monetization system is a pioneer of a smooth, non-intrusive and user- friendly advertising system. Thinking podcast monetization means thinking tomorrow's advertising. "
Marc Menasé, founder of Founders Future: "Audion has everything it needs to position itself as a key player of the monetization of audio content, thanks to its innovative and high-quality product that is based on a unique technological expertise and a team of first-tier entrepreneurs. We are confident that Audion will bring value to the world's leading media in a format of the future and we are very pleased to accompany Arthur and Kamel, alongside experienced Adtech investors, in this ambitious adventure. This investment is perfectly in line with Founders Future's desire to support and finance alternative solutions to GAFA for media groups and major advertisers."
About Audion
Founded in 2018 by Arthur Larrey and Kamel El Hadef, Audion is a leading company in digital audio monetization & podcasting. It offers the first automated podcast monetization technology that allows publishers and advertisers to embed dynamic advertising in real-time in the audio content. Its integrated solution allows the editor to monetize, in a single click, all of its podcasts in a personalized and targeted way, regardless of the platform.
This is a press release which we link to from our daily newsletter about podcasting and on-demand. This is reprinted verbatim; we may rewrite headlines and descriptions.