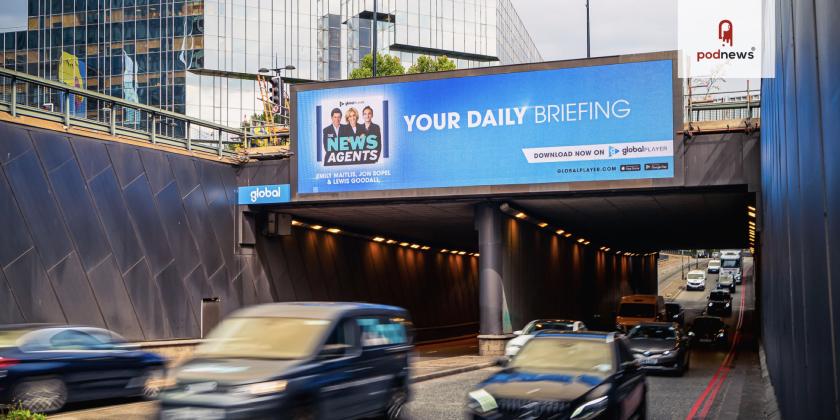 The News Agents podcast exceeds 10 million downloads
Press Release · London, UK · via Global ·
The News Agents podcast, hosted by Emily Maitlis, Jon Sopel and Lewis Goodall, has exceeded 10 million downloads since launching three months ago.
Fronted by three of the UK's top journalists, The News Agents has consistently topped the podcast charts, quickly establishing itself as the UK's leading daily news podcast. The News Agents creates shortform explainers on social media platforms, as well as clips from the podcast recordings, which so far have gathered over 23 million video views across TikTok, Twitter and Instagram.
Since launching at the end of August, The News Agents has covered the premierships of three Prime Ministers and the death of Her Majesty Queen Elizabeth II, as well as interviewing some of the biggest names in news and current affairs including former Prime Minister Sir Tony Blair, broadcasters Gary Lineker and Jeremy Clarkson and Deputy Labour Leader Angela Rayner.
Megan Wastell, Director of Product and Podcasts for Global Player, said: "Thank you so much to all the listeners who have made this podcast part of their daily routines. We're incredibly proud of the podcast and it's clear that The News Agents, combining first class journalism with a finger on the pulse of what really matters to people, is connecting with audiences in the most exciting way."
Dino Sofos, Executive Producer and CEO of Persephonica, said: "I've launched podcasts before but none have connected with so many listeners as quickly as this. It's clear that people want to consume news differently, and The News Agents is leading the way."
Jon Sopel, presenter, said: "When we started we had no idea whether this would crash or fly. Over 10 million downloads later it seems like we can now take off our seatbelts - and think about what we can do to take it to the next level."
Emily Maitlis, presenter, said: "A big thank you to our loyal lovely engaged listeners for giving us an extraordinary start to a brand new venture."
Lewis Goodall, presenter, said: "I couldn't be more thrilled with how The News Agents has been received by the audience. Across our podcast and video output, it shows what huge appetite there is for political news told in new and different ways. And this is just the start."
The News Agents is a daily weekday podcast available every afternoon and is a Persephonica production for Global, available on Global Player or wherever you get your podcasts.
Global Player is Global's entertainment hub, which allows listeners to enjoy all of Global's radio brands, award-winning podcasts and expertly curated playlists all together and all for free on mobile via the Global Player app, online and through your smart speaker.
Listen
This is a press release from Global which we link to from Podnews, our daily newsletter about podcasting and on-demand. This is reprinted verbatim; we may rewrite headlines and descriptions.
This page contains automated links to Apple Podcasts. We may receive a commission for any purchases made.