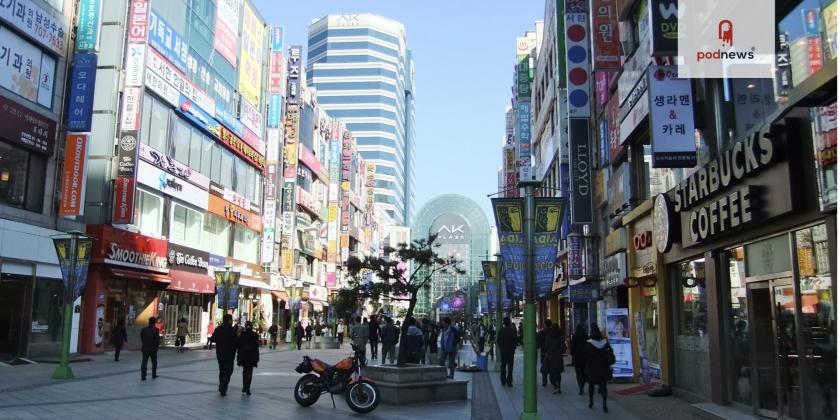 Korea: a country overview
· By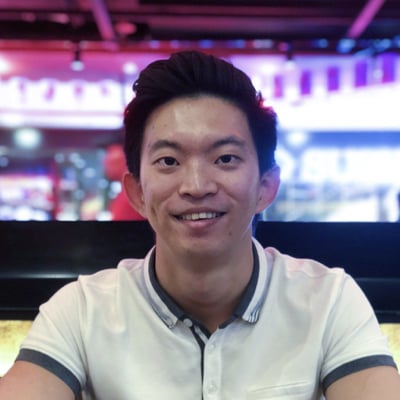 Guang Jin YEO
· 2.4 minutes to read
Our study on South Korea is a bit more unique. South Korea's largest listening app is a local app "Melon" acquired by Kakao. In order to account for global podcasts influences, we had to take the next largest global podcast application which is Apple Podcasts (#2nd most commonly used), hence the charts are Apple Charts not Spotify (#3rd).
But on to the insights! South Korea is a very aspiring country, especially if you're from South East Asia. Korean soft power from Kpop to aesthetics pervades the entire region. Maybe even America - BTS anyone?
Yet the nation has a strange duality.
It's a highly educated country ranked 4th in the world in terms of tertiary graduates, but amongst these educated students, the employment rate is ranked 31st among 37th countries [OECD, 2021].
Essentially the number of jobs which match the right education level aren't opening up, leading to an influx of highly educated youths who must go through the second hell of finding a prestigious job.
While some countries may get disillusioned, Korea's aspiring spirit actually takes them down a different path - 갓생.
Last year the most used word on instagram was 갓생 - which means god-saeng or god-life.
God-life is a mix of hustle culture with mental health. The belief is that investing and making consistent small day-to-day efforts will eventually lead to a great life under your own terms. It is thus characterised by a relentless focus on inputs or marginal gains, some examples are (1) Daily Schedules, (2) Bodily Photo Updates, (3) Daily morning rituals (Miracle Morning).
When it comes to consistent learning, nothing is more consistent than content generation which is why content creators across many fields are exploding on Youtube now.
Naturally, podcasts are starting to see those benefits and the ones that espoused learning the most are the biggest winners.
The Apple Podcasts charts for South Korea in January 2023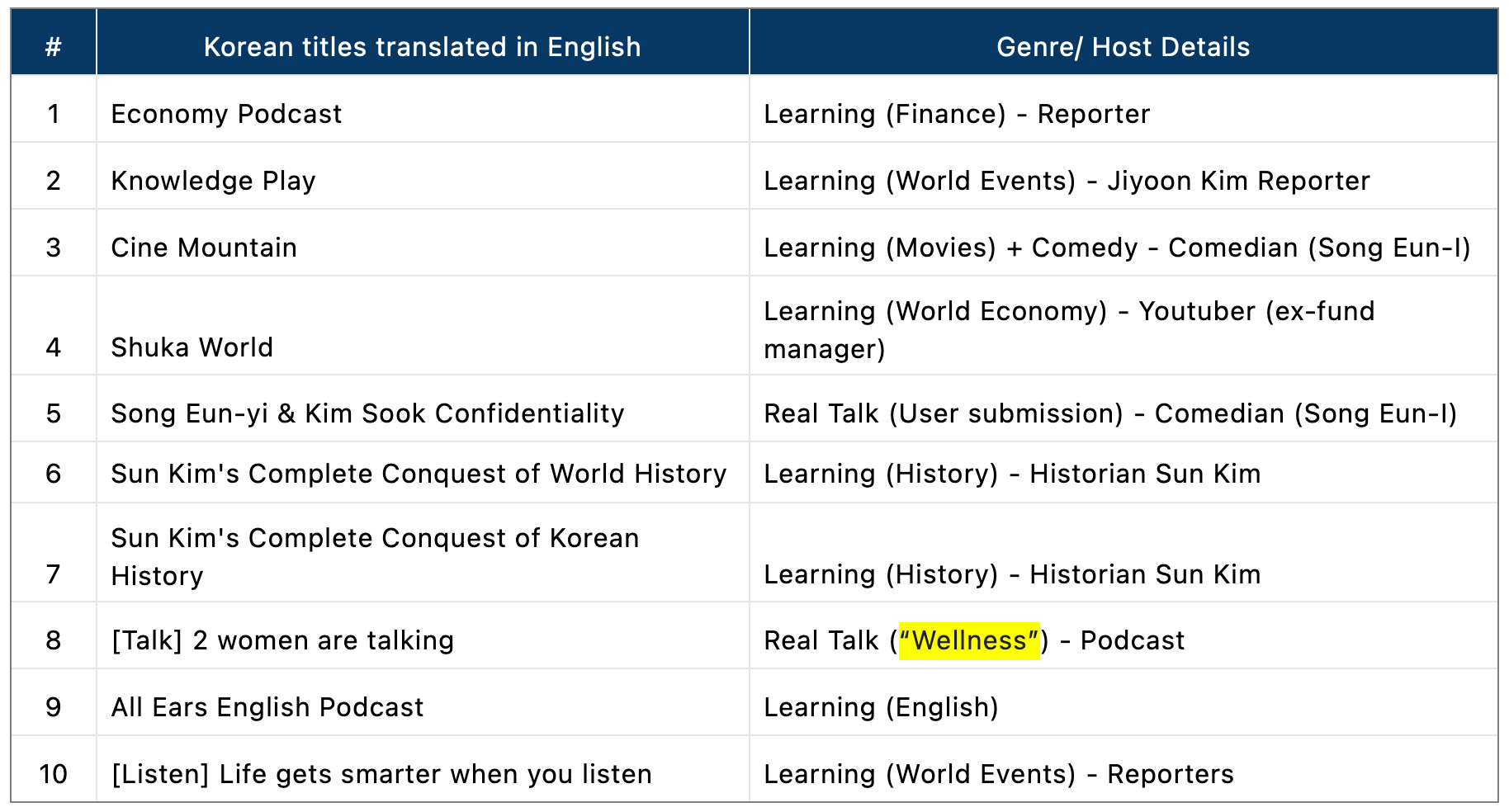 Right off the bat, 8 of the 10 podcasts are all about learning. With a good proportion touching on content verticals that make consistent content production easier - History, World events, Movies.
These types of content never really run out, and a listener can embark on consistent patient learning week on week.
As it stands the Korean podcast industry does seem more creator driven for now, partly because it's going through its transformative years. This is great news as even a part-time youtuber and full-time lawyer can influence change through a youtube video on her morning routines.
But as audiences mature, and more data is collected on what audiences prefer - we believe there'll soon be more listener driven podcasts.
Thank you
Thank you to GWI and our country partners:
David Tizzard - David A Tizzard has a PhD in Korean Studies. He is an assistant professor at Seoul Women's University and an adjunct professor at Hanyang University. He is the co-editor of The Future of the Korean Peninsula: Korea 2032 and Beyond (2022) as well as the author of various academic articles on Korean history and culture. He writes a weekly column in the Korea Times, hosts the Korea Deconstructed podcast (YT, Podcast, Twitter), and is a senior contributor to Asia Society Korea.
| | |
| --- | --- |
| | Guang Jin YEO is an ex-P&G media analyst & strategist for Asia. He owns a podcast production house, 1 Up Media, based in Singapore, where we primarily work with TV networks. Our biggest podcast, embarrassingly, is on "True Crime". When he isn't working, he likes to promote content creators for free on his ~3.5K LinkedIn channel. Drop him a message, and let him tell the world about your story! |