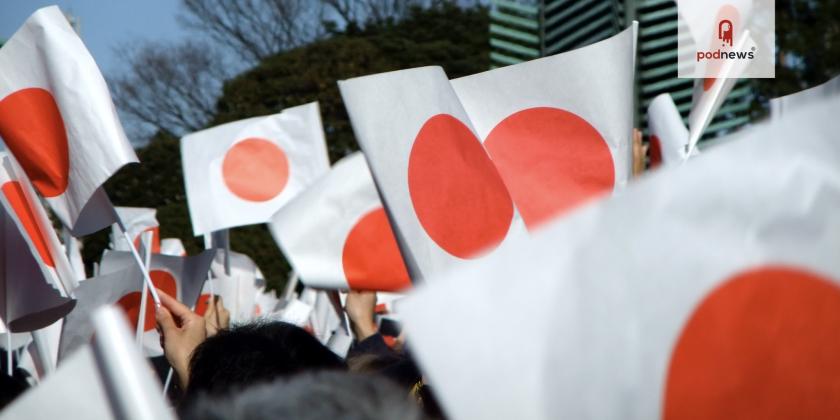 Japan: a country overview
· By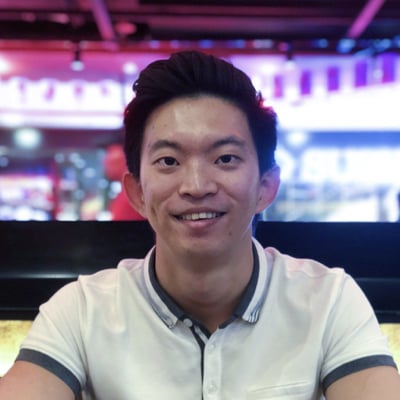 Guang Jin YEO
· 2.8 minutes to read
"Japan's got into the future a little ahead of the rest of the world", according to Matt Alt (author of Pure Invention - How Japan Made the Modern World). It was a huge pleasure to learn from Matt, whose book gave me a good understanding about Japan's soft-power.
Specifically Matt meant that Japan hit post industrialism ahead of the West, and wrestled with all its accompanying problems - loneliness, ageing, financial struggles - ahead of America and Europe which continues till this day.
The somewhat long drawn and bleak outlook creates a unique content preference to either (1) escape reality, or (2) improve reality.
The Spotify charts for Japan in January 2023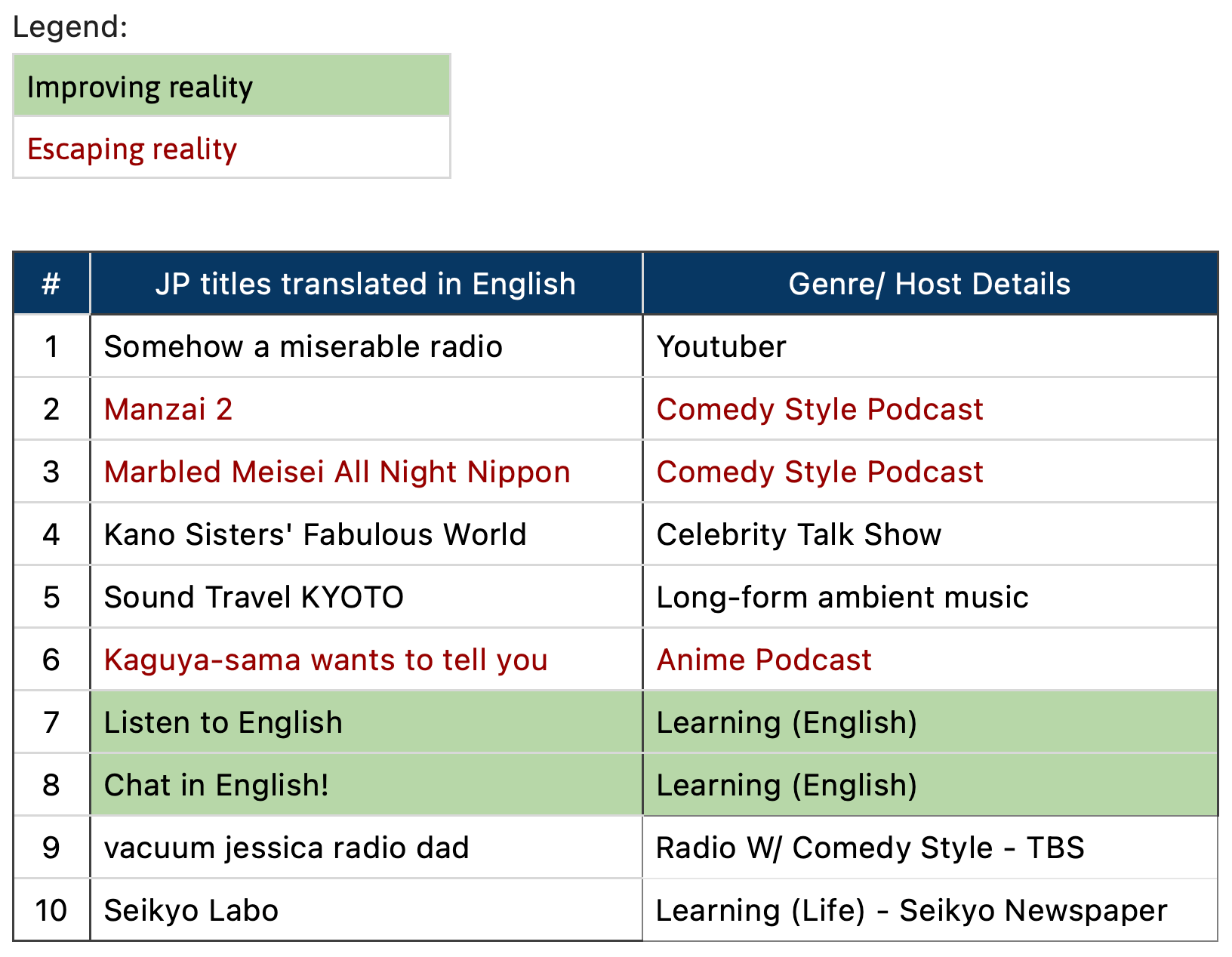 You'll notice - the ones in red ("escaping reality") are either comedy or anime genres; the ones in green ("improving reality") are English lesson podcasts.
The majority of podcasts listeners tend to be the younger demographic roughly 18 to 34 years old. These people would have experienced the "lost decades" growing up, a period where Japan's economy stagnated (from 1992).
The "lost decades" were in stark contrast to the time before it - aptly named "Japanese economic miracle" where Japan advanced at a rocketship pace becoming the 2nd largest economy for a period of time.
These listeners would have experienced the dichotomy of stories between the generation before them and meet with empty promises as they mature.
If I'm faced with such a gloomy reality, I too would seek a world away either through distractions (comedy, anime) or to seek my fortunes elsewhere (by learning English).
To really bring home the point, even within the genre of anime in Japan the biggest genre that's emerging are "isekai", or 異世界 - in english, "different/other world". It's a genre most known for these 3 features:
A protagonist who hates / is a loser in his reality
Becomes reincarnated / finds himself in another world
Is transformed by the new world (often positively)
Funny that the biggest genre within anime - a medium that already isn't reality, IS about escaping reality even further.
Of course, not all content preferences can be attributed to the "lost decades" for its popularity, but a good number seems so (~50%).
Other things of note:
The #1 podcast is from a YouTuber showing you a slice of life
The #5 podcast actually isn't a podcast - it's more a long ambient music
The #4 podcast features 2 celebrities who have 'real talk'
The #9, #10 podcast are by incumbents (TBS, a TV channel, or Seikyo, a newspaper)
These other podcasts are driven by factors such as (1) Super Solo culture, (2) Religion - Buddhism/ Shintoism, (3) "Tarento" Celebrities, (4) Incumbent's chokehold on media distribution.
Because Japanese tastes are so different across the nation, many factors come together to drive specific content up and down the charts. It's also worth noting that Japan never had a strong radio culture, which makes podcasts even more volatile given its smaller user base.
Thank you
Thank you to GWI and our country partners:
Tim Romero - Tim is Head of Google for Startups Japan and host of the Disrupting Japan podcast. He is deeply involved in Japan's startup community as an investor, founder, author and educator, and has founded several startups in Japan over the past 25 years. He has also taught entrepreneurship and corporate innovation at NYU's Tokyo campus and worked with TEPCO and other Japanese enterprises on startup engagement and innovation strategy.
Matt Alt - Matt is the author of Pure Invention: How Japan Made the Modern World, and founder of AltJapan Co. Ltd, a company that specialises in localisation of Japanese to English and vice versa across all forms of entertainment.
| | |
| --- | --- |
| | Guang Jin YEO is an ex-P&G media analyst & strategist for Asia. He owns a podcast production house, 1 Up Media, based in Singapore, where we primarily work with TV networks. Our biggest podcast, embarrassingly, is on "True Crime". When he isn't working, he likes to promote content creators for free on his ~3.5K LinkedIn channel. Drop him a message, and let him tell the world about your story! |