Advertising a Podcast, Part 1
· By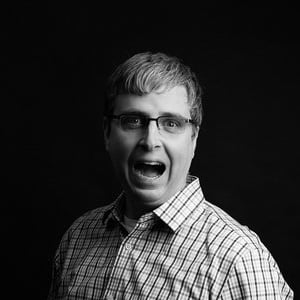 Sean Howard
· 5.1 minutes to read
This article is at least a year old
A Podnews exclusive series by Sean Howard of Fable and Folly Productions, the creators of Alba Salix, Royal Physician and the improvised sci-fi dark comedy, Civilized.
How to Stand Out and Build An Audience
It is my strongly held belief that the much parroted phase, "We don't advertise" is one of the most damaging viral trends in the podcasting industry.
Saying "we don't advertise" sounds like a great way to pressure listeners into leaving that much desired review or to tell their friends. "Oh listener, if you don't do something, we are doomed to suffer in relative obscurity!"
But these three words are not a truth. They are a fabrication.
I have yet to find a single successful podcast that doesn't advertise. What podcaster hasn't done a promo swap, posted an episode on social media, put out a press release, attended a conference, left some flyers on a counter somewhere or otherwise promoted their show?
What everyone means to say is, "We don't pay to advertise," but this is also a fabrication when it comes to most of the big pocasters as they belong to networks that almost always buy advertising in some form or another.
And like any little white lie, it has grown. These three words now embody a dark badge of imagined greatness. If the biggest podcasters don't stoop to any of that audience building stuff, neither should we. Please don't feel attacked. I too have uttered this phrase. No one is safe from it.
Our industry struggles with discoverability. The days of just hit publish and wait for fame are over, if they ever existed at all. The field is too crowded. And listeners have no idea how to find the next podcast that they will enjoy.
The answer is right in front of us; advertise our podcasts.
In part one of this series, I am going to be exploring a number of ways to do just that. I begin with a long list of free, near-free and paid methods which can help each of us reach our audience and grow our podcasts.
In part two, I'm going to share what happened when we used paid online advertising to promote one of our podcasts.
And in part three, I'm going to look at cross-promotion activities such as episode drops and promo swaps.
The Big List of Ways to Advertise Your Podcast
Advertising is not a four letter word. It is a smart business move.
Here are just a few ways we can start reaching our audience:
Be active in key social channels our audience is active in.
Get promoted by a podcast player like PodBean just for promoting their logo on our podcast website.
Promo swaps and episode drops.
Purchase an ad on a podcasting platform such as Podbean or Spotify.
Promote each episode launch on social with an audiogram using a tool like headliner.app .
Run a contest on social where we incent word of mouth - an entry for sharing, an entry for commenting, etc.
Send out press releases! Every podcaster should have a press list they mantain.
Give shoutouts on the air for reviews or social media mentions.
Include a recommendations for shows we love in our podcast and see who reciprocates.
Purchase a search or social ad. See part two of this series.
Submit our podcast to reviewers, after a careful read of their policies.
Hand out flyers and cards outside podcast conventions.
Run contests and promote on our show.
Crossover episodes
Look for people and companies to partner with where we can cross-promote each other. Focus on who is a great match for our listeners/audience.
Be a guest on podcast interview shows.
Hire a publicist. We can dream, yes?
Get on local radio, TV or newspaper. Breakfast TV is always looking for stories.
Try a cross promotion with an artist or zine creator we adore.
Write articles that help others in the industry to build credibility and reach in social like we do here.
Put flyers on cars parked at conferences that are genre adjacent.
Add a signature to our personal emails promoting our show(s).
Go to meetups and hand out cards.
Sponsor or host a meetup.
Know Our Audience
Successful podcasters know their audience. Start with the demographics of your listeners with a survey or by looking at the Spotify demographic breakdown using podcasters.spotify.com.
Be sure to not stop there. What other podcasts, books, movies, TV shows and games do our listeners enjoy?
I've seen other podcasters use their social media channels to ask for recommendations to other shows or run polls and contests designed to better understand the interests of their followers.
Advertising a podcast is not rocket science. It's about understanding the core listeners or what I refer to as the super fans: the people who listen to every episode, follow all the social media channels, support the creators on Patreon and shout out the show to their friends.
One of the best tools we have for understanding our core listeners at Fable and Folly is Discord. Not only is it a fun place to hang out and build relationships with our most engaged listeners, it also gives us insight into the media and shows they love, not to mention getting feedback on where we are hitting or missing the mark with our shows.
Marketing Your Podcast in Three Steps
Get super clear on who listens and what else they are listening to and watching. Who has their attention? Where are they active online?
What matters to them? What issues, memes or topics excite them?
Brainstorm ways to become visible where they are and in ways that will resonate.
The three steps above help put us into the frame of mind needed to target our advertising efforts where it is going to do the most good. For some, this is all that will be needed. Others might want a bit more structure.
All the Steps to Marketing a Podcast
For those wanting a more fully-formed model for doing this work, we recommend the Podcast Marketing Canvas shown below.
We created the canvas to better understand our listeners and tie these insights into a marketing strategy to find and connect with more people just like them.
The end result of both approaches is the same; bring on new core listeners who will support our work and use their networks to talk about our show and expose us to even more listeners.
Now read part 2
In part two of this series, I share the results of using online ads to advertise our podcast Civilized in social media and search. The results are not what we expected.
| | |
| --- | --- |
| | Sean Howard is a speaker, author, podcaster, audio fiction producer, marketer and photographer, and has been making podcasts since 2011 at Fable and Folly Productions, the creators of Alba Salix, Royal Physician and the improvised sci-fi dark comedy, Civilized. |