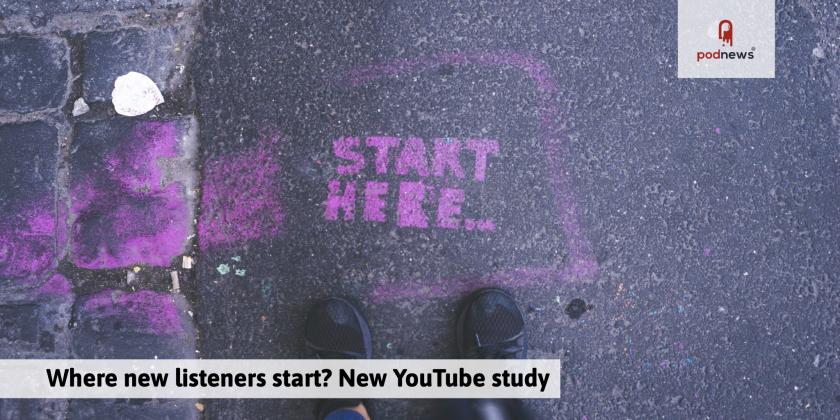 Where new listeners start? New YouTube study
LISTEN
· · 3.4 minutes to read
Sorry if you got our newsletter more than once more than once more than once more than once yesterday: we had a technical fault.
YouTube could be great at finding new listeners for your podcast, according to a study into podcast consumption on YouTube from Veritonic. 65% of people who watch a podcast on YouTube are consuming it for the first time, the data says. Also, we learn that 54% of listeners like to consume podcasts on YouTube because they enjoy seeing the hosts and their guests talk, we also learn; and (slightly unnervingly) 2% of people watch YouTube while driving.

YouTube

So - is YouTube Music rolling out podcasts worldwide? A YouTube spokesperson has told us that YouTube Music has begun to roll out podcasts to Canada and Brazil (but, for now, nowhere else). "Podcasts are currently only available to YouTube Music users in certain markets. Stay tuned for updates about when podcasts will launch in YouTube Music in your region."

YouTube YouTube Music

The Australian Podcast Ranker was released. The ABC is still absent; the data is otherwise consistent with previous months.

As mentioned yesterday, Australia's podcast insights survey PodPoll 2023 is now available for download. Specifically, the data contains subjects for podcasts that listeners say they want more of - for young people, that includes science and the environment.
Google
Podnews
Supercast
Podcast Movement
Blubrry
Momento, an AI-powered method of creating video shorts from your filmed podcast or other video content, is to announce a free plan today. Creators will get to upload up to two hours of video, and make ten clips, or "moments", every month. The AI finds key highlights, funny moments, and more.
iHeartMedia has extended a first-look deal with Ninth Planet Audio. Meanwhile Boston-based public radio station GBH has signed with Anonymous Content.
iHeartMedia
Amanda Montell of Sounds Like A Cult has sued her co-host Isa Medina for half a million dollars alleging bad behaviour. The show announced it had moved to Exactly Right in November, but the network dropped the show within two weeks.
Thank you to Steve Lack Audio - which produces podcasts, audiobooks and does audio post - for becoming our latest gold supporter. Based in Washington DC, Steve says: "After reading every day and staying up to date on the industry through your work, I thought it was time to give something back!" We're proud to #MixWithSteve - and thank you for supporting us. (You can mix with people like Steve too).
People News
Tips and tricks
Podcast News - with the Radioinfo Asia Podcast Awards



Brian James and Didontae Farmer were never meant to be friends while serving time at a California state prison. But through a chance encounter, they managed to form an incredible bond in a very broken place. As free men, they now co-host
Strangest Fruit
where they are sharing their unique friendship and insight with the world in hopes of having more conversations that matter to make positive change in communities and culture. The show is new this month, from HEARD Studio in LA.
Podcast data for Jul 19
Pod Events
Getting
the
five
latest
events
This section is continually updated. Data: Podevents. See more and add yours, free
Latest Pod Jobs
This section is continually updated. Data: Podjobs. See more and add yours, free