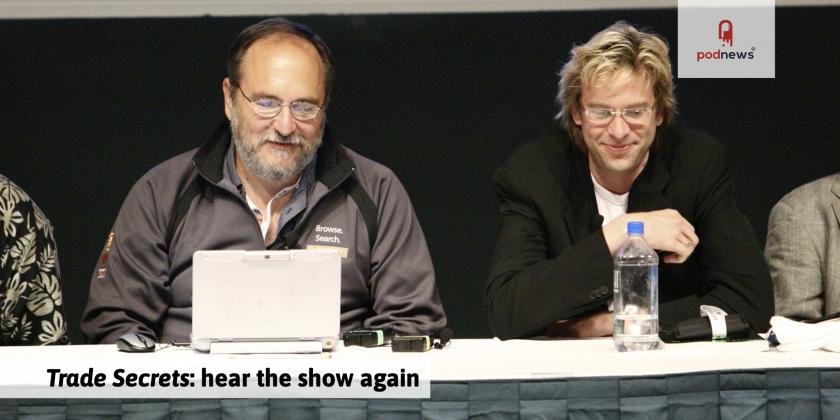 Trade Secrets: hear the show again
LISTEN
· · Updated · 3.7 minutes to read
One of the original podcasts, Trade Secrets with Dave Winer and Adam Curry, has returned to podcast apps. The podcast ran from Sept 2004 to Jan 2005, and includes discussions about the name "podcasting", iPodder, the open nature of the medium, and old-fashioned cellphones. With the permission of both Dave and Adam, to preserve our history we've given it a modern RSS feed, so you can listen in your own podcast app. (It's also available in any new podcast app that uses the Podcast Index).

We need to do a better job, says Elsie Escobar, of keeping our own historical records. She has written a post focusing on four Black podcast creators. Meanwhile, the EarBuds Podcast Collective - which celebrates its sixth anniversary this week - shares podcasts about Black history.

Audio storytelling podcast network Realm sees the best marketing opportunities for new shows in dynamically-inserted ads in their own network - which work almost ten times better than ad swaps, the company says. The team will do a Reddit AMA tomorrow in /r/podcasting.

Realm
Swell AI
Podnews
Tips and tricks - with Podcast Movement Evolutions
Speed up your podcast post-production — save hours per episode!
Paid content
In seconds, get:
Complete shownotes with episode description
Chapters with titles and summaries (readable by Youtube and Spotify)
Full transcript
Quotable highlights (great for social media snippets)
Podium is your podcast production copilot and gives you a new edge to increase your podcast's discoverability, SEO, accessibility, and bottom line—listenership!
Podium
Podium
Free for a limited time! Visit https://hello.podium.page
Podcast News

Hey live from everywhere at anytime its nothing at all!
Trade Secrets
is one of the oldest podcasts in the world: episode one was recorded
before the name 'podcast' had even been chosen
. It also didn't have an image thumbnail - Apple added those the following year. Dave Winer and Adam Curry's show returns to podcast apps today.
Apple

Trailer Park: The Podcast Trailer Podcast
is new today from Arielle Nissenblatt and Tim Villegas. "We feature one (short) trailer on each episode and then discuss it a bit". The goal is to help listeners find shows they'll love, to help creators get their projects funded, and to help creators learn best practices for audio creation.

Podnews's
New Podcast Trailers
feed of course contains a trailer for Trailer Park, the podcast trailer podcast, because that's how it works. Find more trailers every day from the Podnews newsletter, delivered right to your podcast player.
Podnews


Equal Parts
is a series of true love stories about how people meet; and it returns for a new season today, Valentine's Day. From secretive workplace flirtations, to seduction-by-poetry, to a bewildering connection found at 30,000 feet, each story is told by the couple that lived it.
Podcast data for Feb 14
#1 in Apple Podcasts

Stolen Hearts (Wondery)

Between Two Beers Podcast (Steven Holloway, Seamus Marten & The Alternative Commentary Collective)
#1 in Spotify

The Joe Rogan Experience (Joe Rogan)

The Joe Rogan Experience (Joe Rogan)
Over the last week, 215,925 podcasts published at least one new episode (down 0.2%). source